The Telegraph School Awards for Excellence
Tales of grit and resilience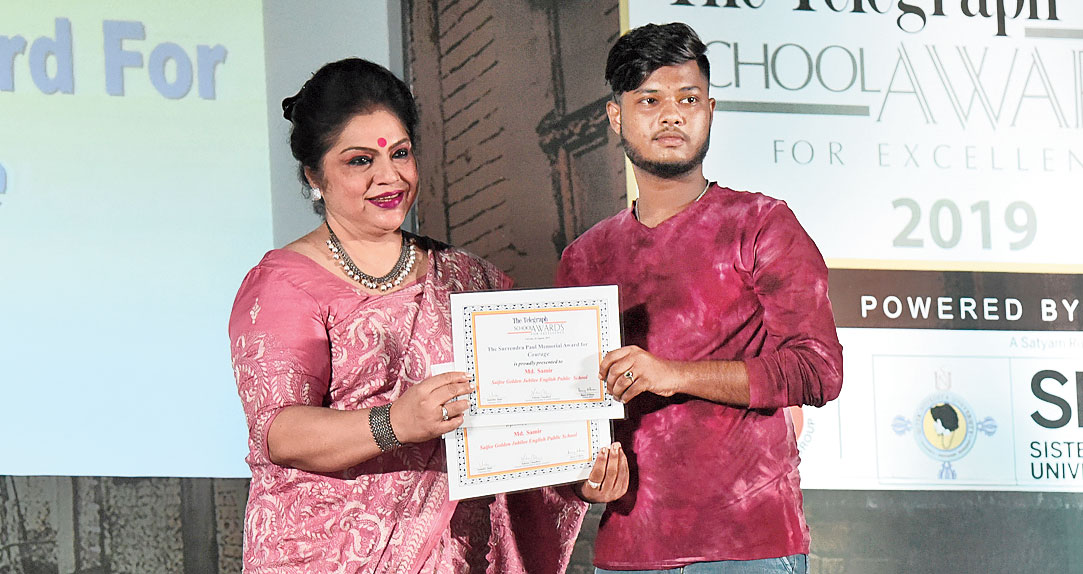 Md Samir receives his certificate from Indrani Sanyal, principal, DPS Megacity at the first leg of The Telegraph School Awards for Excellence 2019 on Saturday.
Picture by Sanat Kr Sinha
---
Calcutta
|
Published 24.08.19, 07:27 PM
|
---
Md. Samir's heart said "study", but the mind spoke of shouldering family responsibility. To strike a balance between his desire and reality, Samir decided to work as well as study.
A Class X student, Samir took up a job at a roadside eatery for a monthly salary of Rs 6,000. But his eyes were set on the ICSE exam. Despite working for 10 hours, he managed to score 64.2 per cent marks in the board exam.
Goutam Ghosh, a van rickshaw puller in a village in Hooghly, could only study till Class X and his wife Jhuma up to Class VII.
But Jhuma cycles 10km every day to take her son to an English medium school. They have bought an English to Bengali dictionary to help follow what their son Rupam, a Class VI student, is taught in school.
Samir received the Surrendra Paul Memorial Award for Courage and The Debjani Dasgupta Memorial Scholarship and the Ghoshs received the
Abhirup Bhadra Memorial "Thank You Baba-Maa" Award at the first leg of The Telegraph School Awards for Excellence 2019 presented by IIHM and powered by Sister Nivedita University.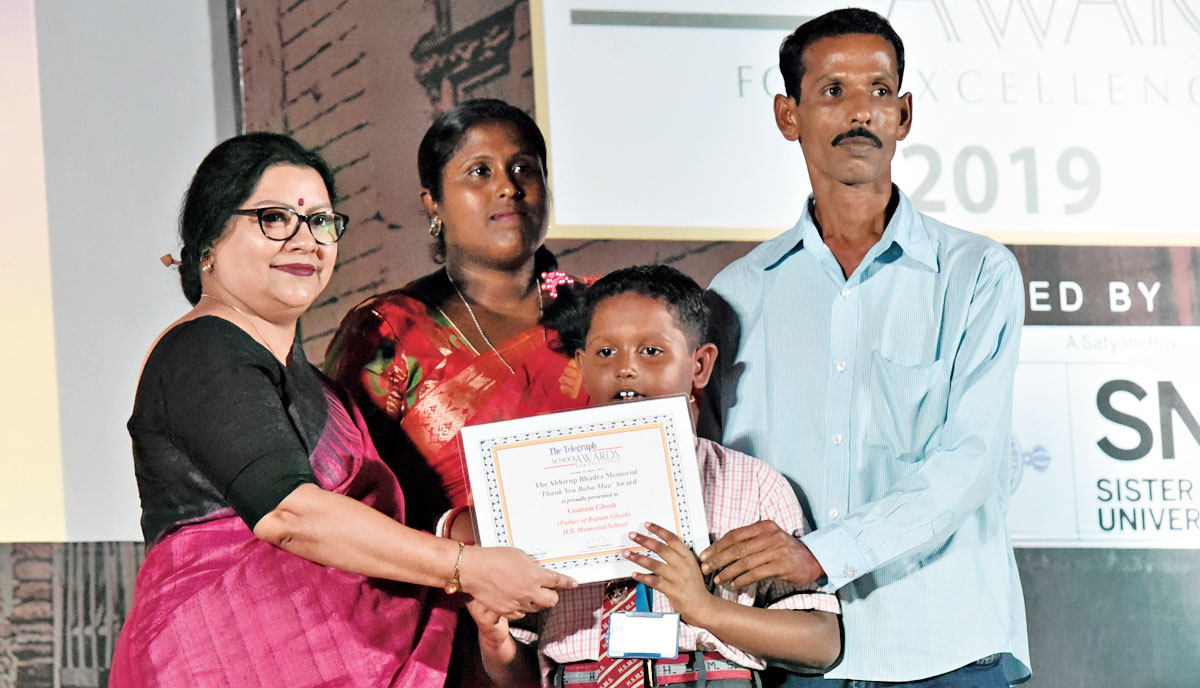 Samir had to take up the job in July 2018 after family savings got exhausted to treat his sister's illness. "She was admitted to a private nursing home but could not save her despite spending a lakh. My father is an electrician and his income is not regular. He took loan to pay the hospital bill and we need to repay it," said Samir.
To keep his job, Samir was forced to skip school but the institute gave him permission to appear for the exams.
Samir, however, couldn't continue regular school after clearing the ICSE exam because the fee was too much for him. Not ready to give up on his studies, he has enrolled with the National Institute of Open Schooling to take the Class XII exam.
"I will not be able to afford the Rs 3,000 monthly fee because I need to pay for my younger brother who goes to an English medium school," said Samir.
Samir was not the only one to be feted for his show of courage amidst hardship. About 350 students came to collect their certificates at South City International School on Saturday, many of whom are fighting a daily battle — financially, emotionally or physically.
But what sets them apart from others of their age is their resilience to fight and strike back harder. The finale of the award will be held on September 7 at Nazrul Mancha auditorium.
"I want my son to receive English medium education even if it means giving up on our needs. I now understand what it means not to be educated and I don't want the same fate for my son," said Goutam Ghosh, whose son Rupam goes to HS Memorial School in Dankuni.
Encouraging the students were their parents, teachers and company executives. "It is a great initiative and it is growing every year. There are many children from underprivileged background and not many people think about them and it is impressive to see them being acknowledged. We always like to participate in such initiatives," said Surojit Biswas, chief operating officer, Techno India Group and Sister Nivedita University.
Perhaps, he was talking about students like Ankit Das who scored a 92 per cent from Prafulla Nagar Vidyamandir and aspires to study medicine.
Ankit is the son a single mother who works as a beautician in Habra and earns Rs 3,000 a month. Ankit received The Mayukh Mitter Memorial Scholarship.