Teacher exodus from rural schools in Bengal
Most educators in Murshidabad seek transfer to towns through govt Utsashree portal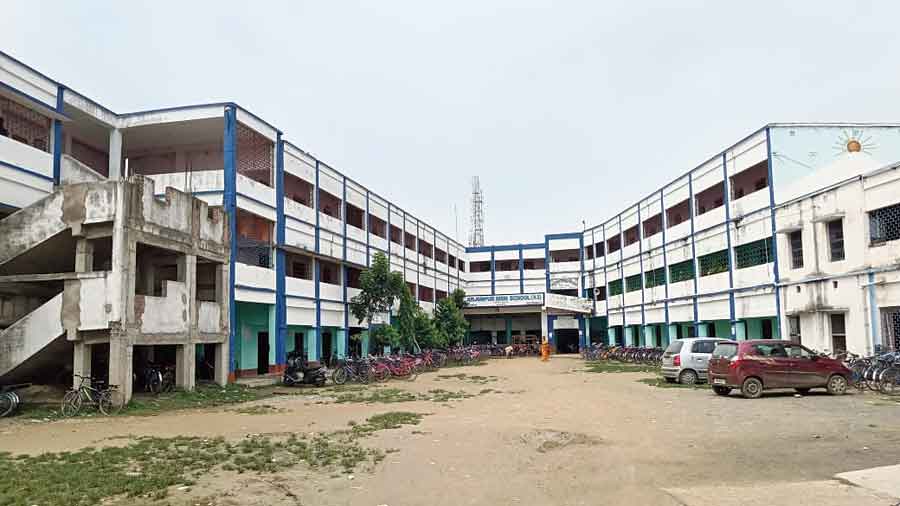 The Arjunpur High School in Farakka, Murshidabad, which has 9,000 students and 58 teachers.
Picture by Samim Aktar
---
Behrampore
|
Published 05.09.22, 02:00 AM
|
---
A large number of teachers has shifted from Murshidabad's government-aided schools to towns, disrupting the teacher-student ratio at many rural institutions.
According to sources, rural-based teachers are taking recourse to the Utsashree portal of the Mamata Banerjee government to facilitate transfers on medical grounds.
Sources said since July 2021, when the portal was launched, an "alarming" number of teachers have sought transfers. Murshidabad is reportedly one of Bengal's districts worst hit by this exodus, where rural schools run with "skeletal staff".
In Farakka's Arjunpur High School, arguably Bengal's largest state-aided school, there are 58 teachers for 9,000 students. So students from Classes IX to XII are divided into smaller batches and taught on alternate days.
"What else can I do? In the last few months, 48 teachers have been transferred, most from higher secondary section. I have 1,300 students in Classes XI and XII. How can I manage with a small number of teachers if all 1,300 are taught every day?" asked Rafiqul Wara, the headmaster.
He added that even recently, his school had 106 teachers of the total sanctioned 128. Similarly, the Panchthupi Girls' High School has 1,500 students. The number of teachers has reduced to five from 17 in a few months.
Since 2013, Sakarghat Junior High School in Samserganj has had one teacher for 772 students. Shamshul Haque, the headmaster, said he has hired three jobless youths from villages to teach the children. "I pay them a token amount from the school's development fund," said Haque.
In stark contrast, urban schools are teeming with teachers. In Behrampore's Madhupur, Bishnupur Girls' High School has 17 teachers for 150 students between Classes V and X. Similarly, Sudarshan Chakra Boys' High School of Saidabad area has 12 teachers and three para-teachers for 103 students.
"The transfer of teachers is through a government portal. I can't object. Headmasters can choose not to sign the transfer NOC if they think the teacher-student ratio will be disturbed," said Amar Kumar Seal, the district inspector of schools (secondary). "We believe the disparity can be addressed once SSC recruitments begin properly."
However, Wara claimed "immense political pressure" on headmasters to sign the transfer NOC.
Sources in the higher education department also admitted to the paucity of teachers in  rural areas.
"The Right to Education Act mandates a student-teacher ratio of 40:1. We understand it has become difficult to maintain it in rural schools," a source said.
On July 10, 2022, the Advanced Society for Headmasters and Headmistresses — an association of working head teachers in Bengal's schools —wrote to higher education minister Bratya Basu about the problems arising from the Utsashree portal.