Tea belt bucks job-cut trend with few takers for plucking
Darjeeling gardens have been reporting absenteeism between 35 and 50 per cent for over a decade now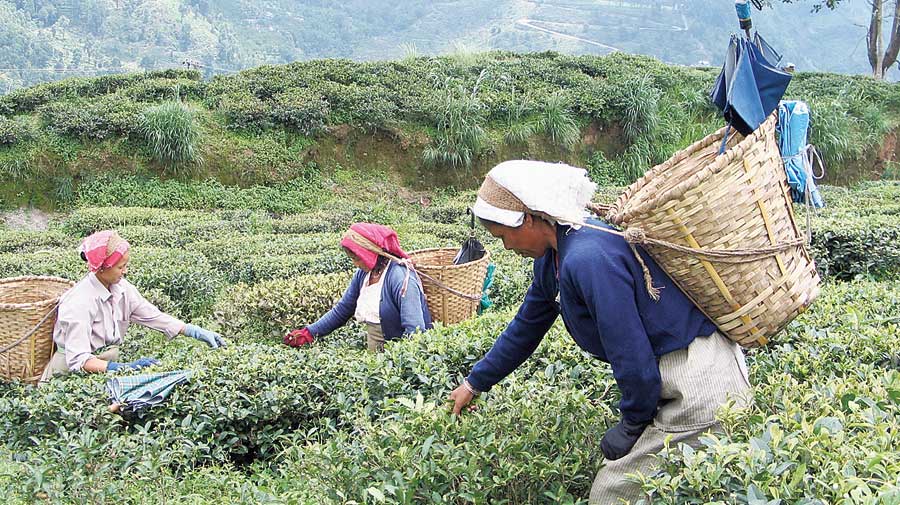 ---
---
At a time of mounting job cuts across sectors amid the Covid-19 pandemic, the Darjeeling tea industry stands out with jobs available by the hundreds, but very few takers.
Darjeeling gardens have been reporting absenteeism between 35 and 50 per cent for over a decade now. The industry employs around 55,000 permanent and 15,000 temporary workers across 87 tea gardens.
With migrant workers coming back to villages — more than 20,000 people returned to the hills because of the pandemic — the Darjeeling tea industry was hoping that their problem of labour supply lagging behind demand would be solved.
Figures from the various gardens here, however, suggest nothing much has changed during the pandemic months.
"Not a single person came to me seeking for a job." a planter said.
"Yes, we were expecting people to join work (in the gardens)," said Sandeep Mukherjee, principal advisor, Darjeeling Tea Association. But the reluctance of the returnees to work in tea gardens, he added, was now prompting the DTA to mull a study to work towards reversing the trend. "The industry is looking at coming out with a study to reverse the trend on absenteeism," said Mukherjee.
A garden manager said worker strength in his garden was 426 but absenteeism stood at 50 per cent.
"Also, out of the total strength (of 426), 135 vacancies have cropped up because we could not find persons to fill up jobs of workers who have retired," said the official. In the tea gardens, the job of a retired worker goes to his family member. 
A planter of another garden that employs 813 workers but has an absentee rate of 45 per cent said "one person did apply for a job" in these pandemic months. "He, however, was not a migrant. Following his application I asked trade union leaders if they could give a list of willing workers so that we could recruit them. No one turned up," the planter said.
A garden very near Darjeeling town, however, did see a drop in absenteeism of around 5 to 6 per cent during July this year. "This is because some people who used to work in construction sites in the town did join work in our garden. However, we are back to square one now," said the manager, adding their worker strength is a little over 200.
Planters in unison said field work no longer interested youths, office work did. Many planters spoke of the current perception that "garden work meant low social status".
"You can't blame the youths as many are now educated and they don't want to pluck leaves. They would rather move to cities and acquire new skills in various sectors," said a resident.
Many veterans argued that the daily tea wage of Rs 176 per day did not attract youngsters. "They prefer to work at construction sites that pay not less than Rs 350 or join another profession," said a retired tea garden worker.
DTA official Mukherjee said many returnees were buying time instead of joining tea gardens.
"They are waiting for their place of occupation or market to open. Sustenance is not really a major problem as they have free ration, livestock to sell and home-grown vegetables," said Mukherjee. "It is by choice that they don't attend work, indicating a change in mindset," he added.
A young returnee in his mid-20s explained why he was not interested in plucking leaves. "I have acquired skills in hotel management and there is no way I would want to pluck leaves which I have never done in my life. I want to get out of this cycle (of tea plucking)."
Planters said absenteeism had a cascading affect on tea gardens and production.
"Thin attendance means one cannot complete a round of plucking after every six to seven days. If plucking speed is slow, tea leaves overgrow and this affects quality. Low rate of plucking also means a dip in production and increase in cost of production," Mukherjee said.
Many planters fear that Darjeeling tea might turn into a "boutique industry" because of the lack of labour force.
Some are looking for solutions. Suggestions of mechanised plucking instead of manual are doing the rounds, but many say mechanisation is not easy on hilly terrain. "The mental set-up of workers, worker unions and senior management of tea estates has to change to accept new realities. Some unions just oppose for the sake of opposing," said a planter.