Suvendu Adhikari meets Narendra Modi and Amit Shah in Delhi
Sources in BJP said Dilip Ghosh and leaders close to him were unhappy with Nandigram MLA's hyper-activity on the issue of President's rule in Bengal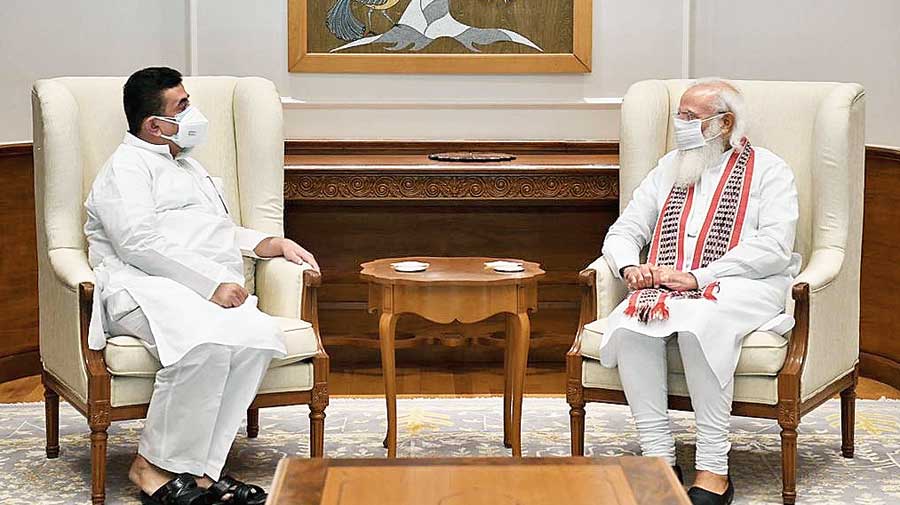 Suvendu Adhikari with Narendra Modi in New Delhi on Wednesday
Telegraph picture
---
Calcutta
|
Published 10.06.21, 01:42 AM
|
---
Leader of Opposition in the Bengal Assembly, Suvendu Adhikari, met Prime Minister Narendra Modi and Union home minister Amit Shah in Delhi on Wednesday amid speculations that the Nandigram MLA had been lobbying the Centre for the President's rule in the state.
He had met Shah on Tuesday as well. However, sources in the BJP said state unit chief Dilip Ghosh and leaders close to him were unhappy with Suvendu's hyper-activity on the issue.
Three BJP MPs and Trinamul turncoats — Arjun Singh, Nishit Pramanik and Saumitra Khan who are in favour of imposing Article 356 (President's rule) in Bengal — also reached Delhi on Wednesday morning. Suvendu discussed "important issues" with the two before meeting Shah.
"We are unaware of the exact reason for Suvenduda's stay in Delhi. But it is a fact that he is in favour of invoking Article 356 in the state. Dilipda, on the other hand, is against treading that path immediately," a source close to Ghosh said.
The rift between Suvendu and Ghosh has been the talking point among BJP leaders and workers for the past few days. It became apparent on Tuesday when Ghosh claimed that he had no idea why Suvendu had gone to Delhi.
On Wednesday, Suvendu claimed that he had gone to Delhi by informing Amitava Chakraborty, the general secretary (organisation) of the BJP's Bengal unit. He had also met BJP's national chief J.P. Nadda on Tuesday.
A close aide to Ghosh said the state party chief and his associates were unhappy that Suvendu was gaining importance in the BJP. There is a rumour that Ghosh might be removed from his position as the Bengal president well before his term ends in 2022.
Multiple leaders, who were once close to Ghosh, are steadily aligning with Suvendu, the former protégé of Mamata Banerjee, and this has further angered Ghosh.
"It is really surprising that the president and the general secretary (organisation) of the state unit are in Calcutta and the leader of Opposition has gone to Delhi to meet Modiji, Amitji and Naddaji," a BJP old-timer said. "This is not how things in our party used to work."
On the other hand, party insiders said that Ghosh was of the opinion that there was not enough ground for the implementation of the President's rule in Bengal yet.
However, the likes of Suvendu, Singh and Khan have repeatedly appealed to the Centre to weigh the possibility of the President's rule in Bengal since law and order in the state, according to them, has gone for a toss.
After meeting Modi, Suvendu said: "Human rights are being trampled upon every day in Bengal.…As public representatives, it is our duty to protect their rights and stand by them."
He added post-poll violence was a part of his discussion with the Prime Minister.
Speaking to The Telegraph, Saumitra Khan said he and Arjun Singh had met Suvendu to discuss the "prevailing situation in Bengal and other important issues". The MPs will meet BJP's top leaders on Thursday.
Issues related to the party's organisation in Bengal also came up for a discussion at the meeting, according to sources, but Khan rejected such claims.