Suspension of work at Weaverly Jute Mill in Shyamnagar triggers violence
The mob vandalised the mill's administrative office and set fire to two cars of mill officials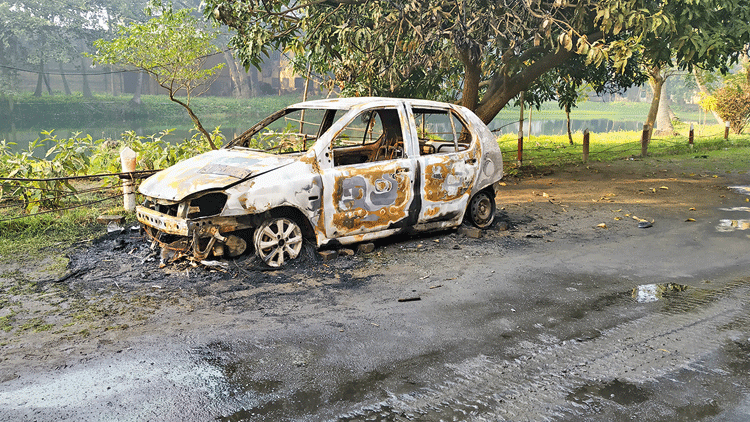 ---
---
A section of labourers of the Weaverly Jute Mill at Shyamnagar on North 24-Parganas turned violent on Friday morning after "temporary suspension of work" was announced because of "ongoing financial crisis".
The mob vandalised the mill's administrative office and set fire to two cars of mill officials to protest the suspension of work that had reportedly left "thousands jobless".
A fire tender from Naihati doused the blaze while police dispersed the protesting labourers.
The workers said the mill authorities had suspended production on January 29 shortly after failing to pay wages. "The mill resumed production on February 17 and the administrators assured us of clearing the dues by February 20, but they failed to do so," said a protester.
On Friday, labourers broke open the iron gate leading to the mill before ransacking the administrative office. Sources confirmed that no employees were in the office then.
Ajay Rai, a labourer and member of the Jute Textiles Workers' Union, said: "Mill authorities have been exploiting the labourers for too long and never listened to the unions either. The owners promised to pay the dues on Thursday. But instead, they escaped from the mill after pasting the suspension of work notice on the board today. As a result, people like us are now struggling to survive."
Local Trinamul councillor Somnath Shyam, however, alleged BJP's hand in the violence. "A section of labourers close to the BJP MP here ignited the tension. The MP is losing his hold here and resorting to such tactics."
North 24-Parganas district BJP leadership sought to refute Shyam's allegation. "Support from the Trinamul leadership in the area emboldened the mill authorities to ill-treat and neglect ordinary workers," said a district leader.
A mill official said on condition of anonymity that the company had been hit by the "ongoing financial crisis".
"We had planned to clear the dues on Thursday, but we failed to get a bank loan on time. Now, we have no option but to seek the government's help," the official said.
"The amount of dues is not very huge. We promise to clear the dues soon. As of now, we have to suspend work," he added.