Station lacked health audit: Officials
Glare on revamp without precaution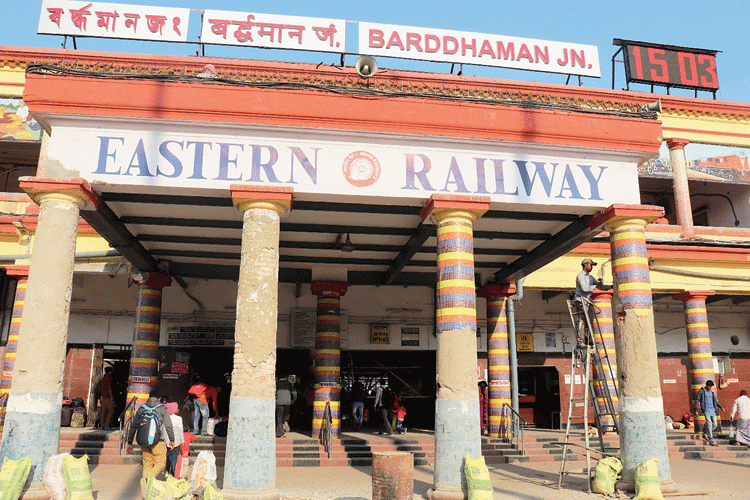 The portion of the Burdwan station's building before
Pictures by Munshi Muklesur Rahman
---
Burdwan
|
Published 05.01.20, 11:33 PM
|
---
A section of railway officials and experts have said the portion of the 166-year-old Burdwan station which caved in on Saturday night was undergoing renovation without proper precaution and study.
One of the two persons injured in the collapse died at Burdwan Medical College and Hospital on Sunday morning.
A portion of the building's façade had collapsed around 8pm on Saturday.
Some railway officials said a project to decorate the outer portion of the façade and change its floor and pillar tiles had started a month ago without proper precautions or advise from heritage experts.
"A thorough health audit should have been done before taking the risk of starting a new work on this heritage building. The maintenance was going on with modern equipment, which create havoc with such buildings' structural strength," an official supervising safety measures at the station said on Sunday morning.
The officials said the contractor assigned for the job had been seen tiling half a dozen pillars on the ground floor but had not put up any support structures.
Engineers familiar with heritage projects agreed that such jobs were not taken up without consultancy by an appropriate committee of experts.
"Buildings constructed in the 19th century are based on the lime-stone method and are very weak because of age. If anyone uses modern machines on such a structure, the vibrations may lead to its collapse," said Sekhar Kumar Dutta, former deputy superintendent engineer of the Archaeological Survey of India. "The railways should have formed a committee and taken help from experts who handle such buildings before starting any work," Dutta added.
On Sunday, it was found that that entire terrace portion involved in the collapse had been replaced with new tiles recently.
"The floor was replaced with titles using hammers. It looked too glossy," a police officer at Burdwan station said, adding that the area was still cordoned off and liable to further damage.
Suneet Sharma, general manager (Eastern Railways), along with Ishaq Khan, DRM (Howrah), visited the station on Sunday afternoon.
"The matter is under investigation. Let us wait for the results of the probe to clear our doubts," said Sharma.
The railways have reportedly set up a three-member committee to enquire into the incident.
Sharma also said the portion that had been damaged would be replaced with new construction. "After an enquiry by experts, the portions that have been damaged or are still vulnerable, will be removed," he added.
The GM further said the railways had already started consultations with IIT-Kharagpur.
A senior railway official on Sunday highlighted the lack of support structures underneath the area that was being renovated.
"Engineers have now placed iron frames. If it had been done earlier, the building could have been saved," the engineer said.
Asked whether the railways had conducted a health-audit of the building before the renovation, Sharma said: "I don't know. I need to check."