SpiceJet asked to resume Sikkim flights
Union civil aviation ministry also sounds other airlines on providing air connectivity to the landlocked Himalayan state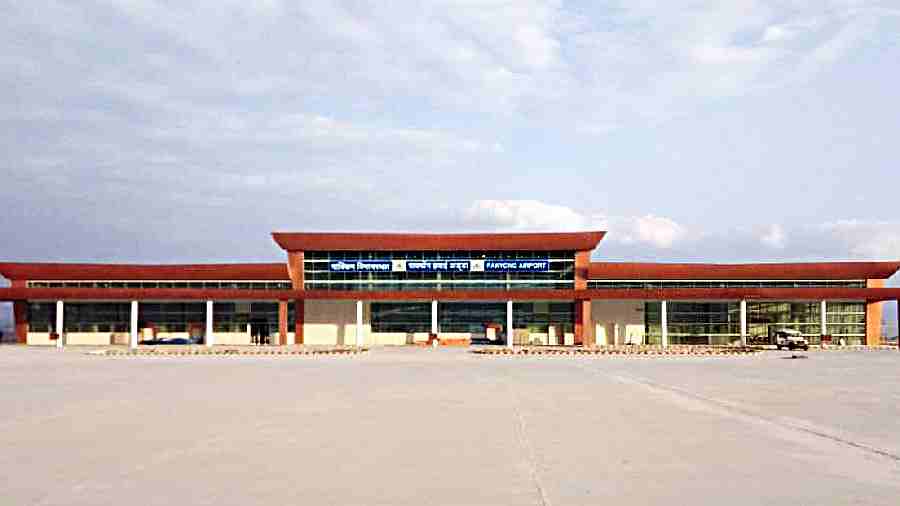 ---
Siliguri
|
Published 17.11.22, 03:48 AM
|
---
The Union civil aviation ministry has asked SpiceJet to resume flights to Sikkim's lone airport and sounded other airlines on providing air connectivity to the landlocked Himalayan state.
In response to Hamro Sikkim Party (HSP) president Bhaichung Bhutia's plea to restore flights to Pakyong, Union civil aviation minister Jyotiraditya Scindia said since domestic civil aviation was deregulated, it was up to airlines to provide air services to specific places.
"SAO (read SpiceJet) has been advised to restore the flight connectivity at the earliest…your request (also) has been shared with scheduled domestic airlines for favourable consideration," read the letter by Scindia to Bhutia.
The minister further said selected airline operators (SAOs) like SpiceJet in the case of Pakyong got viability gap funding (VGF) under the Centre's UDAN scheme for a period of three years from operationalisation and could continue to operate beyond three years on a commercial basis.
SpiceJet, the lone airline operating to and from Pakyong Airport since its inauguration in 2018, had suspended all flights to Sikkim because of "operational requirements" last month. Before the suspension, the airline used to operate daily flights to Pakyong from Delhi and Calcutta.
The HSP said the Union civil aviation ministry's inability to persuade airlines to operate flights to specific places was the downside of privatising every state asset.
"If Air India was not privatised, the government would not have to be dependent on private airlines to ensure air connectivity in Sikkim," said Tara Bhattarai, the publicity secretary of the HSP.
Apart from the restoration of air connectivity with Sikkim, Bhaichung had also demanded the operation of more airlines, introduction of international flights, maintenance and services at the Pakyong Airport on a par with global standards and announcements in Nepali at the Pakyong and Bagdogra airports.
To the demand for international flights from Pakyong, the Union minister said his ministry had developed a template under the International Air Connectivity Scheme (IACS) for providing international connectivity at the request of the state governments wherein they have to bear the entire VGF provided to the airlines.
"Accordingly, the government of Sikkim may use that template for international air connectivity or make a request to MoCA," he said.
Bhattarai said it was surprising that the Sikkim government had not made a single request for international air connectivity to the MoCA for bidding.
"Mr Scindia has said if they receive a request for a bid from the Sikkim government, then it can be considered according to the international air connectivity scheme," he added.
The HSP spokesman also said his party would continue to press for the introduction of Nepali announcements at the Bagdogra airport.
Scindia has said announcements at airports are made in English, Hindi and the local language which in the case of Bagdogra is deemed to be Bengali.