Spare Tallah water pipes, CMC tells bridge team
8 pipes carry around 230 million gallons of water from the reservoir to large parts of north, central and south Calcutta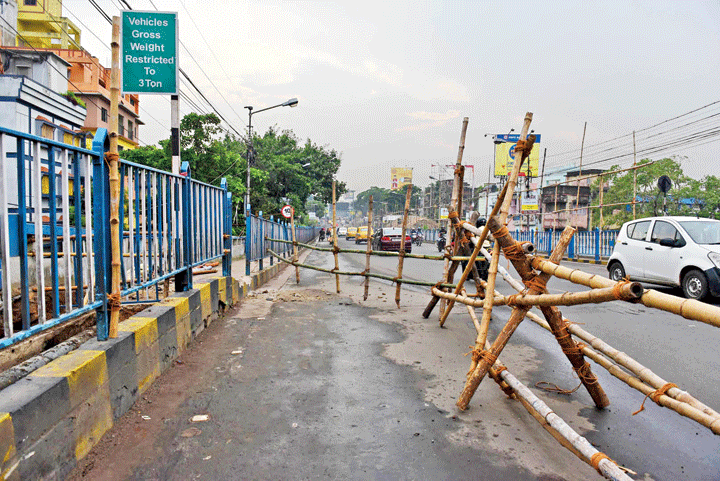 ---
|
Calcutta
|
Published 17.11.19, 08:33 PM
---
The pipes that carry water from the 110-year-old Tallah water tank to nearly half of Calcutta cannot be disturbed when the Tallah bridge will be rebuilt, engineers of the Calcutta Municipal Corporation have told their counterparts in the PWD.
Eight pipes carry around 230 million gallons of water every day from the reservoir to large parts of north, central and south Calcutta (till Bhowanipore). Six of them are on the eastern side of the existing bridge, and one each to the west and north.
A ninth pipe is on standby. Plus, there are three pipes through which the north Calcutta reservoir gets its supply from the water treatment plant in Palta, in North 24-Parganas. The inlets are all to the north of the bridge.
"The pipes are critical for Calcutta's water supply. We have told PWD engineers that they cannot be relocated when the bridge will be reconstructed," said a senior engineer of the CMC's water supply department.
The CMC produces 440 million gallons of potable water every day to cater to around 45.6 lakh people. A little over half the volume is routed through the Tallah tank, which was inaugurated in 1909.
The word of caution from the CMC comes at a time PWD engineers are in talks with the railways about the design of the new bridge.
The existing bridge, which passes over railway tracks, was unveiled in 1962 and remains a key link between Calcutta and its northern fringes. The structure has lost much of its load-bearing capacity following years of wear and tear and needs to be pulled down.
The government has banned the movement of buses, trucks and other heavy vehicles on the bridge. Small vehicles such as cars and two-wheelers are allowed but their speed has to be within 10kmph.
Sources said the tentative design of the new bridge had a pier in the middle holding a deck slab over the railway tracks.
"A spot was selected for the pier during a recent joint survey conducted by the railways, CMDA, PWD and police," a PWD official said.
Before the plan is finalised, engineers from the CMC flagged their concerns about Calcutta's water supply so that there is no error in calculation. Engineers from the PWD said of all underground utilities in Tallah, the water pipes were posing the biggest challenge.
"There are also several CESC high-tension cables. There is an underground brick sewer, too. We are trying to find a way (for reconstructing the bridge) so that the disruption is minimum," the official said.