Siliguri: 'Protest' over bid to unclog market
Current Siliguri mayor Gautam Deb, who as the north Bengal development minister some years ago, had also proposed a thorough renovation of the market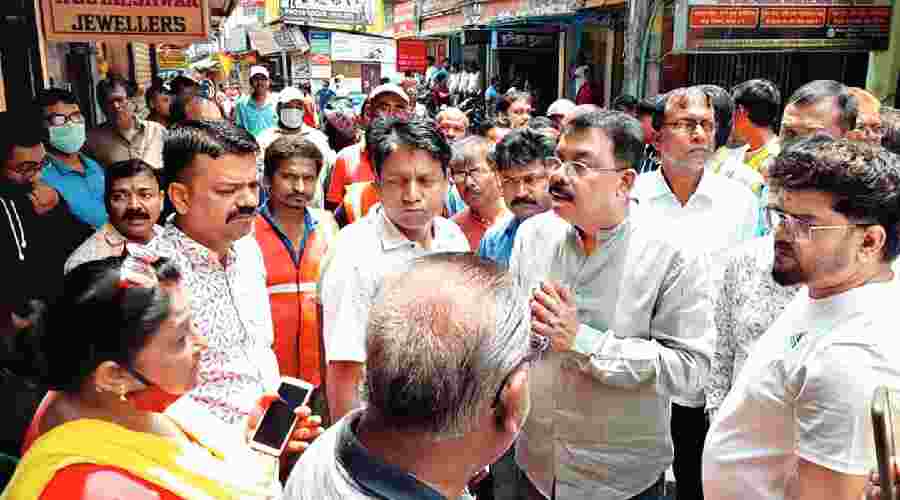 Siliguri deputy mayor Ranjan Sarkar at the Bidhan Market of the town on Thursday.
Passang Yolmo
---
Siliguri
|
Published 29.04.22, 02:36 AM
|
---
The deputy mayor of Siliguri Municipal Corporation (SMC), Ranjan Sarkar, along with two of his colleagues at the civic board, allegedly faced protests from some traders of Bidhan Market, the largest marketplace of Siliguri, on Thursday as they went to clear encroachments in parts of the market.
Sarkar as well as member, mayor-in-council (conservancy) Manik Dey and chairperson of borough-II of the SMC Md Alam Khan reached the market where they found that a number of traders had put up commodities on the footpaths and roads that squeezed those stretches.
"Some traders had kept their items on the road, making it inconvenient for people to move. Also, they hung tarpaulins over stalls in such a manner that there is no clearing and vehicles find it tough to move through the market. We asked them to remove those items so that people can move properly," Sarkar said.
As he went on asking the traders to remove their goods, some of them reportedly got agitated and resorted to protests. They accused the civic body of not providing proper services and infrastructure to run their shops and stalls.
"The civic body never felt the need to improve the infrastructure here or give us basic civic services. Now they are asking us to remove or reduce the space of our stalls. They have no right to order us around or displace us," said one of the irked traders.
As protests continued, Sarkar, after moving through some of the lanes of the market, left the spot.
Later, he denied any protest had occurred.
"There was no demonstration but some traders wanted to talk to us on certain issues," the deputy mayor said.
"We listened to them and will work together to improve the marketplace. Such drives to clear encroachments are needed so that there is adequate space for people to move in the market area and these will added in the coming days," he said.
Current Siliguri mayor Gautam Deb, who as the north Bengal development minister some years ago, had proposed a thorough renovation of the market, and had even come up with a comprehensive plan and obtained funds from the state for it.
However, as a section of traders had resorted to protests then, the project was shelved.