Siliguri mayor chooses team with a mix of old and new hands
Gautam Deb hinted that the TMC board led by him will also focus on the development of 14 added wards of the SMC in Jalpaiguri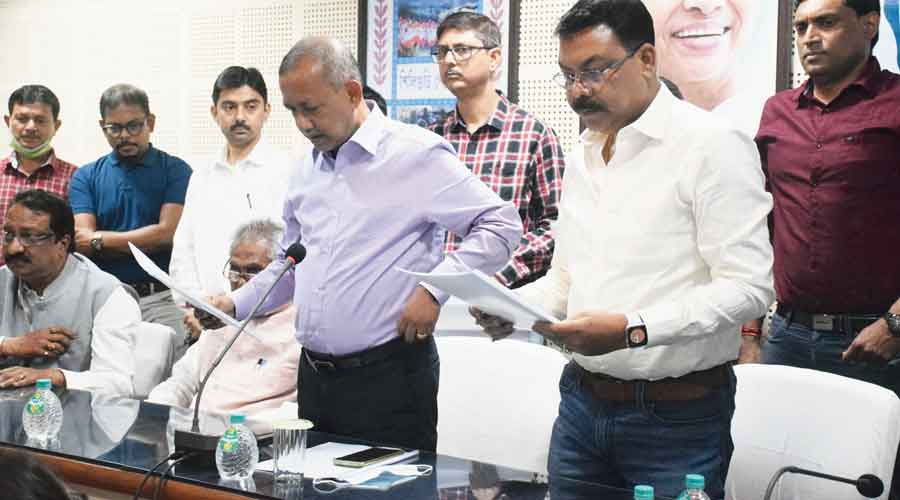 Mayor Deb and his deputy Sarkar (both standing in the first row, Sarkar on the right) at the SMC office.
Passang Yolmo
---
Siliguri
|
Published 05.03.22, 02:55 AM
|
---
Gautam Deb, the new elected mayor of Siliguri Municipal Corporation (SMC) — the largest civic body in north Bengal — on Friday tried to strike a balance between veteran councillors and first-time winners as he distributed departments among 10 other elected office bearers.
These office bearers are the deputy mayor and nine MMICs (member, mayor-in-council), who also took the oath administered by Deb before assuming office.
After the swearing-in ceremony, the mayor issued an order where it was stated that he will look after PWD, building, planning and development, finance and accounts and general administration.
"These are some of the departments where steady vigilance and key decisions are required. It is evident that the mayor is all set to shoulder the responsibility and monitor infrastructure developments carried out by the PWD wing," said a source in SMC.
He pointed out that during the tenure of earlier boards, questions were raised time and again on activities of the building department that has the responsibility of ensuring no illegal construction comes up in any corner of the city.
Deb, while attending the event, hinted that the Trinamul board led by him will also focus on the development of 14 added wards of the SMC under Jalpaiguri district.
A number of these wards lack basic amenities such as drinking water supply, sewerage and good roads.
"There is also a plan to approach the state government for a police camp in ward 33, from where the mayor got elected," said a source.
Ranjan Sarkar, the deputy mayor, was assigned with the departments of urban poverty alleviation and slum development programme. "He will also be responsible for traffic issues of the civic area, urban employment and development of minorities," an official said.
Deb chose two veterans, Dulal Dutta and Manik Dey, to look after other key departments like health, water supply, conservancy, solid waste management and the bio-mining project of the civic body.
After poll results, as chief minister Mamata Banerjee met the Trinamul councillors here and underscored the need for a clean Siliguri. The civic body is also working on a new drinking water project.
Two other senior councilors, Ram Bhajan Mahato and Kamal Agarwal, have got departments like property tax, maintenance of markets and electricity.
Among newcomers, Shobha Subba, the only Gorkha face in the civic board, will be in charge of education and cultural affairs, and Srabani Dutta has given the onus of child and mother care, midday meal and births and deaths department. Sikta Dey Basu Roy, another new councillor, will take care of plantation, beautification and environment.
Trinamul insiders said that Mamata had said women councillors had to be given due importance.
"Accordingly, the departments have been distributed. There is immense pressure on this new board to perform and deliver and we believe it would be able to meet peoples' aspirations," said a senior Trinamul functionary.