Security fear in hostels
Visva-Bharati authorities decided to close the university and its hostels for the time being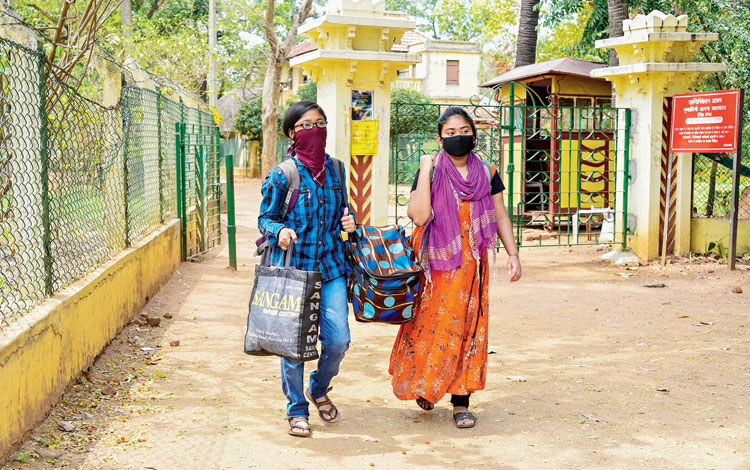 ---
---
Around 280 foreign students of Visva-Bharati have landed in a quandary as the authorities have begun vacating hostels following a coronavirus-related directive from the Centre.
As connectivity to most countries has been disrupted severely because of the outbreak, the students are unsure about whether to stay on at the campus or try to leave for their respective home countries.
"The foreign students at the university don't stay in a single hostel…. As the foreign students are scattered all over the campus in multiple hostels, issues like sense of security and availability of food have become a cause of concern as almost all other students left the hostels on Saturday," a foreign student said.
On Friday evening, the Visva-Bharati authorities decided to close the university and its hostels for the time being as a preventive measure to stop the spread of the coronavirus.
The varsity has ordered all students to vacate the hostels, barring those from abroad. The foreign students are worried as the campus is emptying out as students leave the campus.
Sources said that of the 280-odd foreign students on the campus, over 100 are from neighbouring Bangladesh and most of them live in different hostels. Visva-Bharati also has students from the US, Sri Lanka, Myanmar and some Latin American countries.
University officials said the Centre had asked them to prepare a detailed report on students from other countries living on the campus. They said the authorities did not want to take any risk by allowing the students to leave the campus as they could face trouble on their way home.
Staying on the campus, however, has turned problematic for the students from abroad.
"We are not sure whether the canteens will be kept open for four-five students in each hostel. It is not possible for us to buy food from outside everyday as we don't have so much money. Moreover, we are concerned about security on the nearly empty campus," a foreign student said.
The university plans to bring all the foreign students to one hostel so that required arrangements can be made for them.
"If the foreign students can be kept in one hostel, it will be easier to run a canteen and arrange for enough security. We will shortly prepare a detailed plan," said an official.
The problem is acute for the students from Bangladesh as they usually return home during long vacations. But this time they have not been able to go as most modes of transport, including trains and buses, to Bangladesh have been halted.
"Several flights will be cancelled from Monday and fares in this intervening period is too high. We used to take buses or trains to reach our country, but the services have been suspended. We don't know what to do as all our Indian friends have left the campus," said a Bangladeshi student.