Scurry to ensure water after cave-in
If constructed properly, it is not possible for any concrete structure to collapse within 3 years: Engineer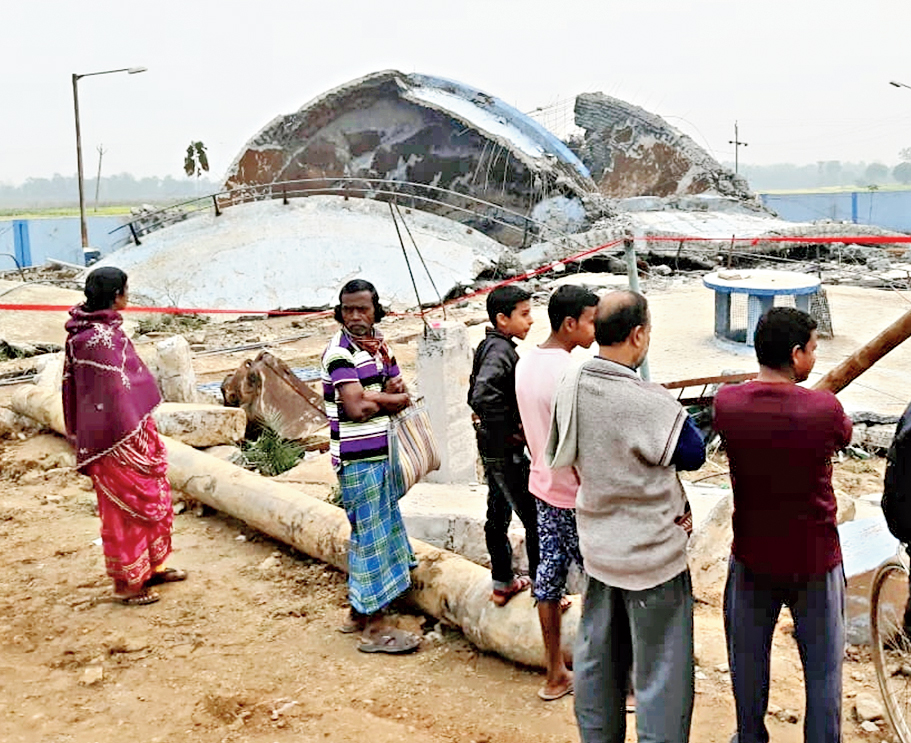 ---
---
The Bankura district administration and PHE engineers are working together on a war footing to supply drinking water to a dozen villages in the Sarenga block where an overhead reservoir collapsed on Wednesday.
Minister of state for public health engineering Shyamal Santra visited the area and held a meeting with engineers and district magistrate Uma Shankar S. on Thursday.
"We have asked the engineers and the district administration to supply water to the affected area from the water treatment plant at Mukutmanipur. It is a relief that the demand for water is low because it is winter now," said Santra.
Sarenga is considered to be among the state's most arid and dry zones.
Initially, the local gram panchayats had arranged tankers to supply water to the villages. Local residents, however, complained of inadequate supply of drinking water.
"Drinking water taps at the village have gone dry ever since the tank collapsed. We face a crisis now," said Fagu Murmu of Fatehpur village where the reservoir came crashing down.
The reservoir had the capacity to store 700 cubic meters of water. It had been completed three years ago.
Asked whether the government was contemplating action against the contractor who had constructed the reservoir, Santra said an investigation was underway.
"The matter is under investigation by our engineers. If we find any malpractice or irregularities, action will be taken accordingly," said Santra.
However, structural engineers in Durgapur said sudden crash of any concrete structure without any natural calamity clearly indicated that materials used in the construction were of poor quality.
"If constructed properly, it is not possible for any concrete structure to collapse within three years," said a structural engineer who teaches at a college in Durgapur and didn't wanted to be named. The agency that built the reservoir has constructed nine other overhead tanks in the area.
Local people flocked to the site to see the debris of the reservoir. They were angry and demonstrated when the PHE engineers arrived for the inquiry.
Villager Khagen Tudu asked: "If there were no irregularities, how could the tank collapse in three years after its construction?"
Bankura BJP MP Subhash Sarkar, who visited the area on Thursday, also echoed the villagers.
Neighbouring civic bodies in Asansol and Durgapur, which own and maintain several overhead water reservoirs, asked engineers to conduct a health audit of the structures.
"We regularly examine the structural health of the old and new overhead water reservoirs in the civic area," Durgapur mayor Dilip Agasty said.