Satyajit to Sunil, a handwritten offering
Puja tradition since Independence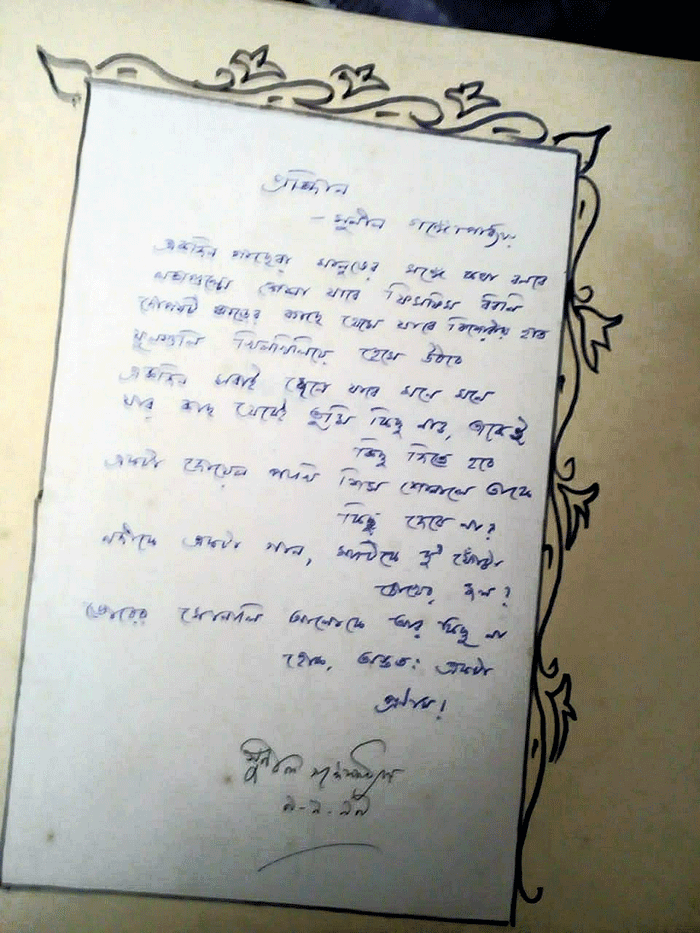 A poem contributed by Sunil Gangopadhyay for the magazine Sharodiya Prabhat Patrika
Pictures by Anirban Hazra
---
Burdwan
|
Published 03.10.19, 06:39 PM
|
---
The magazine was started by 12 freedom fighters the year India gained independence. Since then, many famous sons of Bengal, from Satyajit Ray to Sunil Gangopadhyay, have contributed to it.
Carrying on with the tradition of bringing out a hand-written magazine every Puja, members of Prabhat Sangha, a cultural youth club set up in 1947, have been preparing the 73rd edition of Sharodiyo Prabhat Patrika in East Burdwan's Raina. Thirty college students aged 18 to 21 have been working on the 200-page magazine for the past three months.
"The magazine was founded by 12 youths associated with the independence movement amid hardships. There was no access to technology at the time, but they still found a way to celebrate their culture. So we feel proud to continue this 73-year-old tradition, which has grown to attract nearly 200 members," said Uday Chand Nayak, secretary of Prabhat Sangha, who oversees the publication of the magazine.
Debi Prasad Roy, a second-year arts student involved in the magazine's publication, said: "We feel excited to be a part of this tradition because many eminent personalities, including Satyajit Ray, Sunil Gangopadhyay, Kalidas Roy and Saumitra Chattopadhyay, have contributed their writings to us in the past," Roy said. "This year we have stories, poems and paintings of senior IPS officer Dyutiman Bhattacharya, local BDO Soumen Banik and child litterateur Suniti Mukhopadhyay."
Concerned about the preservation of earlier editions, club members recently approached district magistrate Vijay Bharti regarding a possible government grant.