Bengal is following Bose's ideals, counters Didi
RSS joins race to claim Netaji's legacy, Bhagwat calls for fulfilling his dreams
'Netaji waged war against the British after exhausting all legal avenues to fight them. The two routes were different but the goal was the same. RSS is also tasked with that job'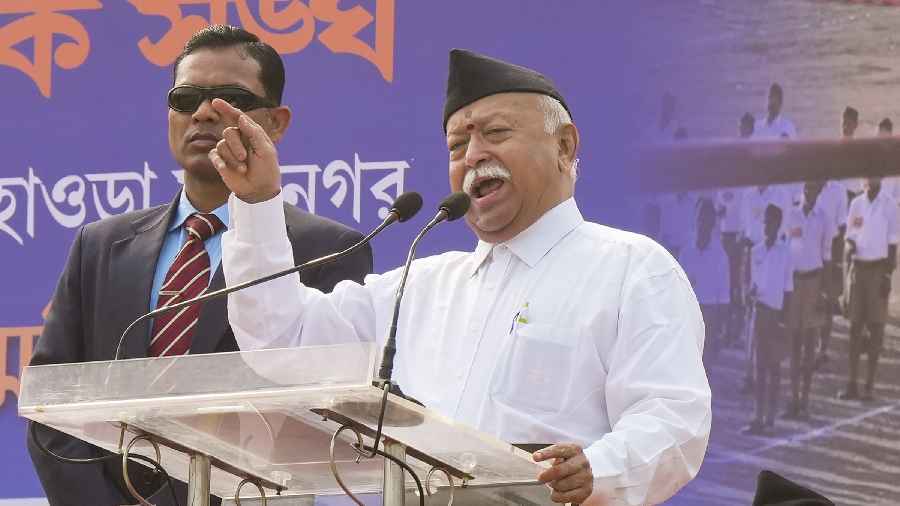 RSS chief Mohan Bhagwat speaks during a meeting at Shaheed Minar in Calcutta
PTI picture
---
Calcutta
|
Published 23.01.23, 07:50 PM
|
---
The already crowded arena of political establishments trying to lay claim to Netaji Subhas Bose's legacy found a new entrant on the leader's 126th birth anniversary: The Rashtriya Swayamsevak Sangh (RSS).
Speaking at a public meeting of the RSS at the Sahid Minar Ground in Central Calcutta organized to pay respects to Netaji, the organization chief, Sarshangchalak Mohan Bhagwat, said that "the destination visualized by Netaji was the same as that of the RSS".
"We must remember Netaji and our goal should be to bring to fruition his unfulfilled dreams. Netaji waged war against the British after exhausting all legal avenues to fight them. The two routes were different but the goal was the same. RSS is also tasked with that job. Subhas babu wanted to build India so that it could meaningfully contribute to the world," Bhagwat said in his speech.
The RSS programme was attended by Sukanta Majumder, Dilip Ghosh and Suvendu Adhikari, top BJP leaders of the state all of who, interestingly, sported the traditional Sangh uniform of khaki trousers, white shirts and black caps.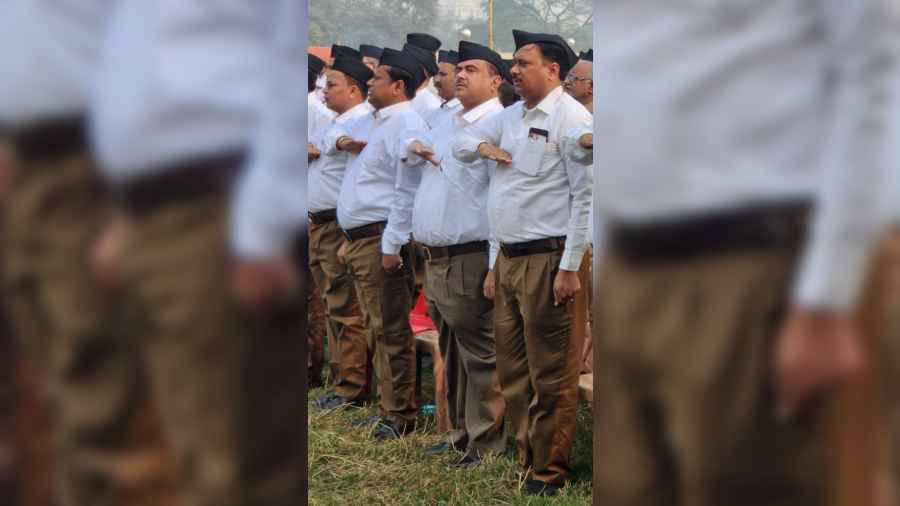 Bhagwat's dais was barely 50 metres away from the base of Netaji's statue on Red Road where Bengal chief minister Mamata Banerjee paid her homage shortly afterwards and stated, "Bengal is following Netaji's ideals. He showed us the way."
Stressing on Bengal's achievements towards making the "state's agriculture sector self-reliant", a goal that Bose has envisaged for the country, Banerjee said: "We don't have to buy school dresses for our children from outside anymore. That job is now done entirely by the weavers of this state and we have considerably enhanced work man-days because of that."
Banerjee chose the occasion to launch 50 additional Sufal Bangla mobile vans of Bengal's farm products for doorstep delivery and another 150 outlets of the state's sale initiative of farm produce procured directly from farmers to take the total tally of Sufal Bangla outlets to 512. "This is how Netaji would have wanted our farmers to be empowered and self-sufficient," Banerjee said.
The chief minister also took a veiled dig at Prime Minister Narendra Modi who named 21 unnamed islands of the Andaman and Nicobar island clusters after 21 Param Vir Chakra awardees on the occasion of Netaji's birth anniversary.
"Real leaders don't need certificates. One may name islands in the Andamans to earn popularity. But Netaji had already named them 'Shaheed' and 'Swaraj' way back," she said, without naming the Prime Minister.
As a fact of history, Bose visited Cellular Jail in Port Blair on 30 December, 1943, hoisted the National Flag as the first Prime Minister of the Azad Hind government in India and named the Andaman and Nicobar cluster of islands as Shahid Dweep and Swaraj Dweep respectively. Seventy-five years later, in 2018, PM Modi chose two islands from the Andaman cluster and renamed Neil Island as Shaheed Dweep and the Havelock Island as Swaraj Dweep. He also renamed Ross Island in the Andamans as Netaji Subhas Chandra Bose Dweep. A model of a national memorial dedicated to Netaji to be constructed on this island was also unveiled by PM Modi on Monday.
"Deeply influenced by his thoughts, we are working to realise his vision for India," Modi remarked on the occasion of Bose's birth anniversary, which is marked by the Centre as Parakram Divas, even as he highlighted the Centre's efforts to declassify the Netaji files.
"Netaji had envisioned the country's progress through the planning commission he had set up. That has now withered away. I see no planning, only non-planning," Mamata Banerjee said and blasted the Centre for "trampling democracy by putting central agencies behind leaders". "Some people run away out of fear. But we don't. We have risen from the ground by organizing people's movements. We know how to fight," she declared.
The Left parties, who had been unfavourably dispensed towards Bose in the past until they changed their stand much later in the history of independent India, weren't missing from the scene of observing the leader's birth anniversary. Commemorating the day as Deshprem Divas, a Left Front rally, headed by senior leaders like Biman Bose and Md Salim, was taken out from the historic Mahajati Sadan in north Kolkata and marched up to Subodh Mullick Square.