Rivers swell, flood several Malda blocks
The additional district magistrate (development) said the affected had been given relief materials and shifted to dry areas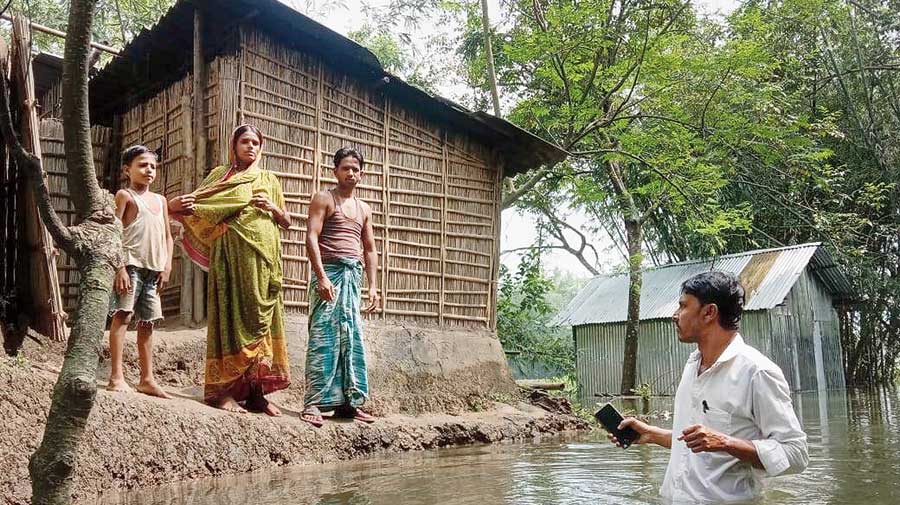 A panchayat member wades through the water to meet villagers in Chanchal, Malda, on Sunday.
Soumya De Sarkar
---
Malda
|
Published 05.10.20, 12:51 AM
|
---
Hundreds of families in at least four blocks of Malda district faced inundation as water levels in Mahananda and Tangon rivers, which flow through Malda, are steadily rising.
Among these include parts of Englishbazar, Old Malda, Gazole and Chanchal-I blocks.
On Saturday, Trinamul MP Mausam Noor and district magistrate Rajarshi Mitra took stock of the flood in Gazole and assured the victims of safe shelters and adequate relief.
According to local sources, Bhabanipur, Hossainpur and Chandipur villages under Chanchal-II block are largely inundated. Habitants of those areas have demanded boats and relief materials in adequate quantities.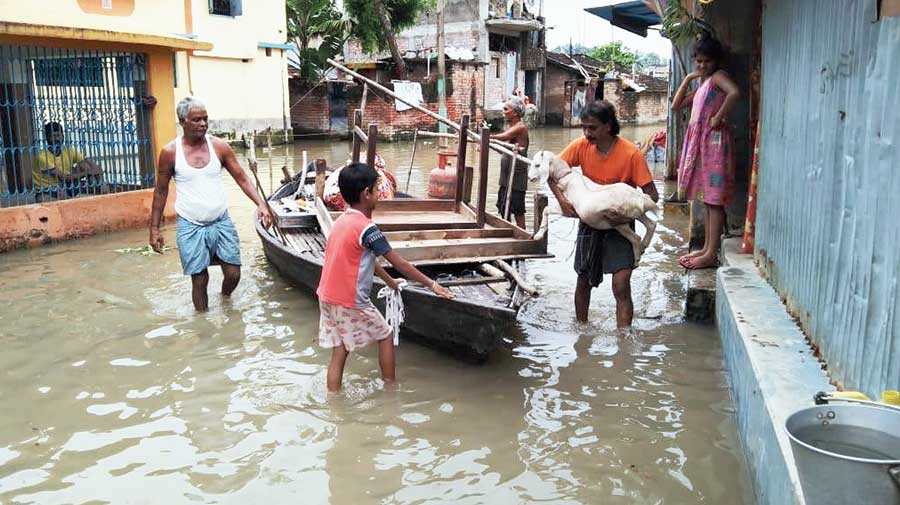 Areas under Mahanandapur gram panchayat in Chanchal-I block have been flooded by the Mahananda. Nearly 200 families are affected, said administrative sources. Also, nearly 500 families in two neighbouring blocks are marooned by the sudden rise of the Mahananda's water level, said resident Debashish Ghosh.
In the Gazole block, the Mahananda river has flooded Alal, Bairgachhi-I & II gram panchayats.
Chaknagar and some other localities have been flooded by the Tangon river. "Nearly 600 families in the block are now battling with flood," said Gautam Das, a bank employee.
He said that although relief materials were being distributed by the block administration, the demand for those was rising with newer areas flooding every day. The situation has worsened as an embankment collapsed in the block, with the swollen river gushing through the gap.
The situation is no better in Old Malda. "The Mahananda has spilled over the banks, and flooded urban and rural areas of the block," said Siddhartha Sarkar of Old Malda.
In Malda town, people living near the Mahanada have taken refuge at safer places arranged by the civic body.
They had returned to their houses only a couple of weeks ago from shelters when the Mahananda appeared benign, but a sudden rise in water levels renewed their peril, said Dilip Rajak, whose house is not too far from the riverbed.
Arnab Chatterjee, additional district magistrate (development), said the affected had been given relief materials and shifted to dry areas. Boats are ready, he added.
Pranab Samanta, executive engineer of the irrigation department, however, sounded hopeful that the situation would improve in the next 72 hours as the Mahananda subsides gradually.