Gorkhaland Territorial Administration (GTA) chief Binay Tamang has expressed unhappiness at the way some tourism projects are being executed in the hills.
Throwing open a Rs 9-crore project built by the GTA in Darjeeling's Meghetar on Monday, the Gorkha Janmukti Morcha chief said he would make "personal donations" to a Shiva temple within the complex that also has a cafeteria.
An official of the GTA's engineering wing stressed the need to make some more additions to ensure that the structure has the "shape" of a temple. "The cafeteria looks like a primary health centre building and the temple looks more like a community hall with a dome on the rooftop. The interiors resemble a dormitory," said a GTA official.
Tamang's announcement that he would make "personal donations" to the temple is being seen as a sign of his unhappiness with the way the complex has been built. The project also includes pathways, gazeboos and car park among others.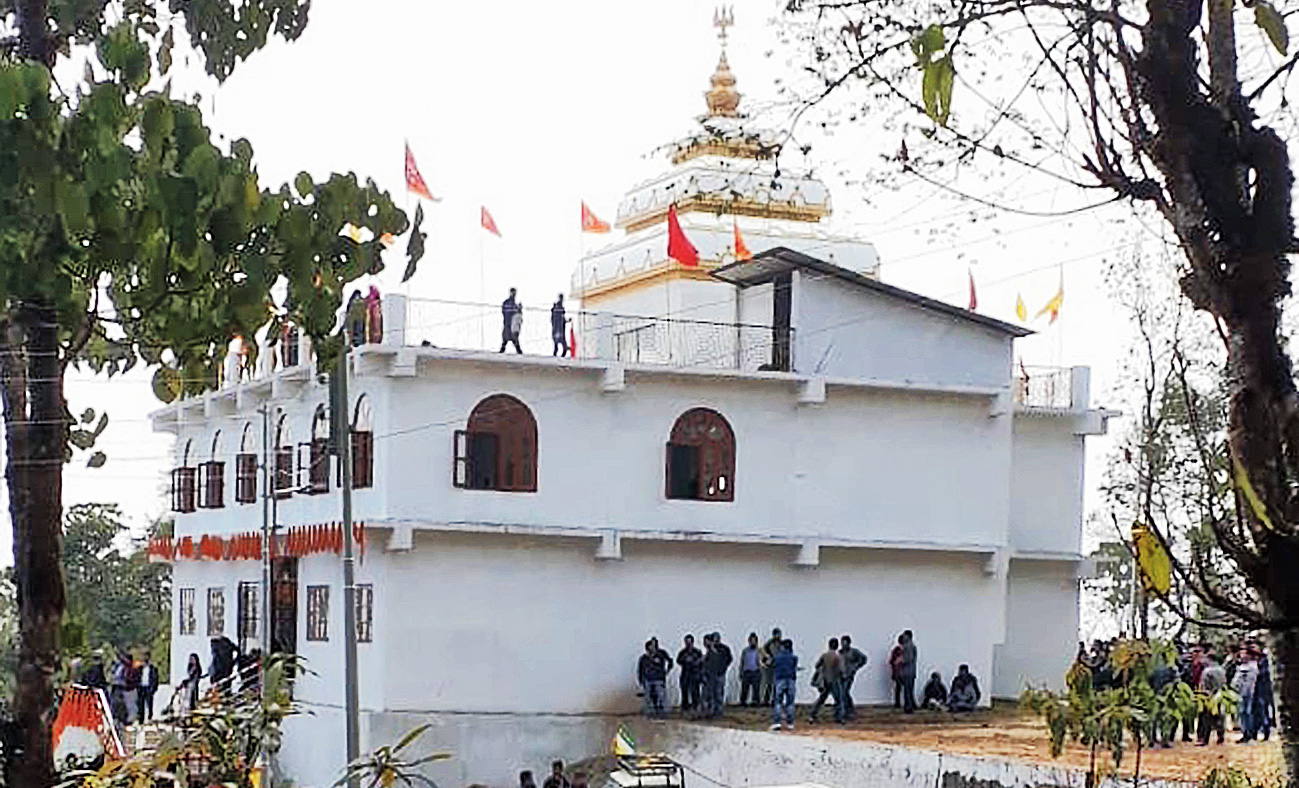 The temple that opened at Meghatar in Darjeeling hills on Monday. The Telegraph picture
Many believe the problems in the Meghetar project reflected shortcomings in the way major projects have been executed since the GTA was set up in 2012.
The Meghyatar project started in 2015 but sources said the construction agency faced a harrowing time as there was no proper road to the site. More astonishingly, sources in the GTA said the detailed project report (DPR) was prepared without hiring architects. In the absence of architects, engineers drew up the plan.
Sources said the construction agency did hire a Siliguri-based architect, but at a later stage. "However, since work was been executed based on the DPR, the architect could do little. He only helped change the pathways," said a source.
The difference can be felt. The pathways are well planned and are easy for climbers. Also, the parking space in this facility is among the best in the hills.
"It is not that GTA has not used architects at all. Architects have worked in other projects like model school of Sukna, Magarjung and RKSP School in Darjeeling and these structures are aesthetically appealing," said a GTA source.
Sources in the engineering department confided that some projects were haphazardly executed. "The less spoken, the better," the source added.
Tamang, speaking at the sidelines of the event said: "I do not know about this project but we will definitely consult architects when we undertake more work here"
The GTA chief also launched a scathing attack on contractors. After inaugurating 25 projects worth Rs 32 crore and laying foundation stone of another 30 projects worth nearly Rs 57 crore, Tamang publicly, announced the project name and their contractors.
"Contractors also belong to this place and they must love the place. If quality is compromised, the public should also gherao them," he said.