Rahul Sinha to hold talks with Amit Shah today
The two-time state BJP president and former national secretary said he would inform the central leadership as to how old-timers were being neglected in the Bengal unit of the party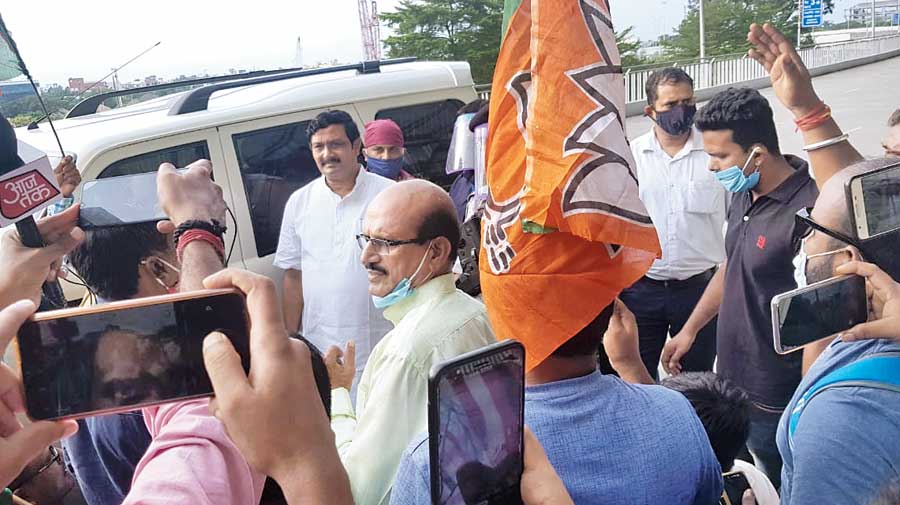 ---
|
Calcutta
|
Published 01.10.20, 01:53 AM
---
BJP leader Rahul Sinha, who made his first public appearance on Wednesday after being dropped from the national committee on Saturday, said he would inform the central leadership as to how old timers were being neglected in the Bengal unit of the party.
Sinha, a two-time state party president and former national secretary, left for New Delhi on Wednesday to attend a meeting with Union home minister Amit Shah and other senior BJP leaders on Thursday.
"Old timers in the party are disgruntled. They have given their sweat and blood for the party for 40 years. Now they have been distanced from their rightful places. I'll speak to the national leaders about their grievances," Sinha told reporters at the airport on Wednesday.
Sinha, sulking ever since he was removed from the national secretary's post, has been invited to New Delhi for talks after he did not show any interest in speaking to three senior leaders who had been deployed by the central leadership to pacify him.
A touch of drama marked Sinha's departure for Delhi. As the BJP leader got off his car at the airport, he was stopped by a group of supporters, including a few women, to prevent his journey to New Delhi. The women threw themselves on his way and urged him to not go to Delhi till he was given due respect in the party. It took Sinha nearly 30 minutes to persuade them and leave for Delhi.
Since the reconstituted BJP national committee was announced on Saturday, clashes between old and new factions of the party have been reported from various parts of the state. Though the clashes have no apparent connection with Sinha being dropped from the list, party insiders didn't rule out the involvement of the lobby loyal to the disgruntled leader.
On Wednesday, a group of BJP workers demonstrated in front of the state BJP headquarters at 6 Muralidhar Sen Lane here demanding the removal of Sibaji Singha Roy, who was recently appointed as the president of the BJP's North Calcutta district.
"Dilipda (Dilip Ghosh) has placed people close to him in important positions. Rahulda has kept quiet so far. But since he has no official position in the BJP now, his lobby is creating all the ruckus," a state BJP leader said.
However, Sinha's allegations were primarily not directed at the state BJP president, Dilip Ghosh. In a video message on Saturday, he had categorically mentioned that his removal was orchestrated to accommodate Trinamul turncoats on the national committee.
In Saturday's rejig, former Trinamul leader Mukul Roy had been inducted into the national committee, along with his close aide and fellow Trinamul turncoat Anupam Hazra.