Protests lined up against varsity VC in Santiniketan
Several political parties schedule programmes in opposition to the saffronisation of Tagore's institution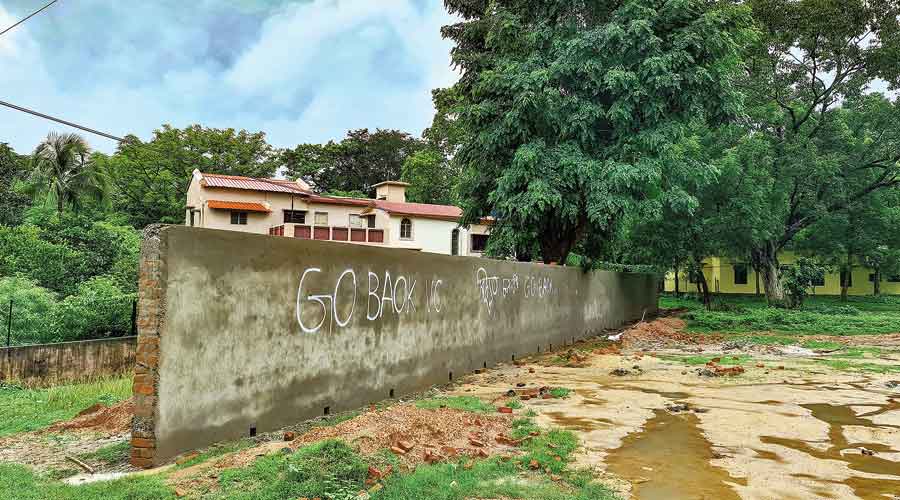 ---
---
The student and youth wings of the CPM will hold protests in Santiniketan on Saturday against the recent vandalism and alleged attempts by Visva-Bharati vice-chancellor Bidyut Chakrabarty and other varsity officials to saffronise Rabindranath Tagore's institution.
The twin protests by the SFI and the DYFI are among so many programmes lined up by political parties in Santiniketan over the next few days.
"We condemn the vandalism, for sure. But we would also protest against the practices of the current VC, his bid to ruin the legacy of Tagore and his ideology here to saffronise the campus," DYFI Birbhum district secretary Manotosh Majumdar said.
The SFI highlighted several allegedly biased moves by Chakrabarty, such as disallowing a lecture by eminent Marxist economist Prabhat Patnaik and inviting Rajya Sabha member Swapan Dasgupta, a saffron ideologue for a talk on the controversial citizenship matrix.
The Congress is also planning a movement against the proposed boundary wall.
"Our Bolpur unit would conduct a protest on Sunday against Visva-Bharati by putting up walls," said Birbhum district Congress president Sanjoy Adhikary.
The BJP is yet to start a structured movement as the party wants to test the waters on the emotive issue of the wall, in particular, and Chakrabarty, in general, before taking a proper plunge.
"We have been getting divergent opinions. We will have a meeting on Saturday with leaders of Bolpur and decide on the political course of action on the matter," Birbhum district BJP chief Shyamapada Mondal said.
Trinamul leaders said they would support all movements, irrespective of political affiliation, in protest against the varsity's moves to "ruin the culture" of Santiniketan with walls and alleged saffronisation. "We are in favour of Tagore and his legacy, which Santiniketan and Visva-Bharati stand for. We will oppose whoever tries to act against them," said Abhijit Sinha, a district coordinator of Trinamul.
The SUCI, a Left outfit traditionally opposed to the CPM, issued a news release, demanding an end to politicisation of the campus by both Trinamul and the BJP.