Prod on 'forgotten' yoga hospital proposal in Kalyani
Several officials and activists associated with yoga reminded how Modi showed his interest in yoga by introducing the celebration of International Yoga Day on June 21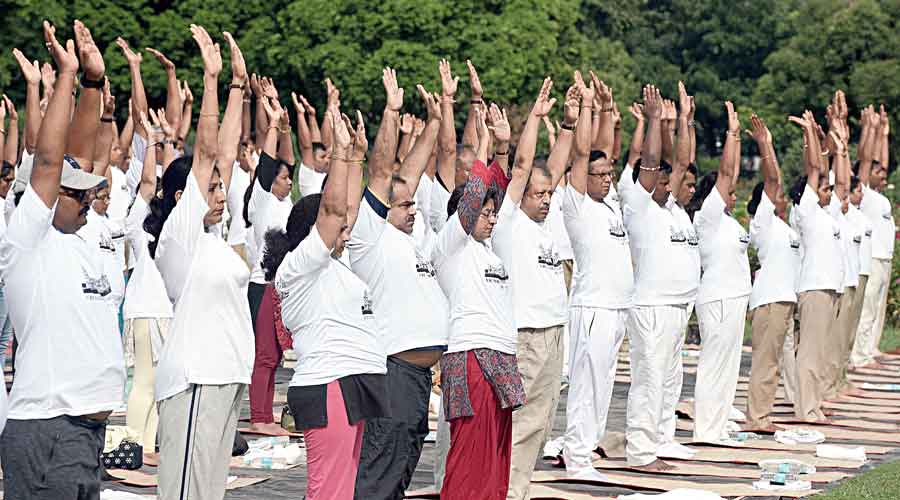 ---
Calcutta
|
Published 18.10.21, 02:15 AM
|
---
Officials of the West Bengal Council of Yoga and Naturopathy, a branch of the Union Ayush ministry, have requested their central counterpart, the Central Council for Research in Yoga and Naturopathy (CCRYN), to look into a 2019 proposal for setting up a 100-bed research institute and yoga hospital in Kalyani.
Representatives are alleging that the project, purportedly greenlit by the Bengal government, has been caught in the crosshairs of the ongoing state-Centre political tussle. Bengal representatives of Ayush requested that the Centre "realises the optics" of stonewalling a yoga project, given the latter's purported significance to the Narendra Modi regime.
"The Bengal government, with initiative from chief minister Mamata Banerjee, allotted 10 acres of land in Kalyani's Gopalpur free of cost towards this project, two years ago, and there has still been no action from the Centre," said Tushar Sil, president of the state council.
"This is clearly an attempt to undermine any progress in this state, even if it happens to be linked to passion projects of the BJP-run central government," he added. "Our chief minister had allotted Rs 67 crore to set up a yoga medical college and hospital in Belur, and that is already ready."
Several officials and activists associated with yoga reminded how Prime Minister Modi showed his interest in yoga by introducing the celebration of the International Yoga Day on June 21.
"The Prime Minister practises yoga in front of cameras on June 21 every year. It is ironic that construction of a yoga hospital is being neglected by the Centre in Bengal. Is it because it is a state ruled by Trinamul," said a source.
Officials referred to a letter dated October 20, 2019, from the state to the director of the central council, seeking clearances for future construction.
The project had initially been proposed in response to a Lok Sabha question in July 2019, to which the Union Ayush minister had apprised the House of plans to set up Central Research Institutes of Yoga and Naturopathy, as well as hospitals, in Odisha, Bengal, Rajasthan, Andhra Pradesh, Kerala, Jharkhand and Chhattisgarh.
In September 2020, an RTI inquiry to the central Ayush ministry had yielded only the information that land had been allotted towards the seemingly forgotten project.
"Incidentally, the land in question lies adjacent to the upcoming AIIMS facility here, where similar clearances have reportedly been issued," said a source.
In August this year, a Bengal Ayush team headed by Sil made a trip to meet their Delhi counterparts, and made their stance clear that the state believes political stonewalling was at play.
"This is a big project, and it involves yoga, which should be beyond politics. This shouldn't be stuck in the crosshairs of pettiness," said Abhijit Ghosh, state secretary of the Indian Yoga Association.
"We would like to thank the state government for its initiative. We have already contacted the director of CCRYN but there is no answer yet," he added.