Political whiff in Haldia port row rerun
Crane operators were forced to get off the ship after allegedly being chased off by Trinamul workers who demanded the agency of their affiliation be hired despite an existing tender that named another firm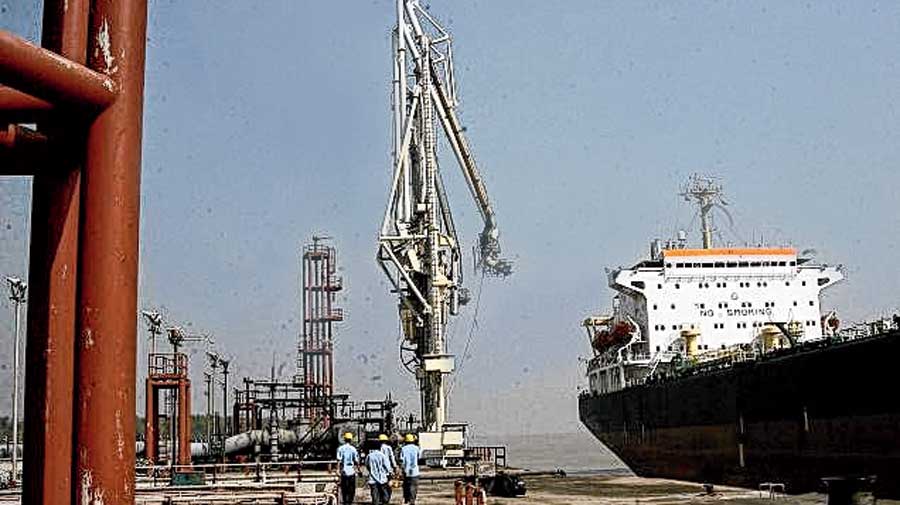 Labourers engaged in unloading consignment from M.V. Almeria had to leave with CISF protection as reportedly 200-odd workers owing allegiance to INTTUC sloganeered against Five Star Logistics Pvt Ltd, which had the tender for the job
File picture
---
Tamluk(EastMidnapore)
|
Published 17.11.22, 03:08 AM
|
---
Workers affiliated to Trinamul's trade union INTTUC allegedly stopped unloading from a manganese-laden ship at berth 9 of the Haldia dock complex on Wednesday, four days after a similar incident occurred at berth 13.
Crane operators were forced to get off the ship after allegedly being chased off by Trinamul workers who demanded the agency of their affiliation be hired despite an existing tender that named another firm.
Labourers engaged in unloading consignment from M.V. Almeria had to leave with CISF protection as reportedly 200-odd workers owing allegiance to INTTUC sloganeered against Five Star Logistics Pvt Ltd, which had the tender for the job. 
Sources said that M.K. Shipping & Chartering Co. and Five Star Logistics Pvt Ltd were to load and unload goods at berths 13 and 9, respectively, which allegedly irked INTTUC-affiliated workers. Both these companies belong to the Five Star Group.
According to dock complex sources, Trinamul workers in July formed a new firm and demanded loading and unloading jobs be outsourced only to it.
"As Five Star Group did not agree, it was not allowed to unload goods at berth 9 on Wednesday," a dock official said.
A Haldia dock complex source said such was the "fear of the Trinamul union" that a few ships waited to enter the port although berth 13 was empty. A director of Five StarLogistics wrote to the deputy chairman of Calcutta Port Trust, Haldia Dock Complex, on Wednesday that his company "required" CISF intervention to move his workers tosafety.
Capt. Asraf Shaikh cited the contract between the port and his firm and asked for a "safe and conducive working environment".
INTTUC district chief Shibnath Sarkar said: "It is a conflict between two contractors. It will be wrong to blame Trinamul."
A senior dock official, however, said ruling party workerswere creating serious hurdles.