Plea to CM for flight from Andal to Dhaka
District officials have said around 50,000 tourists come from Bangladesh to Churulia and Santiniketan every year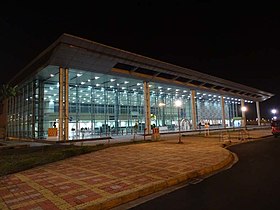 ---
|
Durgapur
|
Published 12.02.20, 08:11 PM
---
The business community of Asansol and Durgapur will submit a written appeal to chief minister Mamata Banerjee for introduction of a flight between Andal and Dhaka. The Durgapur Chamber of Commerce and Industries will submit the memorandum to the chief minister here on Thursday.
The traders' community said as the Kazi Nazrul Islam Greenfield Airport at Andal in West Burdwan was not far from Churulia, birthplace of Bangladesh national poet Kazi Nazrul Islam, a direct flight to Dhaka would of great convenience to those visiting the place from the neighbouring nation.
Those coming to Churulia also make it a point to visit Rabindranath Tagore's abode at Santiniketan in neighbouring Birbhum district, which is an hour's drive from Andal.
"Nazrul is the national poet of Bangladesh, while Tagore wrote their national anthem. Bangladeshi tourists, as well as students researching on Nazrul, frequently visit Churulia and Santiniketan. The tourism of the region will get a boost if the government takes the initiative to start a direct flight between Andal and Dhaka," said Kabi Dutta, a hotelier and president of the chamber.
District officials have said around 50,000 tourists come from Bangladesh to Churulia and Santiniketan every year.
Other than the attraction for Churulia and Santiniketan, Bangladeshis also visit Durgapur for treatment.
Sources said around 1,000 patients from Bangladesh visited private hospitals in Durgapur, which has two super-specialty and four multi-specialty hospitals along with two private medical colleges, every year.
"The patients can directly fly to Dhaka instead of travelling via Calcutta," Dutta said.
He said there were several tourist spots in neighbouring Purulia, Bankura and Birbhum districts.
"People from Bangladesh can visit Ayodhya Hills in Purulia, which is a three-hour drive from Durgapur. They can also visit Bankura's Bishnupur, which is famous for terracotta and textile industry apart from Tarapith, Bakreswar and Santiniketan in Birbhum. The region offers a complete tourism package," said Dutta.
Sources said Mamata, too, was keen to start air connectivity between Andal and Dhaka from the private airport that had Singapore's Changi Airport Group and West Bengal Industrial Development Corporation as stakeholders.
The Andal airport was inaugurated in 2013. It is is connected to Delhi, Hyderabad, Chennai and Mumbai.
On an average 1,000 passengers use the facility every day.
Airport officials said to start international flights from Andal the state government would have to take up the issue with the Centre for setting up immigration and customs offices.