Plant, nurture & protect trees, say students
Students planted trees on the campus on Thursday and five of them took home saplings to plant in their locality.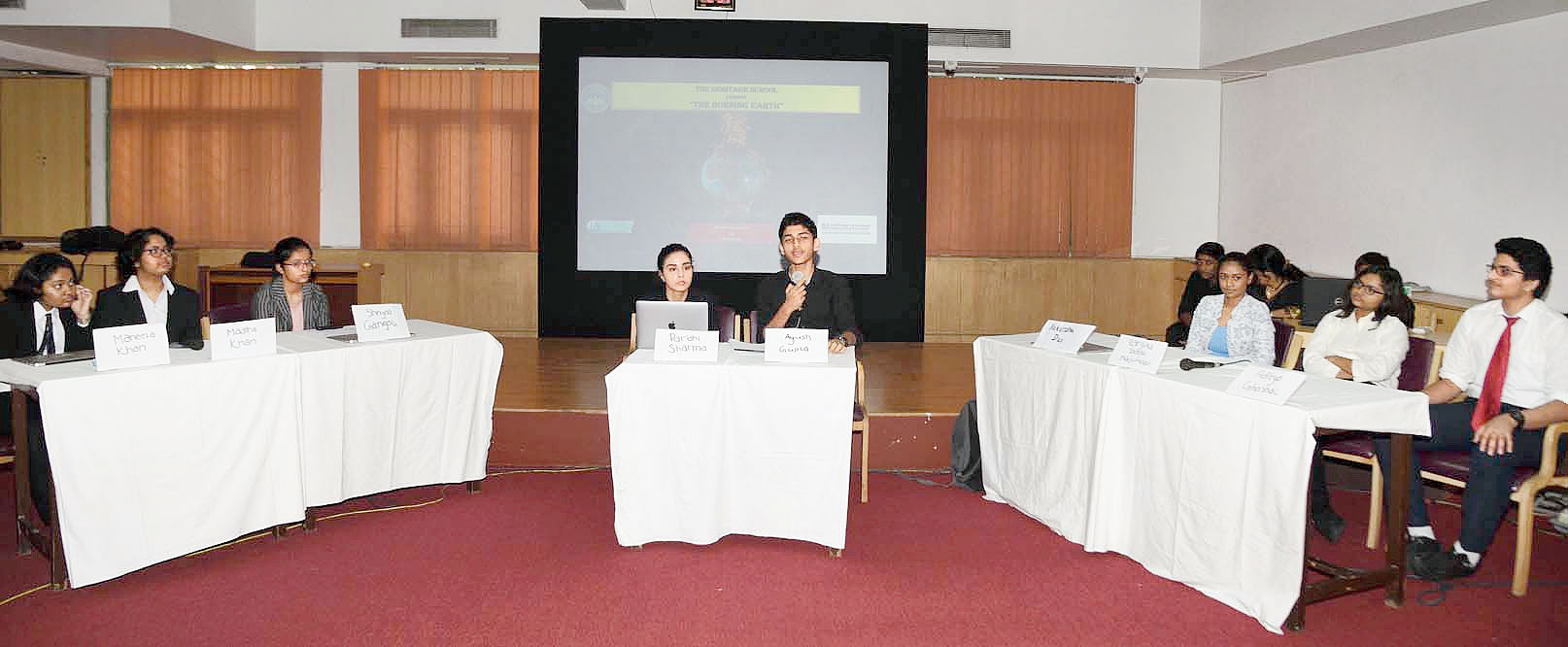 Participants at the panel discussion on "unethical felling of trees around the world" at The Heritage School.
Picture by Gautam Bose
---
Calcutta
|
Published 21.09.19, 09:14 PM
|
---
Planting trees is not enough, nurturing and protecting them is the real challenge said a 15-year-old while imploring young people to realise that their future is at stake if environmental degradation is allowed to continue.
The Class X student was a speaker in a panel discussion on "Unethical felling of trees around the world" where she told other students about the need for people to be "environmentally literate" and identify and protect areas of biological significance around them.
"Anybody can plant trees but nurturing them and protecting them is the real challenge. We, the people of Calcutta, need to identify our area of biological significance, that is the East Calcutta Wetlands, and raise our voice against its encroachment in the name of urbanisation. We are aware and now is the time for us to act. We should act not because we should but because we must. Think of yourself, think only for yourself. This is your world, your home and it is your future which is at stake," Shriyaa Gangoli of The Heritage School said.
The panel discussion was part of a programme, Burning Earth, organised by IGCSE-X environmental management students at the school off the EM Bypass on Thursday.
Students said it was not enough to be aware but to factor in the environment in every single act to arrest degradation. "We can spend all our time reading facts and statistics but that does not mean we feel the burning desire and the need to protect our environment. A lot of us may know what is happening around us and remain ignorant because we are not directly exposed to the degradation," said Ranjika Basu Majumdar, IBDP Year 1.
Ranjika spoke about the need for educational institutes to implement and adopt greener measures on campus such as waste segregation and solar panels or reduce the use of plastic.
Students brought up issues such as the fire in the Amazon rainforest or closer home the encroachment of the wetlands and initiating small changes in the neighbourhood during the hour-long session.
The students planted trees on the campus on Thursday and five of them took home saplings to plant in their locality.
"They will not just plant the sapling but see to its growth and upkeep. Each of the five students has adopted a sapling," said Tarasha Kothari, a Class X student (IGCSE- Year 2).
Principal Seema Sapru congratulated the students on taking up the issue of environment but also asked them for suggestions on what the school can do to reduce the environmental degradation.
She referred to an instance of how they were witness to water body close to the school being covered by thermocol and plastics.
"I liked the fact that children are so aware that there are things happening across the world that will in time have a devastating effect on the entire world. I am glad that children are thinking about this burning issue…. But instead of sitting and discussing, please come up with suggestions where we (the school) can support you," she said.