Partha Chatterjee cracks teacher leave whip
Teachers to be marked absent for unauthorised protest offs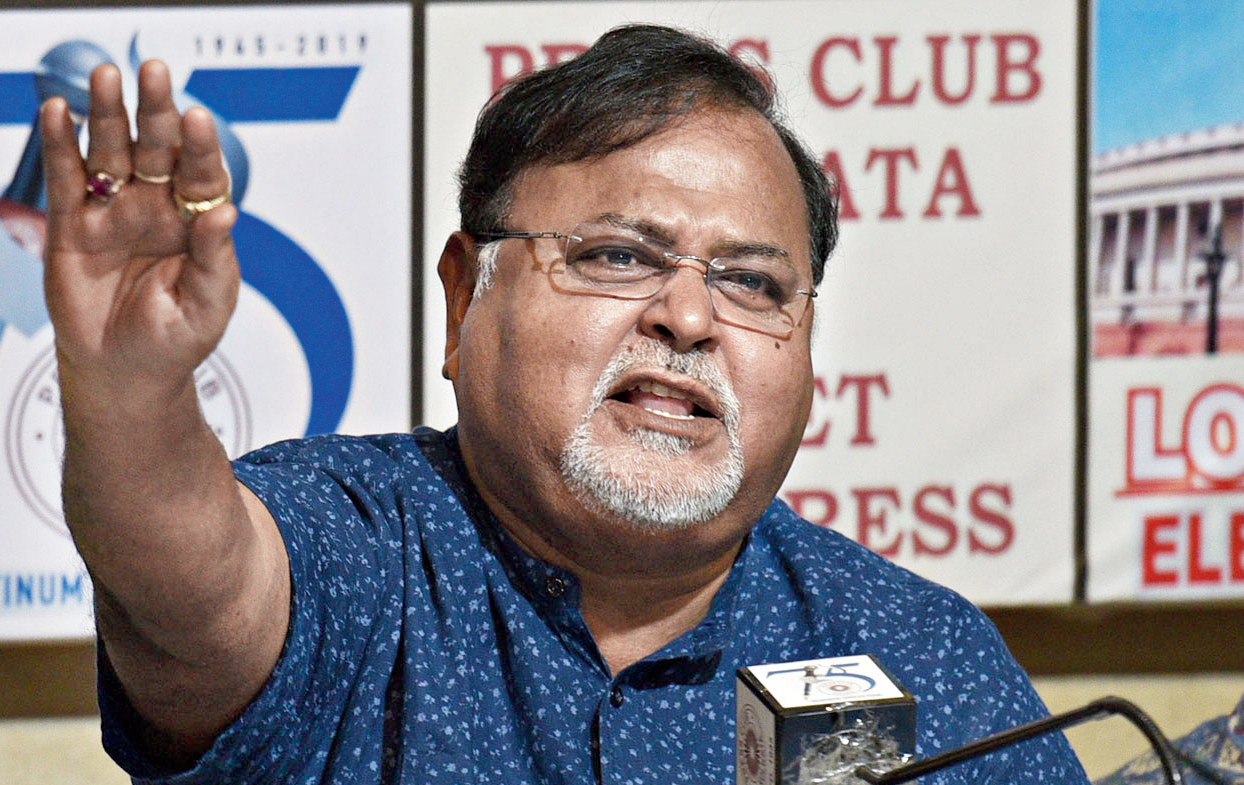 ---
|
Calcutta
|
Published 15.07.19, 10:58 PM
---
Schoolteachers will be marked absent if they participate in any movement without taking leave, education minister Partha Chatterjee said on Monday.
The government has noticed that students of many state-aided schools lose out on academic activities in classrooms when their teachers take part in movements such as the one demanding a raise in salary, a school education department official said.
The department will soon issue a circular prohibiting schoolteachers from taking part in protests without a sanctioned leave, Chatterjee said.
The move comes in the wake of an indefinite hunger strike by teachers of state-aided primary schools in front of Unnayan Bhavan in Salt Lake since Saturday, demanding a raise in salary, according to officials in the department.
Saugata Lahiri, one of the teachers on hunger strike, told Metro on Monday he and the others participating in the strike had applied for leave from their schools and they had been granted leave.
A department official said state-aided schools followed a system of maintaining a register to record attendance of the teachers. But these registers are not maintained properly in most schools, the official said.
Teachers often do not sign the registers. In some cases they would sign for the entire week on a single day but there is no one to verify whether he/she was present every day, the official said.
When there is some movement, teachers would land up at schools in the morning, sign the register and head for the agitation site without taking classes, he said.
"This cannot continue. It has been noticed that students would sit in classrooms the entire day without any academic activity as teachers would be holding demonstrations somewhere else," minister Chatterjee said.
"This has to stop. A circular will soon be issued in this regard."
Every teacher, though, has the right to take part in a movement, he said. But, the government has noticed this new trend of teachers joining agitations without informing the government about their demands and grievances.
He appealed to teachers to "first try and find a solution through discussions" before taking part in any movement. "On several occasions schoolteachers have hit the streets with their demands.... How can the government solve their problem if we don't know about it?"
The headmaster of a school in north Calcutta admitted that teachers often did not sign the attendance register.
There have been instances of teachers exchanging classes with colleagues to participate in a movement, he said.
There have been cases of teachers remaining absent for days without informing the school, he said. "But it is not possible for me to always monitor every teacher and keep a track on why they he/she is absent."