Owaisi keeps stirring pot
Meets Furfura Sharif's cleric Abbasuddin Siddiqui, says his party will contest Assembly polls under Peerzada's leadership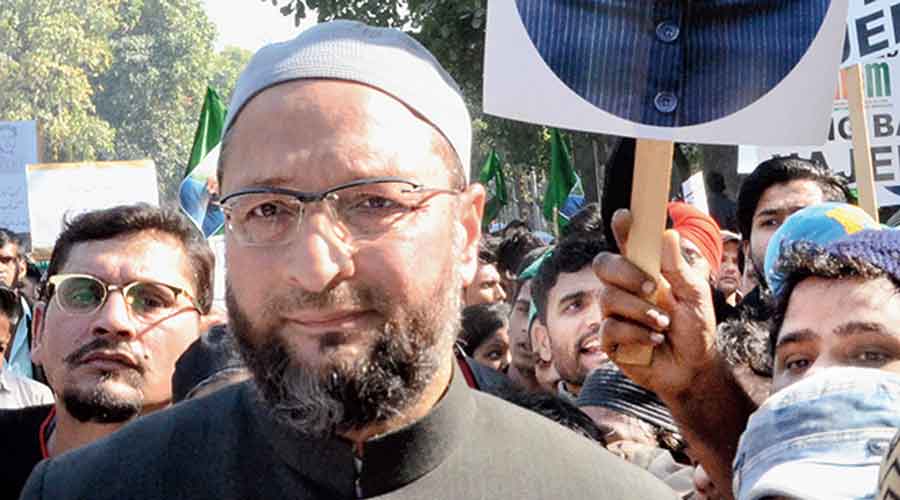 All India MajliseIttehadul Muslimeen chief Asaduddin Owaisi
File Picture
---
Calcutta
|
Published 04.01.21, 02:30 AM
|
---
All India MajliseIttehadul Muslimeen (AIMIM) chief Asaduddin Owaisi on Sunday met cleric Abbasuddin Siddiqui and said his party would contest Assembly polls under his leadership.
Owaisi, who has already declared his intent to field AIMIM candidates in the fray for Bengal, said: "We will go forward under the leadership of Peerzada Abbas Siddiqui in Bengal."
"We will stand by him. Whatever he decides, we will support," he added. "We are a political party and we will establish our presence in Bengal and contest elections here."
Siqqidui, a cleric at the holy shrine of Furfura Sharif in Hooghly, is considered a key voice in the minority community — there are at least 137 seats out of the 294 Assembly seats in the state, where Muslims are a decisive electorate.
Recently, Siddiqui declared his intent to float his own party and contest elections in Bengal, where one out of every three votes belongs to minorities.
The Left Congress combine had been trying to woo Siddiqui prior to this.
Owaisi, reacting to Mamata Banerjee's allegations |that his party was a B team of the BJP, said it was instead her turn to introspect how the BJP achieved unprecedented success in Bengal in the Lok Sabha elections of 2019.
"It should also analyse why its people have been deserting it," he said.
Another Furfura Sharif cleric Toha Siddiqui, however, dismissed the possibility of the shrine or the people of Bengal endorsing a "communal force".
The BJP has said that in a multiparty democracy, Owaisi, too, has the right to field candidates here if he so desires.
"It is only because of the possibility of a split in the only votebank Mamata Banerjee relies on for her victories that she is so averse to the idea of AIMIM coming here…. Irrespective of who comes or goes though, the next government here will be formed by the BJP," said the BJP's Hooghly MP Locket Chatterjee.