October 2 comeback for Gorkha soldier statue
The sculpture had earlier undergone a couple of alterations with respect to the khukuri which was replaced by the Indian flag and later the statue itself was removed and installed in the open space of the Gorkha Rangamanch Bhawan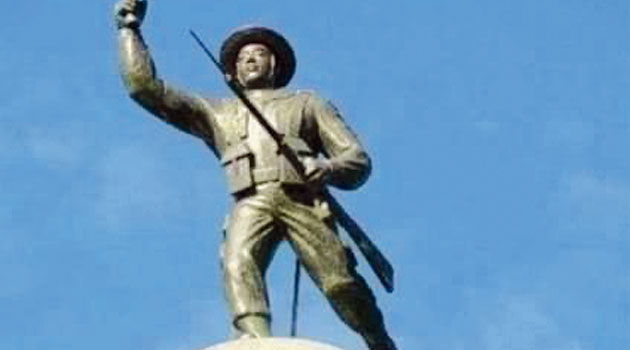 The statue of Gorkha soldier that would be reinstalled atop the Gorkha Rang Manch Bhawan in Darjeeling.
File picture
---
Darjeeling
|
Published 20.09.20, 12:25 AM
|
---
Binay Tamang has decided to reinstall a statue of a Gorkha soldier which was originally installed by GNLF leader Subash Ghisingh atop Gorkha Rangamanch Bhawan but uninstalled by Bimal Gurung when he took charge of Gorkhaland Territorial Administration (GTA) in 2012.
The statue will be reinstated on October 2.
"I requested GTA chairman (of board of administrator) Anit Thapa and principal secretary (Surendra Gupta) to reinstall the Gorkha statue at its original place. The GTA has given the necessary permission and the statue will be installed on October 2, the birth anniversary of Mahatma Gandhi," said Tamang.
Subash Ghisingh, the then chairman of Darjeeling Gorkha Hill Council came up with his dream project to reconstruct Gorkha Rangamanch Bhawan which was also called Bhanu Bhawan in 1997.
Construction of the auditorium, which also housed GTA offices and GTA Sabha hall, was completed in 2012.
Ghisingh had installed the Gorkha soldier's statue atop a globe.
Gurung, however, thought that the statue was wrongly placed and during a public speech said the khukuri should not be pointing towards Mahakal temple.
Soon the khukuri was replaced by the Indian flag. After some months, the statue was removed and installed in the open space of the Bhawan.
Tamang, who was a former chairman of GTA board of administrators before Anit Thapa took over, said that the decision to remove the Gorkha statue was "wrong."
Following Tamang's announcement, Neeraj Zimba, Darjeeling MLA from the GNLF party who won on a BJP ticket, said he personally welcomed the move despite his ideological differences with Tamang.