NUJS vice-chancellor sets roadmap for law school progress
The institution had been running without a full-time VC for nearly 15 months since the post fell vacant in April 2018, when P. Ishwara Bhatt resigned following an agitation by students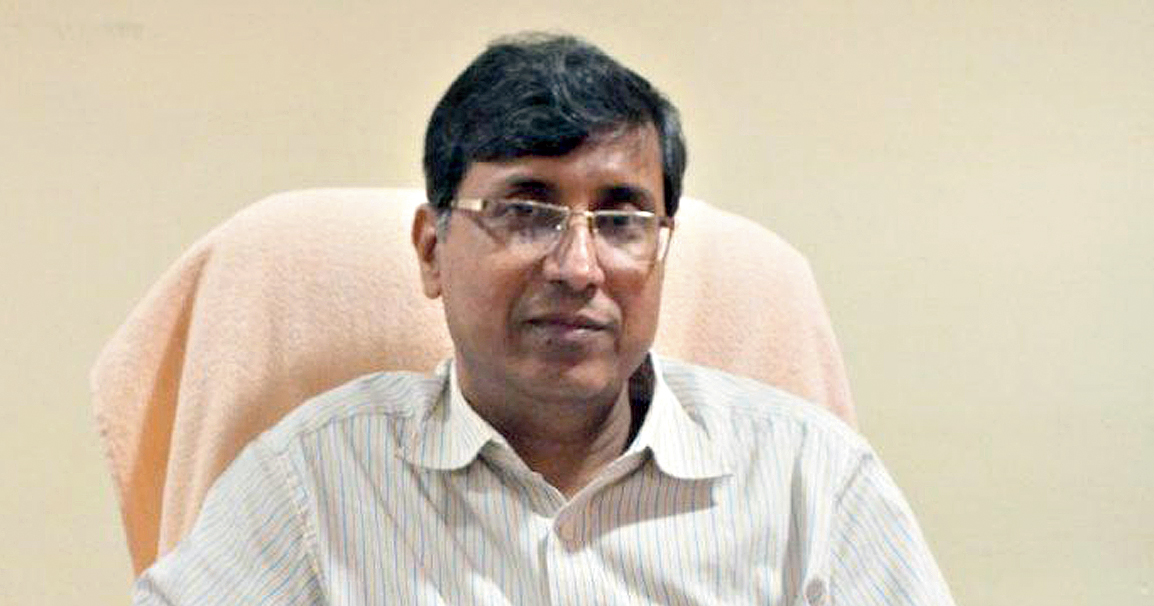 Nirmal Kanti Chakrabarti, vice-chancellor, NUJS
Telegraph picture
---
Calcutta
|
Published 13.07.19, 04:04 AM
|
---
Research, learning through fieldwork and filling key posts that have been lying vacant will be some of the focus areas of the new vice-chancellor of National University of Juridical Sciences (NUJS).

Nirmal Kanti Chakrabarti, former director of KIIT School of Law in Bhubaneswar, Odisha, was appointed the vice-chancellor (VC) of the EM Bypass law school on June 29. 
The institution had been running without a full-time VC for nearly 15 months ever since the post fell vacant in April 2018, when P. Ishwara Bhatt resigned following an agitation by students.
Most of the research bodies under the law school had stopped functioning several months ago. The School of Public Law, School of Economic Justice, School of Children Rights, Centre for Criminal Justice and Administration, Centre for Human Rights, Centre for Public Policy and Governance and Centre for Criminal Justice and Administrations are some of the research centres that are now dysfunctional, Chakrabarti said.
"Reviving these research centres is my top priority. NUJS is now known as one of the best law schools in the country. It has achieved excellence in imparting undergraduate and postgraduate learning. My target is to take the university forward by conducting research in certain relevant issues in law," the new VC said.
NUJS was set up in 1999 by N.R. Madhava Menon, a pioneer in legal education, and 20 years on it has made rapid strides towards establishing itself as one of India's best law schools. It was set up with a vision that encouraged students to look beyond the traditional legal concepts.
But NUJS has not been able to keep pace with some other law schools such as National Law School of India University, Bangalore, and National Law University, in promoting research.
"I am examining the status of our research scholars. We will have to appoint new researchers in some of the schools. The posts of the heads of some of the centres are vacant and the vacancies need to be filled up as early as possible," Chakrabarti said.
The process for appointing two chair professors has already started, he said. The registrar's has also been lying vacant.
In the first three years of the institute, when Menon had been in charge, NUJS had successfully conducted some outstanding research through collaborations with other reputable institutes and organisations.
"We want to promote collaborative research. I am meeting the teachers individually to discuss how we can promote research and publications to take the institute to a new height," Chakrabarti said.
The vice-chancellor said he had plans to introduce a new teaching method to make learning more fieldwork-based. In the existing system, it is compulsory for every undergraduate student to intern for a certain period. Under the new concept, which the new VC is planning to introduce, students will be required to visit different judicial and quasi-judicial bodies on a regular basis so that they can have practical knowledge of the laws they are taught in classroom every day.
"For instance, students learn about arbitration. They can be taken where an arbitration takes place and see for themselves how it is done. If they are taught something on environment, they could visit the pollution control board and do some fieldwork on the topic," Chakrabarti said.
Students can also visit courts, consumer courts, land and administrative tribunals.
The vice-chancellor has discussed his plan with teachers and students of the institute. "The students are extremely keen on such experiential learning," Chakrabarti said.