North Bengal University campus installs air quality monitoring station
NBU authorities have also drawn up another plan to address the issue of solid wastes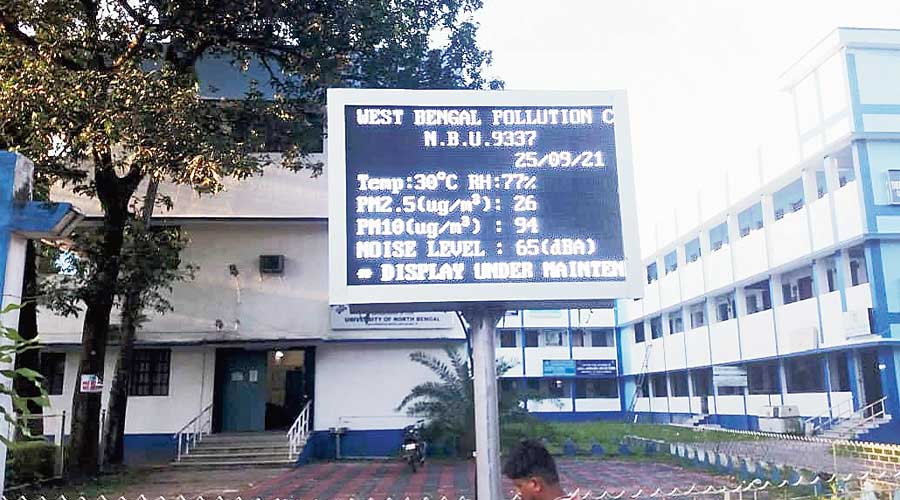 The display board on air pollution put up on the campus of the NBU, located on the outskirts of Siliguri.
Passang Yolmo
---
Siliguri
|
Published 05.10.21, 03:23 AM
|
---
The campus of North Bengal University (NBU) at Rajarammohanpur, on the outskirts of Siliguri, has installed a continuous air quality monitoring station in collaboration with the West Bengal Pollution Control Board (WBPCB).
A similar station, with a display board that shows the air pollution level and some other data of the NBU area and its surrounding areas, has also been installed on the Jalpaiguri campus of the varsity.
Sources in the NBU said that in November last year, the WBPCB chairman was in NBU when a proposal was mooted for installation of such stations. With the approval of the vice-chancellor, the proposal was sent to WBPCB.
"Recently, they approved the proposal, and accordingly, the stations were installed. This station, which continuously monitors air quality, will help students be more aware of issues related to pollution," said Pranab Ghosh, the NBU registrar.
Anjan Chakrabarti, a professor and director of UGC's Human Resource Development Centre at the varsity, said it was useful for climate change research scholars. "The application of the WBPCB updates air pollution level of the area and shows it on the display board. This will help researchers working on climate change," he said.
NBU authorities, sources said, have also drawn up another plan to address the issue of solid wastes, also with the help of the WBPCB.
Every day, biomedical and chemical wastes are collected at the labs as well as wastes from the hostels and residential quarters on the premises.
"The idea is to introduce a comprehensive solid waste management (SWM) system at the varsity itself. We have adequate space for the project. Officials of WBPCB are aware of it and soon, a team will visit the varsity to check the proposed site. We plan to install equipment which can dispose waste and we can make biogas out of it," the registrar said, adding it will also keep the university clean and hygienic. 
Sources in WBPCB agreed a SWM system will help the varsity. "It will help neutralise different wastes and make them less hazardous. Fuel, biogas or fertiliser can be made from the waste through this system," said a source.