North Bengal active patients 7,001, Malda tops tally with count of 2,259
According to sources in the state health department, altogether 237 micro containment zones are marked in the region as of now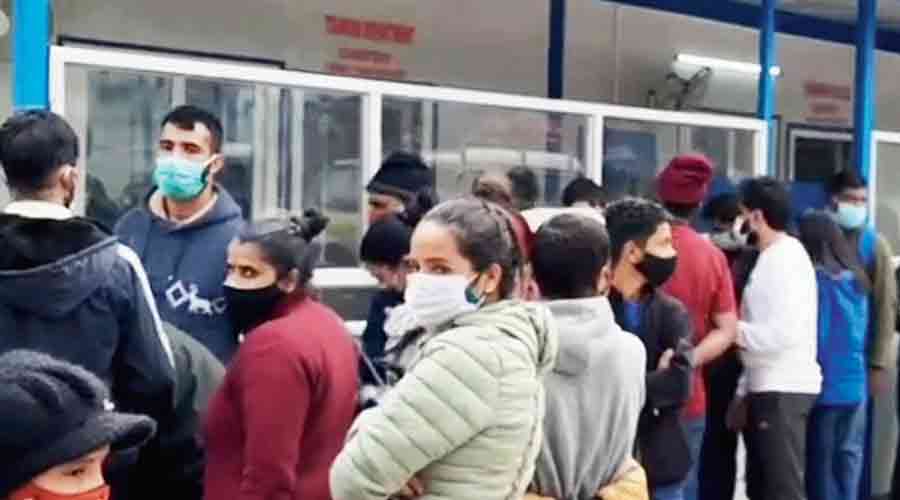 ---
Siliguri
|
Published 13.01.22, 02:32 AM
|
---
North Bengal logged 1,804 Covid-19 cases, 448 recoveries and three deaths on Wednesday as the number of active patients reached 7,001.
In the past 24 hours, the maximum number of new cases was reported from Malda district (518), followed by Darjeeling (500) and North Dinajpur (255).
The highest number of active patients is in Malda district (2,259), said a bulletin issued by the state health department.
According to sources in the state health department, altogether 237 micro containment zones are marked in the region as of now. South Dinajpur district has the highest number of such zones (77), followed by Alipurduar (50).
The lowest number of micro containment zones is in Malda (8), the district from where the highest number of fresh cases were reported across north Bengal in the past three days.
The Jalpaiguri district administration has decided to launch a Covid Awareness Squad comprising health department staff, police personnel and civil defence volunteers. The squad members will roam across the district in vehicles to encourage people to wear masks and follow other health protocols. The squad will carry necessary kits and other equipment to conduct rapid antigen tests at any location.
Police detained youth Trinamul leader Hazrat Ali in Baishnabnagar for loitering without a mask on Wednesday. Trinamul supporters went to Baishnabnagar police station demanding his release and had an altercation with officers.
Ali was released later.
A Trinamul worker was arrested in Harishchandrapur for heckling police officers when they asked him to wear a mask at a public place. Local Trinamul MLA Tazmul Hossain backed the police and urged all party workers to adhere to Covid protocols.
322 cases in Sikkim
There has been a steady rise in the number of fresh infections in Sikkim as well. The state on Wednesday logged 322 cases, which was a rise by 124 from Tuesday's figure of 198. The number of tests conducted in a 24-hour period was 1,851. There was, however, no addition to the death toll which stands at 410.
The positivity rate is 17.3 per cent, which is higher than the cumulative positivity rate of 11.6 per cent. Since February 28, 2020, the state has conducted 2,86,301 tests, 33,351 of which have emerged positive.
The Sikkim government modified its latest Covid protocol by exempting two-wheelers without pillion riders from the odd-even registration stipulation from Wednesday.
Four-wheelers, barring some exceptions, can only operate on alternate days.
Those vehicles whose registration numbers end on odd digits are allowed to ply on odd dates. Vehicles with even numbers can ply on even dates.
Exemption has been given to some vehicles, including army and other security agencies, government on official tours, commercial and those engaged in essential services.