Nobel sends book out of stock
Dasgupta & Co. had to turn away more than 15 people, promising to get in touch with them as soon as fresh stocks arrived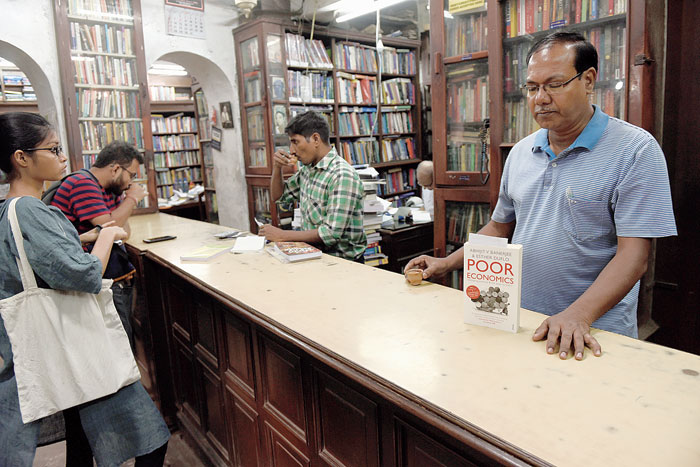 ---
Calcutta
|
Published 16.10.19, 12:41 AM
|
---
Three of the four copies of Abhijit Vinayak Banerjee and Esther Duflo's Poor Economics available with Dasgupta & Co. on College Street were sold by Tuesday noon. The fourth and last copy was reserved over phone.
The College Street bookshop had to turn away more than 15 people, promising to get in touch with them as soon as fresh stocks arrived.
Bookseller Tarun Shaw had sold all three copies of the book that he had by Tuesday morning and has since received at least 20 calls with requests for the book.
When Shaw called the distributor, they didn't have any copy of the book either. "There is no copy of the book in Calcutta. I have received about 20 calls since morning. I had only three copies," he said.
The book was ranked number one in the bestseller section of Amazon India's website on Tuesday evening. But according to the website, stock would be replenished only on October 25.
First published in 2011 in the US, the book did good business when it arrived in the Indian market the next year, booksellers said. With time, the demand dipped and retailers stopped stocking the book.
The Nobel prize announcement on Monday has once again raised the demand for the book, but this time there is no supply.
New stocks are unlikely to arrive in the city before 10 days.
An official of Prakash Books India Private Limited, the distributor of Penguin India's books in the city, said 2,000 copies of Poor Economics were scheduled to arrive 10 days later. "Even the publisher doesn't have it in stock. We had five copies, all of which got sold on Monday evening. We have ordered 2,000 copies and we expect them to arrive within 10 days," said an official of Prakash Books.
He said more than 5,000 copies of the book have already been sold in Calcutta since it arrived.
Booksellers said requests for the book have been coming from people of various professions, and not only students of economics. The customers included doctors, teachers of English and chartered accountants.
"I have read a couple of books by Amartya Sen and found them intelligible though I never read economics in school or college. After yesterday's Nobel prize, I want to read Abhijit Banerjee's book too," a former student of English literature and now a college teacher said in between looking for the book on College Street. "But now I have to wait since I didn't get the book in any store."
The Nobel has also triggered interest in Banerjee's other books .
Anamitra Chatterjee, an alumnus of Presidency College's economics department, had read Poor Economics soon after it was published in India. Now, he is looking to buy What the Economy Needs Now, a book that has Abhijit Banerjee as one of its editors.