'No Hindu will have to leave over NRC'
RSS will stand by those from community not listed anywhere in the country: Bhagwat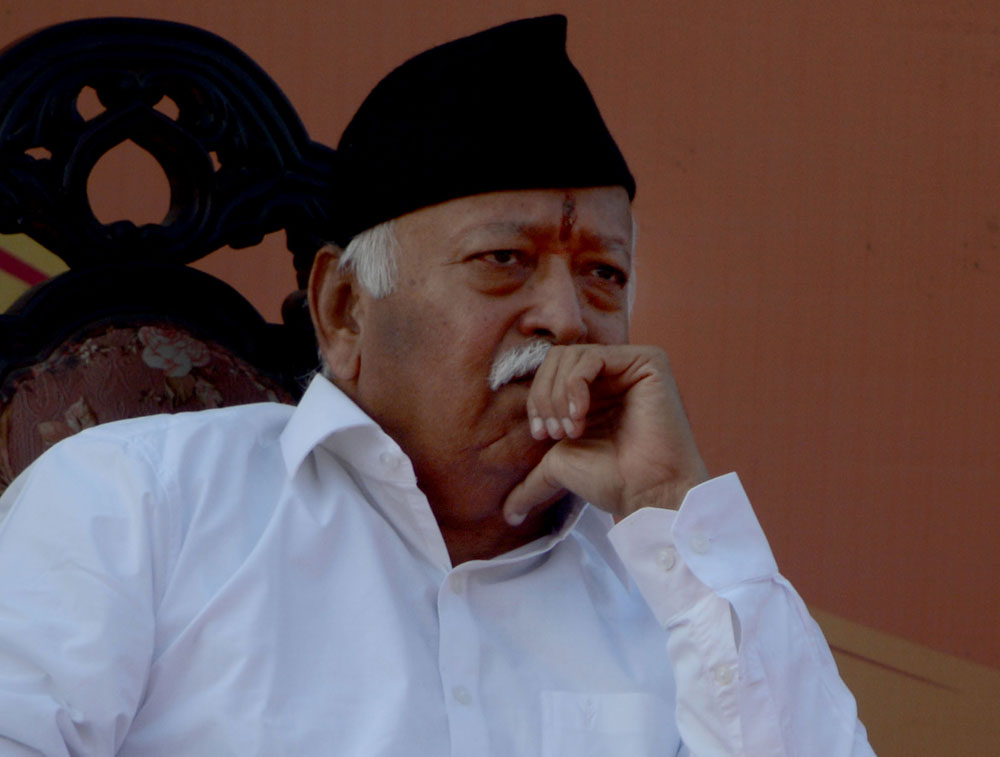 RSS chief Mohan Bhagwat
Telegraph file picture
---
Calcutta
|
Published 22.09.19, 07:45 PM
|
---
RSS chief Mohan Bhagwat was quoted on Sunday as saying that Hindus need not be apprehensive about being made to leave the country irrespective of whether their names feature in the National Register of Citizens (NRC) in Assam and elsewhere.
Speaking at a closed-door coordination meeting at Uluberia in Howrah, the Sangh sarsanghchalak told representatives of 37 allied organisations that no Hindu would be made to leave the country even if their names do not feature in the NRC.
Bhagwat was referring to concerns, even within the saffron camp, over 12 lakh Hindus being part of the 19 lakh people who did not make the NRC cut in Assam.
"I assure you, not a single Hindu will have to leave this country because of NRC," Bhagwat was quoted as saying at the meeting on Sunday.
"Hindus not listed in the final NRC in Assam need not worry. The RSS will stand by them…. Hindus anywhere in this country need not worry about NRC," Bhagwat added.
Along with its push for NRC outside Assam, the RSS-BJP parivar has been highlighting the Citizenship (Amendment) Bill that the Narendra Modi government wants to pass to ease citizenship for non-Muslim migrants from Pakistan, Bangladesh and Afghanistan.
"We expect the Union home minister and our national party president Amit Shah to give a similar assurance about Hindus not named in the NRC in Assam and elsewhere, like in Bengal, during his visit to Calcutta on October 1," said a BJP leader who attended Sunday's meeting.
He added that the saffron camp would do its best to counter "misinformation" by Trinamul and the Left in Bengal to corner the BJP politically over NRC ahead of the Assembly elections in 2021.
Trinamul, the Left and the Congress have opposed NRC in Bengal. In the Assembly and outside, the three parties have been virtually echoed each other on the issue and in their attacks on the saffron camp over the list.
Sources in the BJP said NRC in Bengal would not be carried out before the Citizenship (Amendment) Bill was passed.
"We tried passing the bill in the first term itself but it got stuck in the Rajya Sabha. We will soon have a majority in the Upper House as well so we will easily pass it well before the Bengal polls. Mamata Banerjee or the CPM will not be able to confuse Hindus over NRC," said a BJP leader.
Bengal BJP president Dilip Ghosh has been promising NRC in Bengal for over a year. In the general election, Shah had pitched it as a major plank while Mamata vowed to oppose it tooth and nail. The BJP won an unprecedented 18 of the state's 42 Lok Sabha seats and secured leads in 121 of the 294 Assembly segments.
"Our call for NRC has clearly helped us here. We will not take our foot off the NRC pedal in Bengal," said a BJP leader.