Night after Diwali, as noisy
Pollution control board officials said 60 complaints were related to bursting of banned firecrackers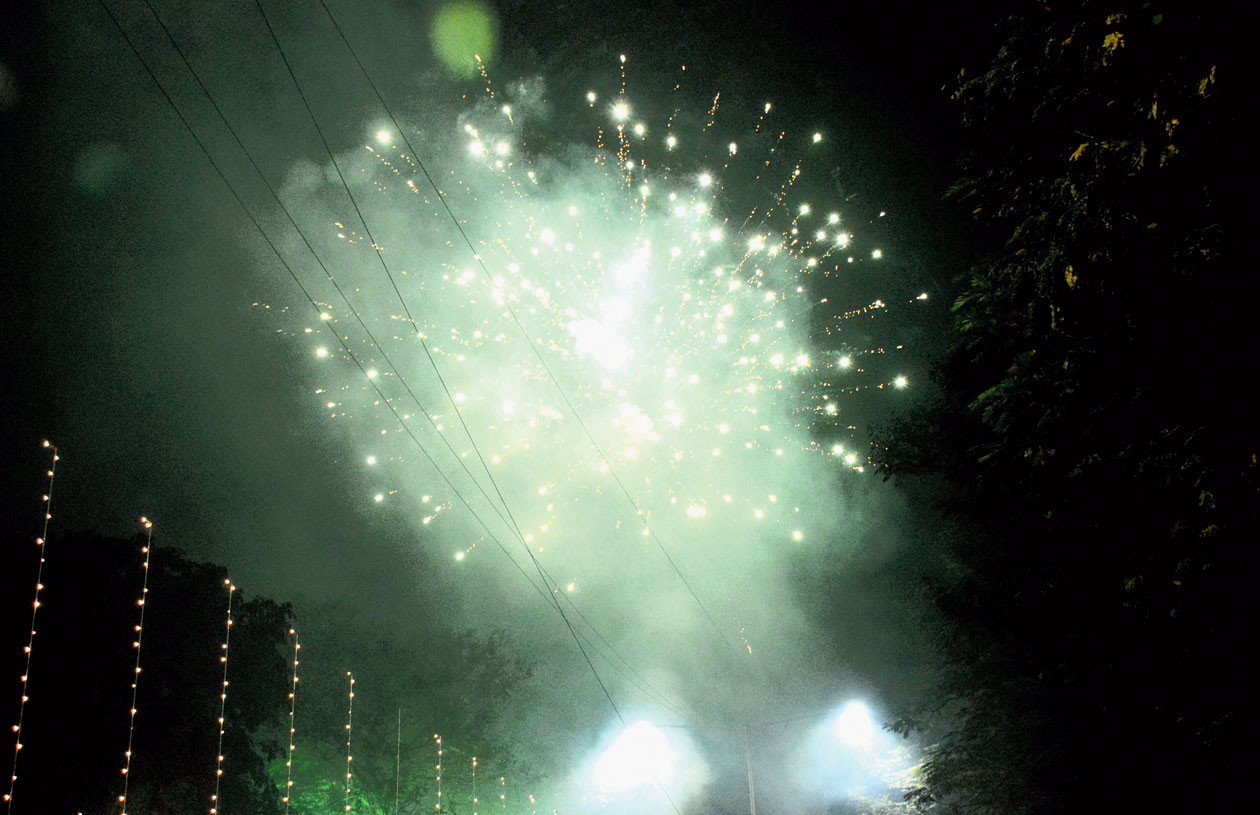 ---
|
Calcutta
|
Published 29.10.19, 08:45 PM
---
The night after was as noisy as Diwali in many parts of the city and adjoining areas and more than 100 complaints of noise rule violations were lodged by residents, police officers and representatives of the state pollution control board said.
Among the affected pockets were Bangur, Lake Town, New Town, Salt Lake, Sonarpur, Khardah and Howrah.The board received 95 complaints on Monday night and early on Tuesday. Bidhannagar police received 20 complaints.Calcutta police refused to say how many complaints were lodged with them on Monday night. An officer said 32 complaints were lodged on Sunday, the day of Kali Puja and Diwali.
Pollution control board officials said 60 complaints were related to bursting of banned firecrackers. A few highlighted how crackers were lit beyond the stipulated two-hour window of 8pm to 10pm.Thirty-five complaints were related to the use of loudspeakers and open-air DJ shows.In Calcutta, complaints poured in from Alipore, Kasba, Kalighat, Tollygunge, Behala, Patuli, Tangra, Chetla, Shyampukur and Karaya.
A board official said many of these places had been identified as hot spots of violations based on last year's experiences. "The police had been alerted about them," the official said.Residents from across the city told Metro that bursting of firecrackers on Monday night was as rampant as on Diwali.
According to them, banned crackers started going off around 6.30pm and the frequency of the violation kept increasing by the hour. "The noise reached a crescendo around 11.40pm and continued throughout the night," said Subrata Bhattacharya, a resident of Bangur Avenue."The menace continued till early on Tuesday. Apart from the noise, the smell of burnt chemicals made breathing difficult," he said.
Subroto Dasgupta, of Lake Town, said he had turned in for the night around 11pm even though crackers were still being burst.
"I could barely close my eyes as the noise reached a fever pitch at 11pm. I went up to the roof and saw fireworks lighting up the sky almost every other second. People were bursting crackers in the lane in front of our building. There were no cops in sight," said Dasgupta.An officer of the Bidhannagar commissionerate said 32 people had been arrested based on complaints lodged till early on Tuesday. Around 67kg of banned firecrackers were seized, mostly from Bangur, Lake Town and Rajarhat.A section of officers from Calcutta and Bidhannagar police said they could do little unless manufacture of illegal fireworks in adjacent districts was stopped much ahead of Diwali.
"We set up checkpoints, especially to find out whether people were ferrying banned crackers in vehicles. Despite such attempts, many illegal crackers entered the city," an officer of the Bidhannagar commissionerate said.