New AC rake glitch trips Metro for hours
The new rakes had flunked a series of tests and had to wait for over 2 years to start commercial runs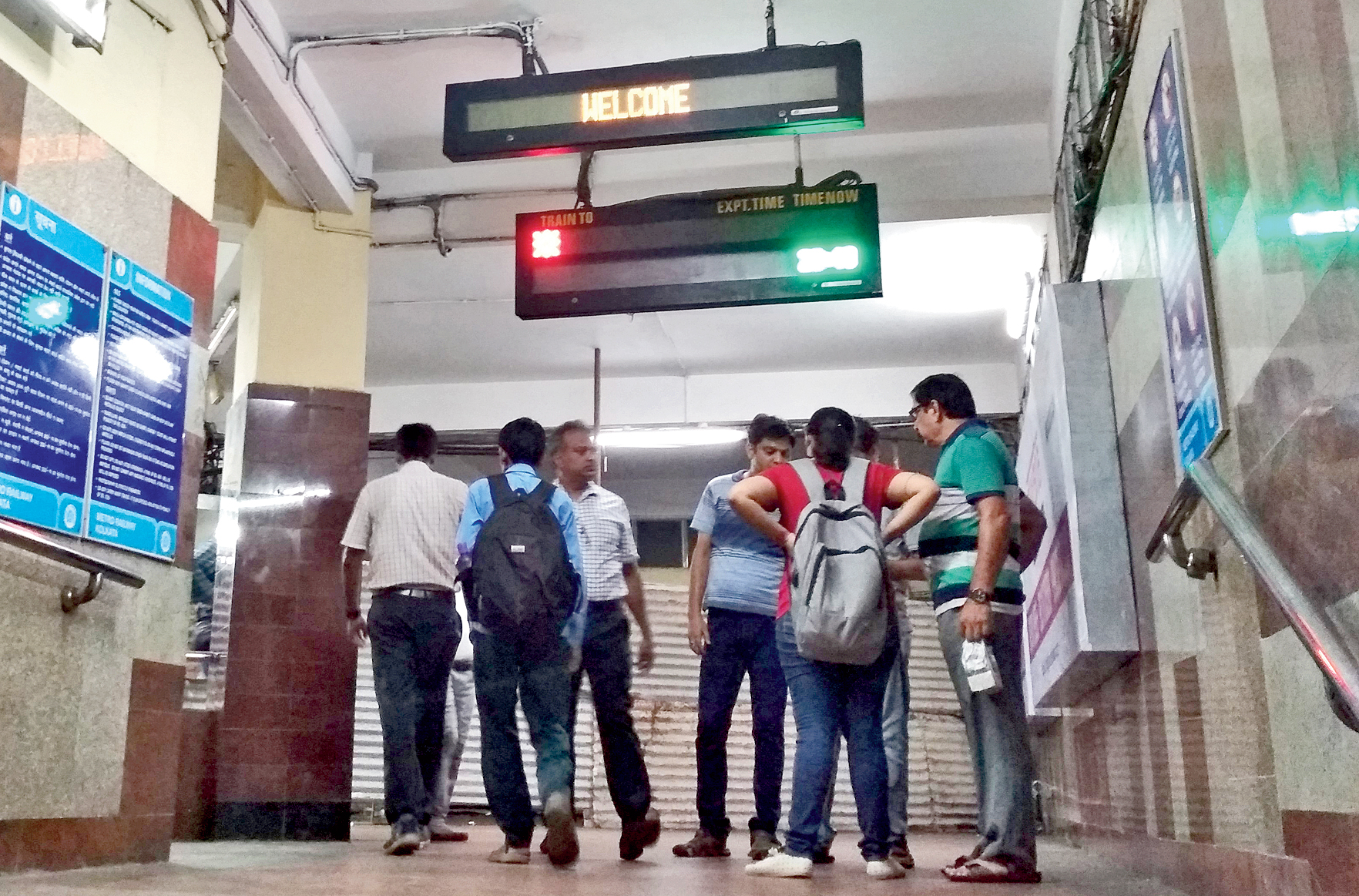 ---
|
Calcutta
|
Published 11.06.19, 01:07 AM
---
One of the new air-conditioned rakes of Metro Railway was stranded at Sovabazar station following a power failure on Monday evening and several passengers of at least two other trains stuck midway refused to get off.
The disruption inconvenienced tens of thousands of passengers for the rest of the evening.
The new rakes built at railway's Integral Coach Factory in Perambur, near Chennai, which had flunked a series of tests and had to wait for over two years to start commercial runs, have been diagnosed with leaking roofs and faulty doors since being commissioned.
On Monday, the snag took place around 6.40pm, when the New Garia-bound train was about to leave Sovabazar station, said a Metro official.
"Power from the third rail suddenly tripped. Prima facie, there was a problem in the rake," said a senior official. The train could not resume its journey despite several attempts and the passengers were asked to get off.
The authorities tried to run a truncated service between Central and New Garia but could only run a handful of trains for the rest of the evening because passengers on subsequent Dum Dum-bound trains refused to get off at Central station, from where the train can switch tracks.
The affected train was taken to Noapara car shed at 10.06pm. The last train left Noapara at 10.40pm and Kavi Subhash at 10.27pm. The last train left Dum Dum at 10.53pm.
The truncated service between Central station and New Garia started around 7.30pm, but by then chaos had taken over all stations.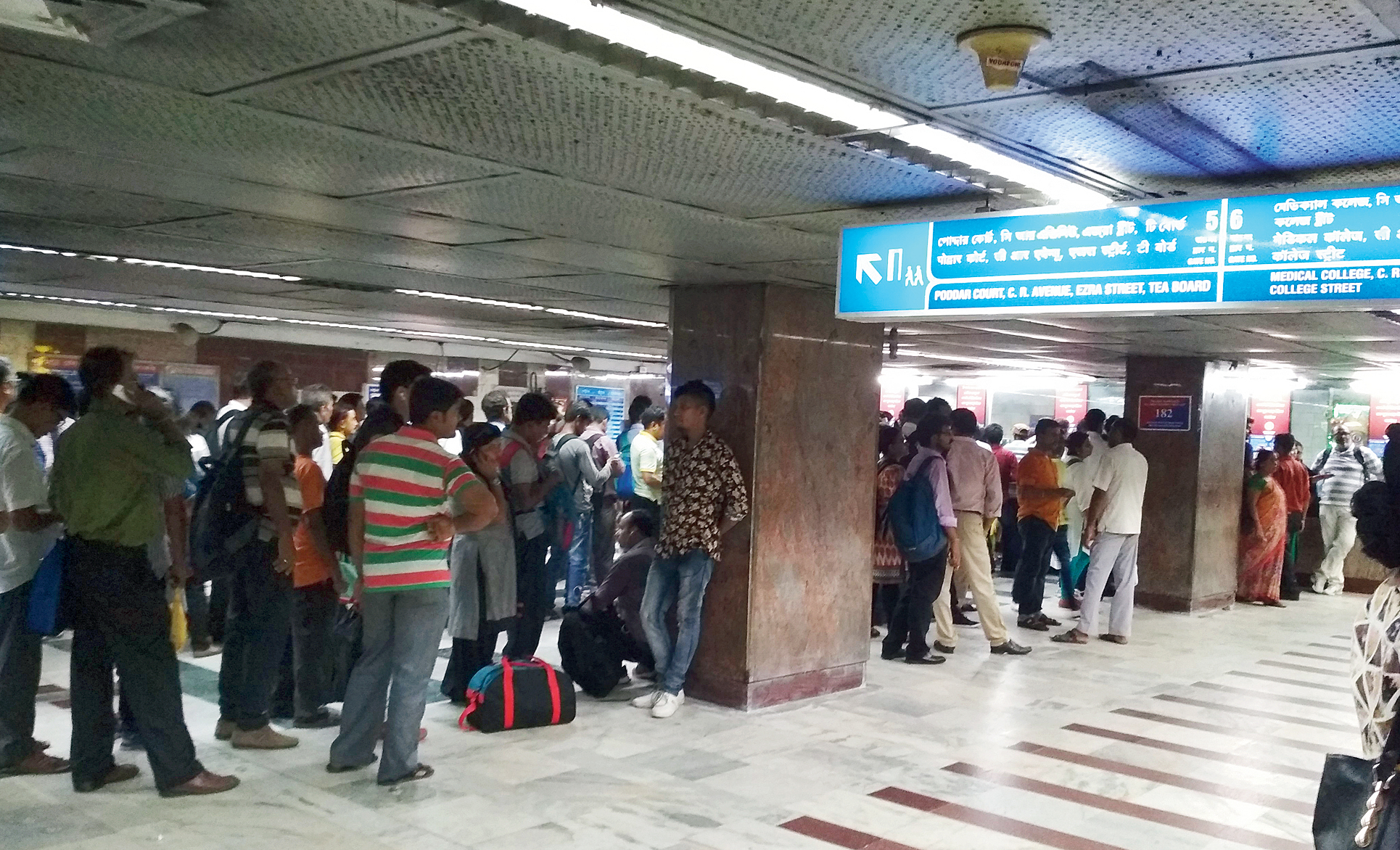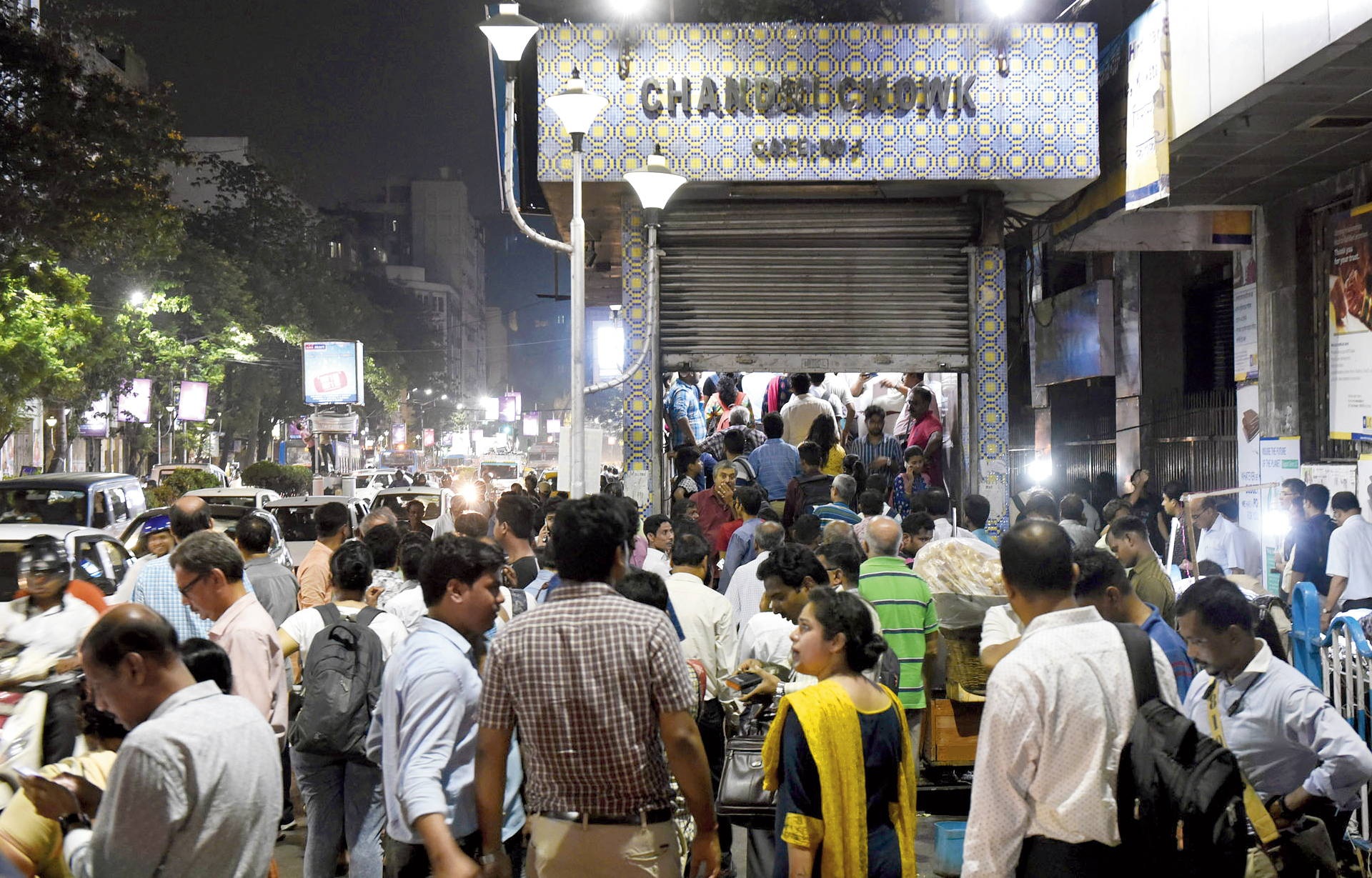 The queues at platform gates at some stations were as long as those at the ticket counters. Lack of proper public announcement led to more confusion.
"Between 7.30pm and 9pm, we could run only a couple of trains because passengers on a Dum Dum-bound train refused to get off at Central station," said Metro spokesperson Indrani Banerjee.
"I had entered the platform around 6.50pm because it was announced that a truncated service would be run from Central to New Garia. I waited for 20 minutes in vain for a train. It was then announced that services on both lines have been suspended," said Bihan Sen, who came out of the platform at Chandni Chowk to get a refund of the token.
Trains were stranded at subsequent stations when the snag happened. "I was on a Dum Dum-bound train that was stranded at Maidan station. I got off around 7.15pm, after waiting for over 15 minutes," said Arnab Seal, who was headed to Sovabazar.
Banerjee said the problem got aggravated because the trains stuck between Noapara and Sovabazar had to be taken to the Noapara car shed before a battery-operated vehicle towed the affected rake to the shed.
Many tried to board overcrowded buses but had to wait for long before they could get into one. App cab fares had also shot up over three times, some of the passengers alleged.
The quality of ICF rakes came under the scanner after water trickled down the roof of a new air-conditioned rake that had barely started commercial runs. This is not the first time the quality of ICF rakes has been called into question.
The 13 existing air-conditioned rakes built in Perambur have a history of niggles and the occasional breakdown.
The two new rakes built by the ICF, too, failed a series of safety tests and had to wait for nearly two years for the Railway Board's nod for commercial runs. The rakes had arrived from the ICF factory in Perambur without confirmation of how they would fare on the tracks because the manufacturing unit does not have facilities for a proper trial run. The doors of the new trains also had problems.
The Metro authorities had decided to send back at least one rake for rectification to Perambur. But ICF officials are apparently keen on sending a team to Calcutta to fix the problems.