Nearly 200 Bengal residents stuck in Afghanistan, says Mamata Banerjee
The chief minister said that her government is coordinating with the Centre for the safe return of the people from the state who are still stranded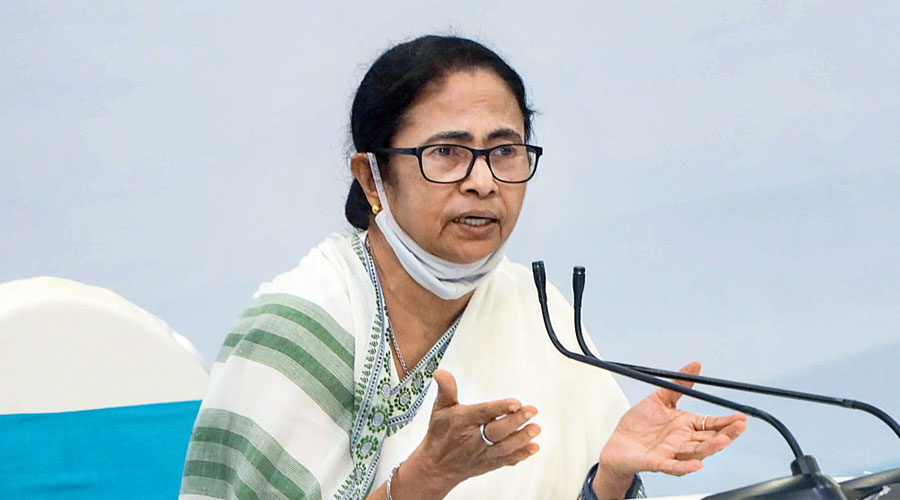 ---
Calcutta
|
Published 19.08.21, 01:29 AM
|
---
Mamata Banerjee on Wednesday said nearly 200 people from Bengal were stranded in Afghanistan and her government was in touch with the Centre to evacuate them safely.
"We have received information so far that about 200 people from the state are stranded in Afghanistan. Our chief secretary has written a letter to the external affairs ministry, urging the Centre to rescue them at the earliest," the chief minister said after an administrative review meeting at Nabanna on Wednesday.
The Bengal government had asked all district magistrates on Tuesday to take initiatives to find out whether any person from the state was stuck in Afghanistan. 
The directive came after the state did not receive any information officially about any such person even though social media platforms were flooded with details of many Bengal residents stuck in Afghanistan.
"As soon as the DMs played proactive roles, the state government received information that more than 200 people were stranded in Afghanistan. The chief secretary wrote the letter to Delhi without any delay," said a source.
Sources said the message had been sent to the districts on Tuesday after Nabanna had come to know that some persons from the state, particularly the Darjeeling hills, were stranded in Afghanistan and they needed immediate evacuation following Taliban's takeover of the country. 
The state government had told the DMs that in case they received any information of persons stranded in Afghanistan, they should send a report to Nabanna along with the details like phone number, current location and contact person in Bengal.
The sources said Nabanna had become active on the issue after reports came in that some family members in Darjeeling had approached local BJP MP Raju Bista to take initiatives to evacuate their family members in Afghanistan.
Bista, who reached Darjeeling on Tuesday, said a committee headed by a joint secretary in the ministry of external affairs was being formed to oversee the evacuation of Indians stuck in Afghanistan.
A bureaucrat said on Wednesday: "Soon after the state received details of nearly 200 persons, steps were initiated to draw the attention of the Centre."