Nadda prod to win over north Bengal communities
He was in Siliguri to attend a meeting with BJP leaders in eight districts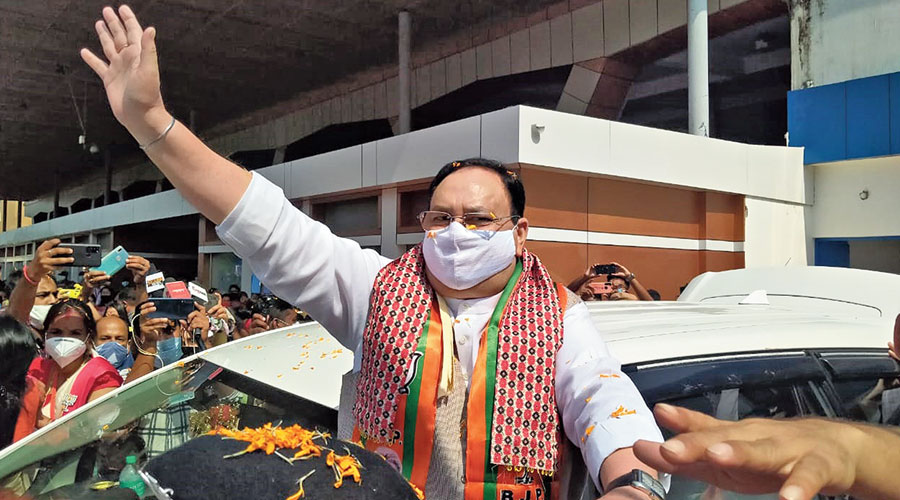 ---
|
Siliguri
|
Published 20.10.20, 01:56 AM
---
BJP national president J.P. Nadda on Monday asked party leaders in north Bengal to reach out to different communities and apprise them of several schemes rolled by the Narendra Modi government.
Nadda was in Siliguri to attend a meeting with BJP leaders in eight north Bengal districts.
During his whirlwind visit, Nadda tried to reach out to different communities in the region and promised to meet demands like formation of Narayani Sena regiment in the Indian Army, establishment of a medicinal hub to boost cinchona plantations in the hills and improvement of railway services.
The Rajbanshi population has for long been demanding Narayani Sena regiment on the lines of the one that existed in the Cooch Behar kingdom.
"We had mentioned two major issues of the hills in our Sankalp Patra. One is a permanent political solution for the hills and the other is granting of Scheduled Tribe status to 11 communities. Our party is committed to meeting these demands," Nadda said at the meeting.
He then trained his guns at Mamata Banerjee.
"Many welfare schemes introduced by the central government have not been implemented in Bengal. The entire responsibility is with chief minister Mamata Banerjee who keeps on saying 'Hobe Na, Hobe Na (will not happen)'. We want to say, 'Hobe, April e hobe (it will happen next April)'. Once our party is voted to power in the state, we will implement all these central schemes. Trinamul wants to divide people by offering them doles but we want to bind people together. People here should know this and then make their choice," the BJP president said.
He said the Citizenship Amendment Act would be implemented in Bengal and the delay was on account of the Covid-19 pandemic.
Nadda also met representatives of different social and community organisations separately.
Sayantan Basu, a state general secretary of the BJP, told media that Nadda was in charge of the party's campaign in north Bengal during the 2019 general election. "Out of eight Lok Sabha seats in north Bengal, we could win seven. We will grab 50-odd seats in north Bengal in the coming Assembly polls," said Basu.
The Trinamul Congress said Nadda was in Bengal at a time the state is in a festive mood.
"The irony is not lost when the President of the BJP talks about 'divide and rule.' 'Divide and rule' is a ploy learnt from the colonial past and played out deviously every day by your party," reads a statement issued by Derek O' Brian, Trinamul's Parliamentary party leader in Rajya Sabha.