More rhinos, skewed ratio in north Bengal
The lopsided gender ratio has wildlife officials worried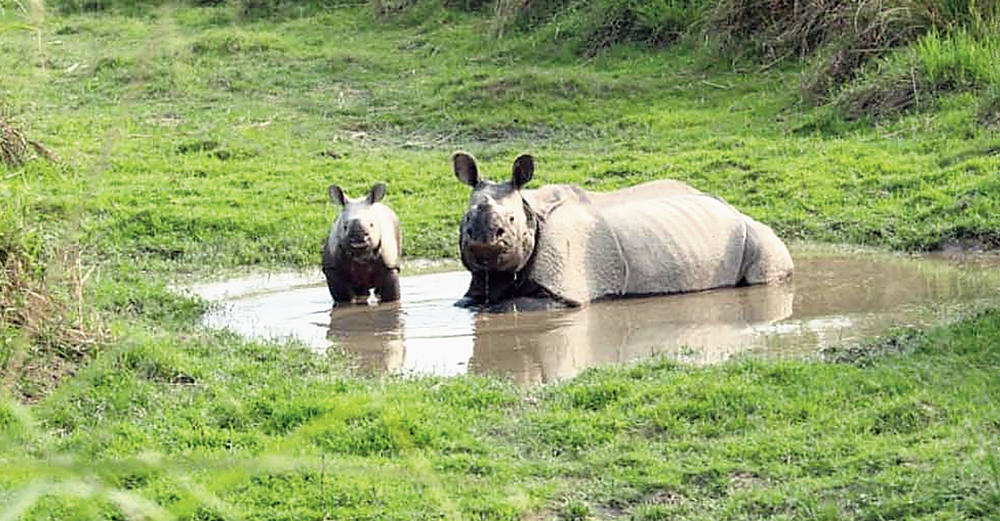 A rhino with her calf at Gorumara National Park
Picture courtesy: Bengal forest department
---
Calcutta
|
Published 19.06.19, 01:29 AM
|
---
The rhino count in north Bengal has gone up, according to the findings of the 2019 census, but the lopsided gender ratio has wildlife officials worried.
Of the 237 rhinos at Jaldapara National Park in Alipurduar, 98 are males and 94 females. The number of "unsexed" animals — calves and sub-adults whose gender could not be immediately determined —stands at 45.
At Gorumara in Jalpaiguri, the ratio is worse. There are 25 males, 17 females and 10 "unsexed" rhinos.
The findings of the Estimation of Indian Rhinoceros (Rhinoceros unicornis) in West Bengal 2019, released by the administration on Monday, showed that the total number of rhinos at both parks has increased since the 2015 count, which was 204 in Jaldapara and 49 in Gorumara.
"The ideal male-female ratio should be 1:2. In Jaldapara, the ratio is almost 1:1, which is still acceptable. But at Gorumara, there is .68 female from every male. It is a matter of concern," said Ujjal Ghosh, the chief conservator of forests (wildlife, north), the nodal officer of the census.
"A low female count leads to more infighting among males. The male animals fight for the attention of females. At Gorumara, there have been some deaths because of infighting over the past few years," Ghosh said.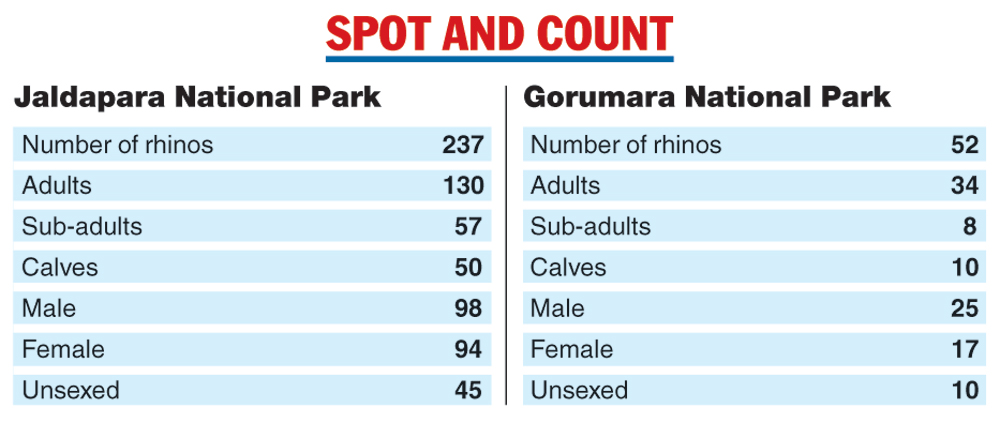 The authorities are mulling a few steps to arrest the declining gender ratio.
"That includes sending some of the males to a shelter for rhinos coming up in Cooch Behar," a senior forest department official said.
The census was conducted by the forest department in February, with the help of some NGOs.
The rhinos' latest numbers were arrived at through direct sighting. "We are also sending the scat samples to the Wildlife Institute of India in Dehradun for DNA analysis. The results of the analysis would be matched with the findings during the direct sighting," said Ghosh.
"The census is a four-yearly exercise but our men keep track of the animals throughout the year. At Gorumara, for example, they know all 52 rhinos individually," said another official of the forest department in north Bengal.
The Jaldapara National Park, spread over 165.24 sqkm, comprises five ranges and 20 beats. The density of rhinos in the park is 1.43 animals per sqm.
The Gorumara National Park, comprising seven ranges and 20 beats, is spread over 252 sqkm.
The density there is 0.01 per sqkm, according to the census.