More Durga Puja showers on Met radar
'A cyclonic circulation that had formed over Uttar Pradesh has moved towards eastern Jharkhand'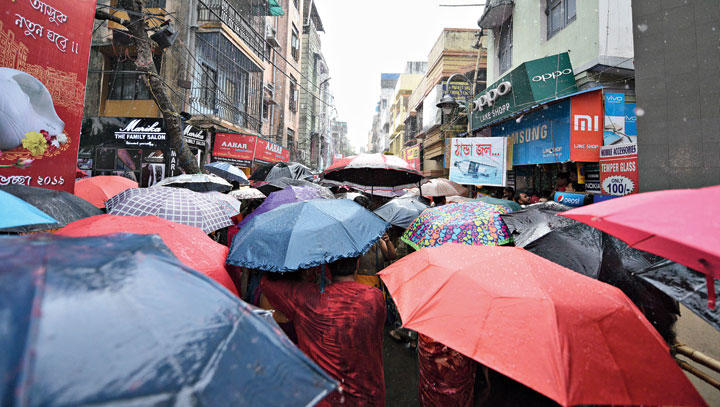 ---
|
Calcutta
|
Published 05.10.19, 07:21 PM
---
The rain god played spoilsport in the city's annual date with goddess Durga.
A dry and sunny Sashthi had raised hopes that the Met forecast of a wet Puja would go wrong but dark clouds appeared in the Saptami sky, followed by rain.
Brief spells of shower on Saturday afternoon threatened to dampen the revellers' spirit as traffic crawled near the big-ticket pujas. But many pandal-hoppers were not ready to give up so soon.
"Miles to go before we rest," a Facebook user posted before leaving home for pandal-hopping, with the picture of an umbrella.
The Alipore meteorological office has forecast more rain and thunderstorms on Ashtami. The showers are likely to gain in intensity from Navami but there is no forecast of heavy rain.
"A cyclonic circulation that had formed over Uttar Pradesh has moved towards eastern Jharkhand. A trough of low pressure extends from Punjab to the centre of the circulation. These two systems have brought the showers," said Sanjib Bandyopadhyay, deputy director-general, India Meteorological Department, Calcutta.
It mostly rained in pockets on Saturday. Around 4.30pm, Alipore Road was experiencing a sharp spell, while Hastings — just about 2km away, was bone dry.
Rain also lashed Esplanade, Behala, Jadavpur, Salt Lake and parts of north and central Calcutta.
The showers threw traffic out of gear from Kasba in the south to Shyambazar in the north. Vehicles stood bumper to bumper on Rashbehari Avenue, Chetla bridge and Durgapur bridge.
But tens of thousands of people braved the showers to hit the pandals, from Suruchi Sangha in the south to Bagbazar Sarbojonin in the north.
"You can't skip pandal- hopping just because it's raining. I am wearing sneakers because the pandal grounds are likely to be slushy," said Sounak Majumdar, 39, outside Suruchi Sangha in New Alipore in the evening.
The Thakurpukur resident had come in a large group. "We went into a restaurant when it started raining. By the time we had finished our meal, it had stopped raining and we happily stepped out again," Majumdar said. On their must-see list were Deshapriya Park, Tridhara Sammilani and some other pujas off Rashbehari Avenue.
Another group of pandal-hoppers said they spent more time than usual at the pandal they were in as it was raining. It gave them a chance to take a closer look at the artwork.
"The rain made things extremely difficult for us as visitors tried to break the barricades to protect themselves from rain," said a volunteer at Chetla Agrani.
The Met office has predicted more rain on Navami and Dashami, but in short spells and moderate at best. "As of now, there is little chance of heavy rain," said Bandyopadhyay.