Meeting in memory of Krishna Bose
Son's call to preserve mother's legacy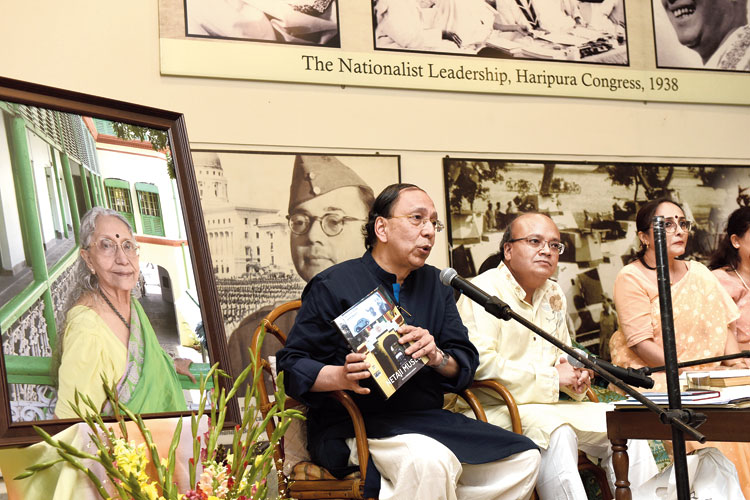 Brothers Sugata and (right) Sumanta Bose at a memorial meeting for their mother Krishna Bose at Netaji Bhavan on Wednesday evening.
Picture by Sanat Kr Sinha
---
Calcutta
|
Published 04.03.20, 08:21 PM
|
---
Krishna Bose's legacy of not differentiating between Hindus and Muslims requires to be preserved and taken forward, historian Sugata Bose said at a meeting in memory of his mother at Netaji Bhavan on Wednesday evening.
Krishna Bose, academic, thinker, social worker and three-time parliamentarian, had died on February 22 at a private hospital in Calcutta. She was chairperson of Netaji Research Bureau.
Sugata, professor of oceanic history at Harvard University, made the same point again when he later talked to Metro. "What I found in my mother as a human being was that regardless of the religious identity, caste identity, class identity, everyone was devoted to her," he said.
"I just give you an example. Giasuddin Molla, who is a minister in chief minister Mamata Banerjee's cabinet, has been weeping ever since (Krishna Bose's death) because he addressed her as Maa. They knew that mother treated all with equal respect. That is also a legacy, that human touch of not differentiating between Hindus and Muslims. We have to preserve and take this legacy forward."
Sumantra Bose, Krishna Bose's younger son who teaches at the London School of Economics, read out a passage from An Outsider in Politics, one of the many books written by his mother, at the memorial meeting.
Towards the end of the two-and-a-half-hour meeting, Sugata read out a passage from his mother's last book Ishwarer Sandhan-e (In Search of God) to highlight how she sought to make a distinction between being spiritual and being a bigot.
"Dharme moti thaka, dharmapran howa banchhoniyo, kintu manush jokhon dharmandha hoy, tokhon sabhyatar sankat dekha dyay (It is good to believe in religion, be God-fearing. But when a human being becomes a bigot, it leads to a crisis of civilisation)," reads the passage from the book that was published last August.
Sugata, who has taken over as chairperson of Netaji Research Bureau and had represented her mother's Jadavpur Lok Sabha constituency, said he selected this passage because the country was encountering a crisis of civilisation.
"In the last few months of her life, she was very worried about what was going on in our country in the name of the amended citizenship act. She was against the Citizenship Amendment Act and the National Register of Citizens and she felt that we had to take a stand in support of equal citizenship. I chose this section because she was making a distinction between being God-fearing and being a bigot. This bigotry has created this crisis of civilisation now," he said.
Among the other books Krishna Bose had authored are Prasanga Subhaschandra, Smriti-Bismriti and Netaji: A Biography for the Young.
Finance minister Amit Mitra, former army chief Shankar Roychowdhury, historian and Jadavpur University vice-chancellor Suranjan Das were among those who attended the meeting.