Mamata's balm for cave-in victims
Mamata has called an administrative meeting to discuss a way forward after the Saturday's debacle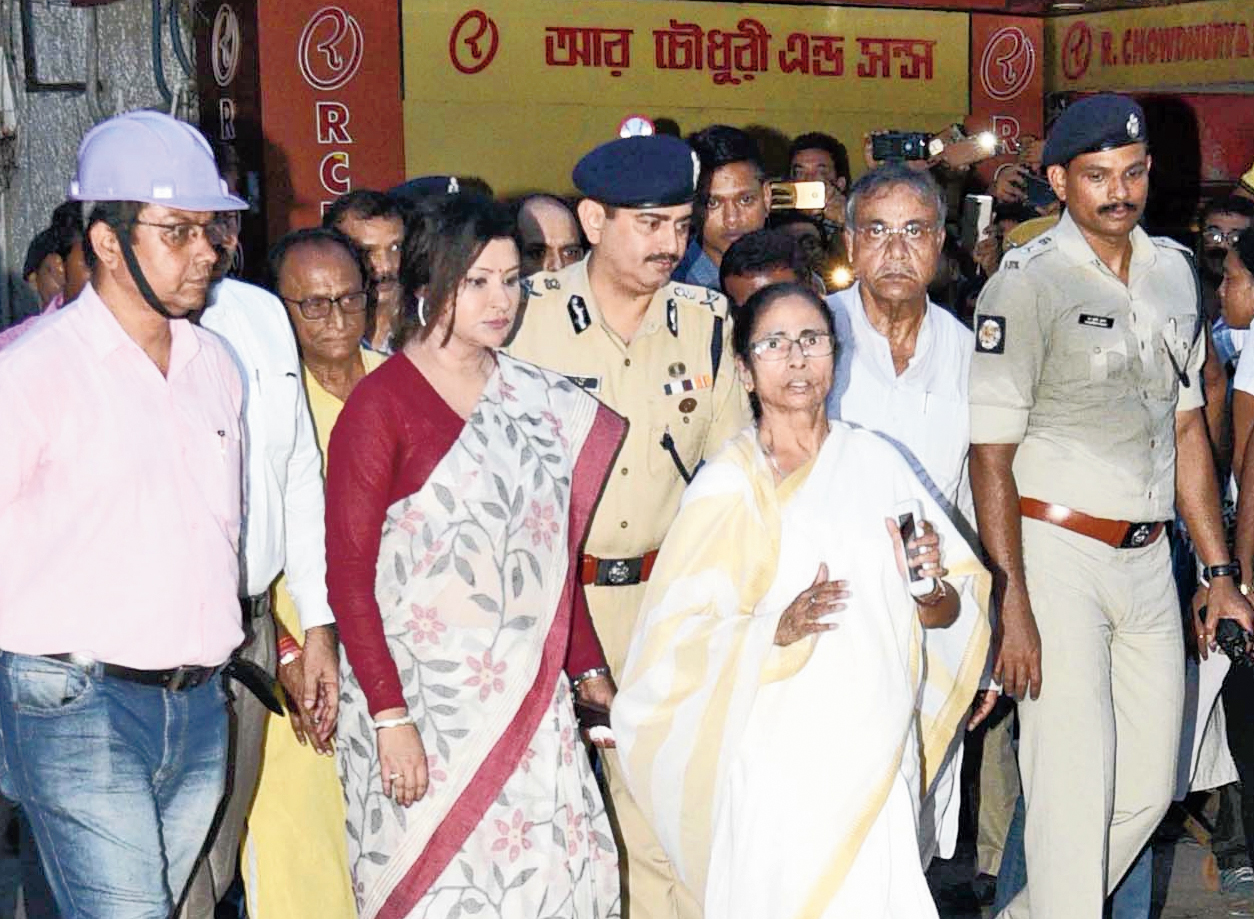 Chief minister Mamata Banerjee visits Bowbazar on Monday evening.
Picture by Gautam Bose
---
Bowbazar
|
Published 02.09.19, 09:26 PM
|
---
Chief minister Mamata Banerjee on Monday met the residents of Bowbazar, who have been forced out of their homes after portions of their houses cracked or caved in, and urged them not to try and return home immediately.
She has called an administrative meeting on Tuesday where representatives from the Metro, police, transport department and some of the residents would meet at Nabanna to discuss a way forward after the Saturday's debacle.
"We are trying to work out a rehabilitation plan as early as possible… joto taratari kora jaye (as soon as possible). I have convened a meeting tomorrow (Tuesday). Ahead of that I had come here to visit the locality and talk to you," Mamata said holding a loudhailer while talking to a small group of residents at the approach of the Syakrapara Lane off BB Ganguly Street on Monday evening.
"Dhokar chesta korben na (Don't try to enter the buildings)," Mamata said dousing a collective appeal from a group of residents that police allow them to visit their homes at least once.
"I can understand your problems. Praane toh benchey gyachhen (at least you are alive). Benchey thaakle shob hobe (Everything will happen if you are alive)."
Mamata may not have offered much. There were neither any tall promises nor any quick-fix solutions. But the visit helped in offering balm to many who have been rendered homeless and were desperately looking to have a word with someone they could relate to.
"Didi amra Metro k jani na. Amra aapnake jani (Didi we don't know Metro. We know you)," said one from among the small crowd that was waiting eagerly to talk to her. "You be with us please."
Surrounded by leaders, including Sudip Bandyopadhyay, MP, Nayana Bandopadhyay and Tapas Roy, both MLAs, local councillors and a hosts of senior officers, Mamata chose to keep her interaction short as she spoke to residents from Durga Pituri Lane and Syakrapara Lane, the two worst-hit pockets of Bowbazar.
Fear writ large and uncertainty was hanging in the air around the bustling marketplace in central Calcutta, there were no familiar chants of "Didi Didi" as Mamata walked down BB Ganguly Street, which was cordoned off with ropes on either side.
There was no chance of the crowd breaking the cordon and reach Mamata.
Possibly realising the frustration that has been building — in the afternoon a section of the residents, rendered homeless, had set up a road blockade — Mamata said she realised the gravity of the problem they were facing.
"I can understand your plight. There are children, some of whom are school going. There are other problems. But don't worry. Ei bipod ta amader o bipod (This crisis is also ours). We are trying and have faith on us," she said.
Before leaving, she instructed police commissioner Anuj Sharma to select four residents rendered homeless, including women, to attend Tuesday's meeting.
Two injured
A taxi hit a motorcycle that then hit a pedestrian near the Central Avenue and BB Ganguly Street crossing on Monday.