Mamata stirs brew of charm in Digha
Mamata Banerjee stopped her convoy to visit a tribal-dominated Digha village near the Odisha border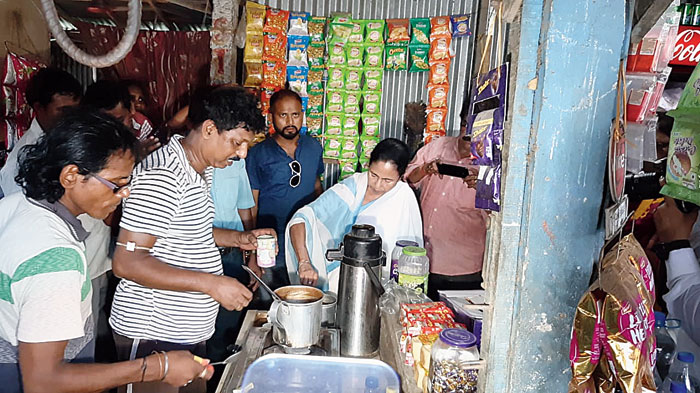 ---
|
Digha
|
Published 21.08.19, 08:32 PM
---
Mamata Banerjee on Wednesday stopped her convoy to visit a tribal-dominated Digha village near the Odisha border, the impromptu trip seen as part of Trinamul's larger outreach drive drawn up by poll consultant Prashant Kishor.
The chief ministerial convoy had been passing by the Podima area around lunchtime when it suddenly it pulled over at Duttapur. Mamata got off her car and entered the village of over 2,000 people, who live off fishing and tourism-related activities.
"I came here to see how you people are doing, whether all is well with you," said the Trinamul chief, stepping into homes and striking up conversations with the women.
Since her days in the Opposition, Mamata has been known to get off cars and mingle with people. That's why the chief minister is so well aware of the geography and knows villagers by name even in some of the remotest parts of the state.
The visit to Duttapur on Wednesday afternoon, however, cannot be categorised as one of those surprise stopovers, said a Trinamul insider, referring to the party's outreach initiative with the launch of Didi Ke Bolo on July 29.
Not only have Trinamul leaders been more approachable, they have started touring constituencies more extensively. The change has been attributed to consultant Kishor, whom the party has hired to ensure a turnaround in the wake of the general election setback when the BJP won 18 of the 42 seats in Bengal.
"This leg of Didi's district tour seems to have been drawn up by Team PK (Prashant Kishor). She used to do such things, fairly frequently. But not so extensively, not with such a sense of purpose. In the past, her gestures were all about spontaneity. Now, though, it seems part of a concerted strategy. She appears to be out on a mission. This is a charm-offensive. This looks like action taken on the basis of advice from Team PK," said a Trinamul source.
On Monday, the chief minister had gone unannounced to a Howrah slum where she interacted with the dwellers - mainly Hindi-speakers - to learn about their problems and taking some of them up immediately after at an administrative review meeting for the district. Later that day, on her way to Digha, she visited a remote village of fishermen in East Midnapore.
In the wee hours of Tuesday morning, Mamata walked the Digha beach extensively, looking for pollution caused by plastic and other waste.
On Wednesday afternoon, she went to Duttapur following an administrative review meeting for East Midnapore. She followed it up with a visit to a tea-stall near Science City - between Digha and Udaipur - soon after, making tea herself.
"Sometimes the little joys in life can make us happy. Making and sharing some nice tea (cha/chai) is one of them. Today, in Duttapur, #Digha #Bangla," Mamata posted on Facebook with a video of her visit to the tea-stall. The clip went viral in minutes.
At the tea-stall, she was playing with a baby when the owner was caught off-guard, apparently struggling to make tea for the large group. Mamata stepped in to help.
"Ami cha kori toh (I make tea myself)," she said, taking over as the crowd around the stall kept swelling. The tea she made was handed out to most in the entourage in paper cups and the chief minister herself also had some herself.Earlier in Duttapur, Mamata sat with the families, asking about their lives and the problems they face, especially in getting benefits from the government - from pensions to subsidised food grain - and whether there was scope to do more to help.
As she heard the problems, she instructed the district magistrate and other senior officials to take note and intervene. She also oversaw the distribution of saris for the women and chocolates for the children.
A senior Trinamul leader said that with the party already undergoing an image makeover through the ambitious Didi Ke Bolo campaign before the 2021 Assembly elections, Mamata was looking to lead from the front. 'If elected representatives are having to visit villages and reconnect with the masses, she will lead by example,' he said.