Mamata Banerjee outreach message to party
'Sincerely apologise for mistakes and take corrective action to woo back disillusioned sections'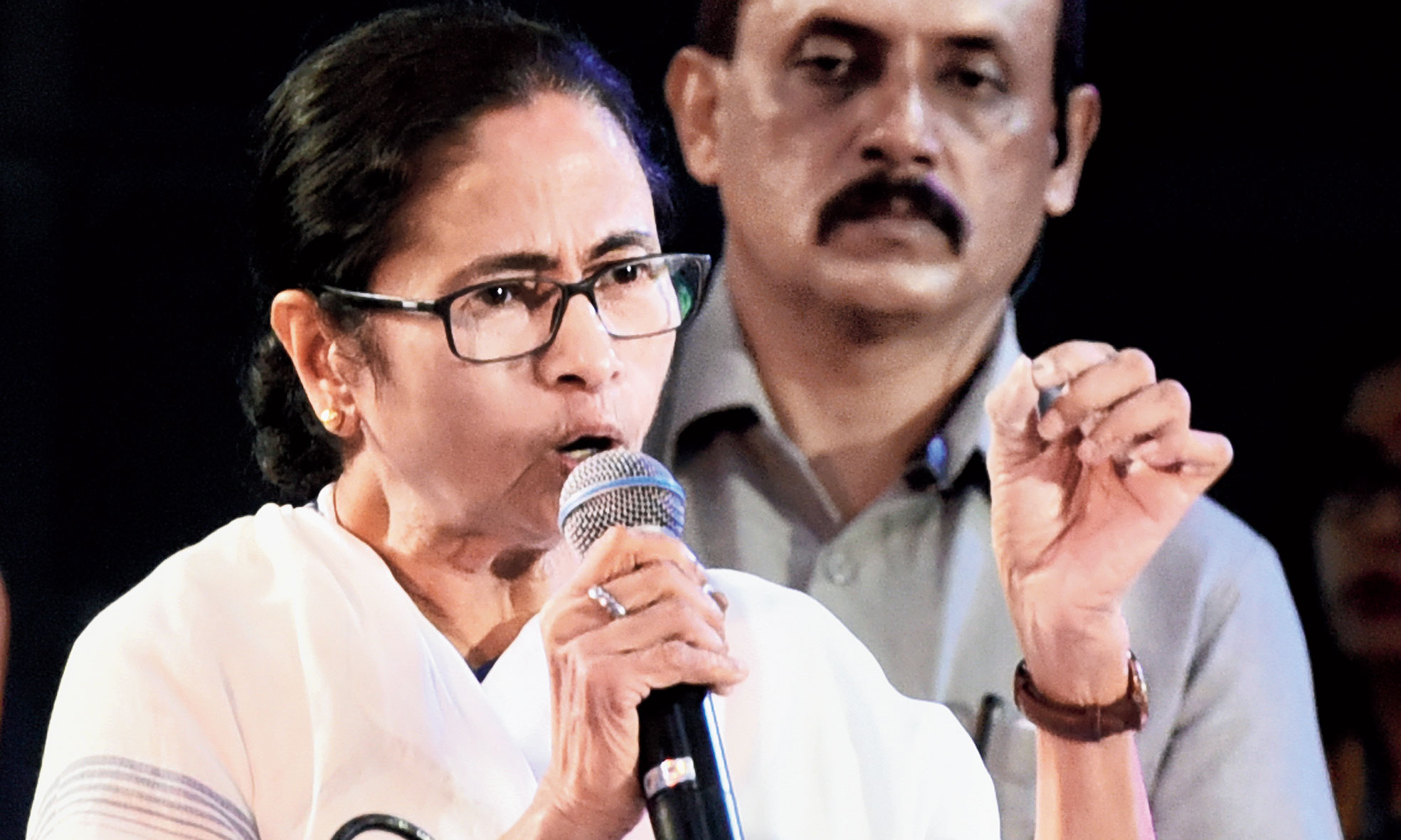 ---
|
Calcutta
|
Published 11.07.19, 07:24 PM
---
Mamata Banerjee on Thursday issued directives to Trinamul MLAs to bolster her effort to reach out to people and reconnect with them in the aftermath of the setback in the Lok Sabha elections in which the BJP made deep inroads into Bengal.
At the meeting in Trinamul Bhavan after a closed-door session with poll strategist Prashant Kishor and
her nephew Abhishek Banerjee, the chief minister directed the MLAs to increase their mass outreach, avoid making untoward statements in public and minimise aggressive confrontation with the Opposition. (See chart)
"She gave us several instructions to ensure that we do better in our constituencies. Some of us were scolded. But mostly, it was a clear, insightful session of strategising…. This is a new Didi that we have been seeing since May 23 (when the general election results were declared)," said an MLA.
"She had promised in her first post-result news conference that she would focus more on the party. That is exactly what she has been doing…. This is a relief," the Trinamul leader said.
Although Kishor was present at Trinamul Bhavan when Mamata met the lawmakers, he sat in another room, sources said. He had in the past attended a similar internal meeting, the sources added.
Several Trinamul leaders felt that the instructions issued on Thursday had Kishor's imprint. "She has, clearly, been heeding his advice. Minimising the scope of embarrassment for the leadership by not shooting from the hip in public is certainly Kishor's advice," said a leader.
However, another senior Trinamul leader said bringing Kishor on board was just one of several new strategies Mamata has been loading her quiver with in the seven weeks since the Lok Sabha results.
"A few things might have been suggested by Kishor, but most of the aspects that have struck us as new are her own brainchild," he said.
The leader pointed to how Mamata has been holding meeting after meeting — even individually with district leaders, with SWOT (strengths, weaknesses, opportunities and threats) analysis right down to the block level — every week. Additionally, numerous structural and organisational changes are being made to bring to the fore those performing better or with greater capability and relegating to the sidelines those who have been letting the party down despite warnings.
"She has also been — with the cut money refund directive, for instance — a lot more severe on the question of corruption than she had been in the past," the Trinamul leader said.
An MP drew attention to Mamata's apparent attempt to be more approachable and increase the "human touch" in dealings with the people.
"From her interactions with Opposition MLAs — the non-BJP leaders, of course — to handling last month's impasse with junior doctors, she has been more amiable, accommodating and open to suggestions…. This approach is helping her achieve more," the leader said.
According to a minister, Mamata spent more time in the Assembly this budget session than she ever has since coming to power in 2011.
CM's instructions
Mamata Banerjee's directives to Trinamul MLAs

Sincerely apologise for mistakes and take corrective action to woo back disillusioned sections
Increase and intensify mass outreach initiatives. Spend less time in Calcutta. Stay firmly rooted in the constituencies
Avoid unnecessary, avoidable interactions with the media
Avoid making untoward, unsavoury statements in public that do not reflect well on the party and its leadership
Avoid direct, aggressive confrontation with the Opposition wherever possible
Inform the party beforehand, along with details, about foreign visits and trips to other states
By July 18, submit details of four-member committees for every Assembly constituency. One team member will be responsible for handling social media, another for programmes of the MLA and two others for undertaking booth-level responsibilities