Mamata Banerjee hints at early panchayat polls
She also prodded the functionaries of the rural bodies to rush through pending projects as soon as possible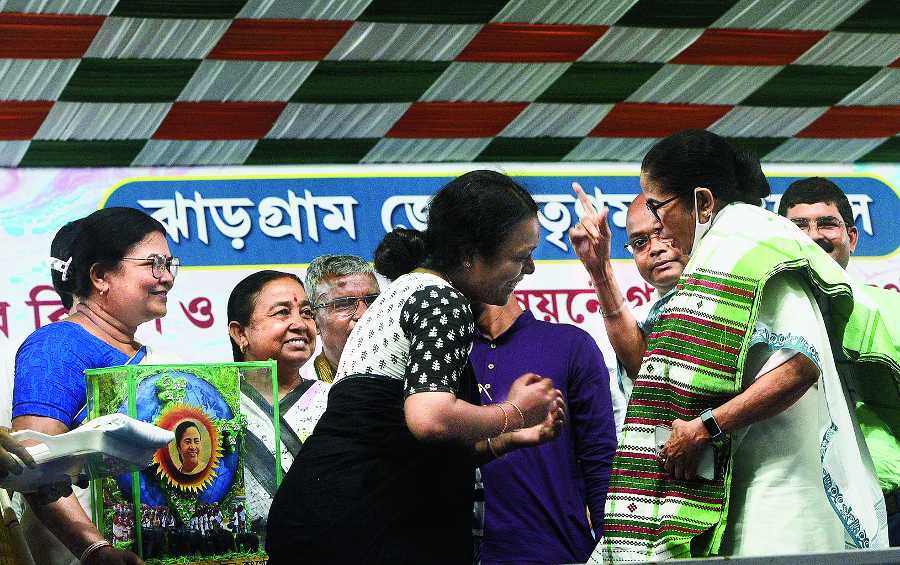 Mamata Banerjee in Jhargram on Thursday.
---
Calcutta
|
Published 20.05.22, 01:24 AM
|
---
Mamata Banerjee on Thursday hinted at the possibility of advancing the panchayat polls, scheduled next April-May, and prodded the functionaries of the rural bodies to rush through pending projects as soon as possible.
"Do not keep development projects of your areas on hold. Float tenders before the rainy season for planned work before monsoon arrives," said Mamata during a political meeting at Jhargram.
"I can announce the panchayat polls anytime and you will not get time to finish all pending work," she added.
Government officials said that all construction related work are usually banned from July to September because of monsoon. After the rainy season, most work except for the emergency projects gets deferred further because of festive seasons.
A source close to Mamata said he was not aware of any plan to advance the rural polls till Mamata dropped the hint at the public meeting at Jhargram stadium ground where over 50,000 people came.
"Didi has always advocated for polls during winters. So, if she decides to advance the rural polls, I will not be surprised," said the source.
Given the West Bengal Panchayat Election Rules 2006, the chief minister can play an important role in deciding the election roster for rural polls.
The state election commission finalises the dates with recommendations from the state government.
The chairman of the state election commission announces the date/s of panchayat polls following which the panchayat and rural development department of the state government issues a matching notification through  district magistrates, who are district election officers of their respective districts.
Mamata's address on Thursday revolved around how her government ensured development for the entire Jungle Mahal area, which was a backward zone during the Left regime, the contents of her speech indicating that panchayat polls were on her mind.
"I remember that when I had visited Jhargram during the Left-era I had found people having ants for lunch... I witnessed how people died in Amlasole of starvation. After we came to power, we ensured that people got food and no one had to die of hunger," she said.
Mamata reminded people about poor pockets of Jhargram like Lalgarh, where people could not enter during the Left regime because of Maoists.
"Now Lalgarh has a college, good metalled roads and all other required facilities. Entire Jhargram is now developed. Please be with us, be with Trinamul," Mamata said from her Jhargam meeting.
The chief minister also asked the panchayat functionaries to be careful about their conduct and help local people in filling up forms at Duare Sarkar camps to avail government benefits.
"Please don't take money from the poor or women to fill up a government form (on their behalf). It is your duty as a human being to help others," said Mamata.
The chief minister asked people to write to her directly if any panchayat gives less than Rs 2,000 under Manabik, a state government scheme which is provided to the kin of the deceased for last rites.