Mamata Banerjee government to verify over 2.3 crore job cards
State is working to plug all loopholes in MGNREGA execution: Source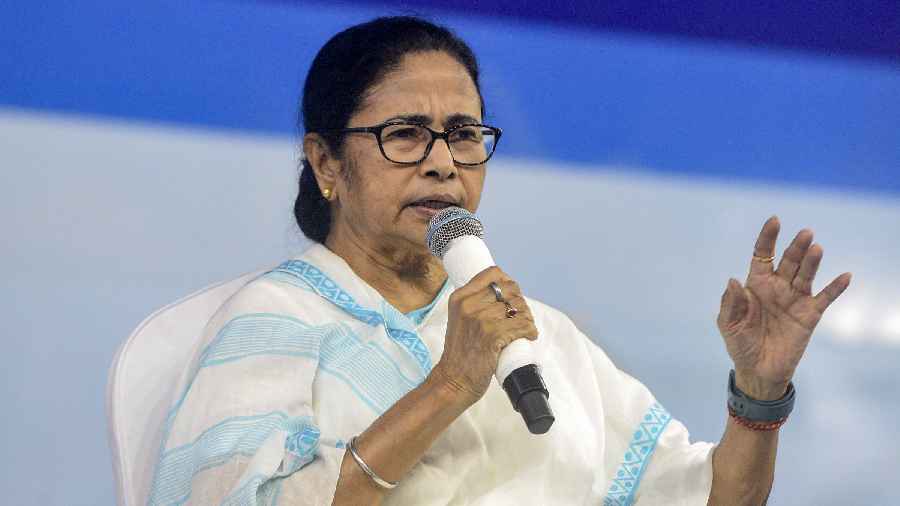 Mamata Banerjee.
File picture
---
Calcutta
|
Published 20.12.22, 02:51 AM
|
---
The Mamata Banerjee government has taken up the task of verifying over 2.3 crore job cards, which make people eligible to work under the rural employment guarantee scheme, in an apparent attempt to weed out "bogus cards", which, according to the Opposition, were issued to misappropriate central funds.
The initiative, sources said, is the fallout of the strict monitoring by the Centre, which stopped the release of funds under the scheme alleging instances of misappropriation of the grants.
"It is still not clear when the Centre will release funds under the scheme. But the state wants to prepare itself to implement the scheme without any controversy as soon as the funds are allotted," said a senior official.
As part of the verification drive, the stress is on linking all job cards of over 2.3 crore to the beneficiaries's respective Aadhaar cards. If the Aadhaar card cannot be linked to the job card or the job card cannot be authenticated, a team from the BDO's (block development officer) office will visit the house of the card holder to check whether the person exists at all, said a source.
According to figures available with the panchayat department, preliminary assessment of the list has revealed that more than 10 per cent of the job cards could not be authenticated.
"It is still not clear whether the cards which could not be authenticated are bogus ones. But a question has been raised over these cards and the state government will run rigorous checks to assess their authenticity," said a bureaucrat.
According to a source, the state government is laying stress on the authentication of the job cards after the Centre raised several questions on the way the scheme was being implemented in Bengal in the past.
"One of the allegations was that bogus cards were used to prepare fake master rolls to misappropriate funds under the scheme. The state government is now determined to prepare a clean list of job card holders," said an official.
The Centre recently released funds under the PMAY (Pradhan Mantri Awas Yojana) and PMGSY (Pradhan Mantri Gram Sadak Yojana) schemes, which had also been put on hold for nearly eight months, considering that the state government had taken enough steps to plug the loopholes in the execution of the schemes.
"Similarly, the state is working to plug all loopholes in the MGNREGA. Funds under the scheme are required as crores of people depend on the scheme to earn their livelihoods," said a source.