Mamata Banerjee says AIMIM on BJP payroll to divide minority votes
Owaisi has already said his party would field candidates in districts such as Malda, Murshidabad and North Dinajpur with a high concentration of minorities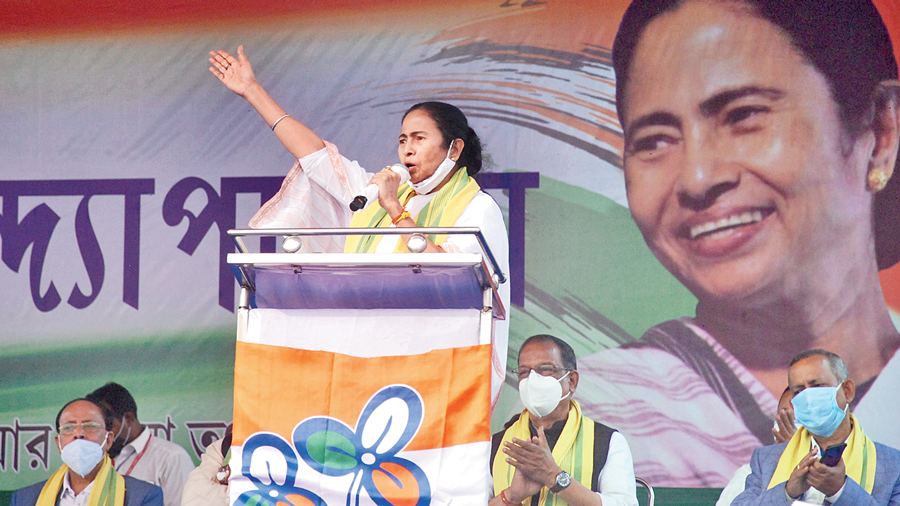 Mamata Banerjee at the public meeting in Jalpaiguri on Tuesday.
Biplab Basak
---
Jalpaiguri
|
Published 16.12.20, 01:33 AM
|
---
Chief minister Mamata Banerjee on Tuesday alleged, without naming the All India Majlis-e-Ittehadul Muslimeen (AIMIM), that the party was on BJP's payroll to divide minority votes in the Bengal elections. 
Referring to the recent Bihar polls, Mamata at a public meeting in Jalpaiguri  alerted her Trinamul leaders, workers and Bengal's minority community to the AIMIM, which she referred to as "a party from Hyderabad". 
"The BJP is now bringing in a party from Hyderabad to divide minority votes….. You know what happened in Bihar. This party has assembled some people here as well...The party is on BJP's payroll. Be alert," Mamata said.
The AIMIM, headquartered in Hyderabad and headed by Asaduddin Owaisi, won five Assembly seats in Bihar's Seemanchal area, leading to allegations that the party split the votes of the anti-BJP Mahagathbandhan to pave the way for the BJP-JD(U) victory. 
Mamata did not name the AIMIM even once, but it was evident that she was worried that Owaisi's attempts to organise the minorities electorally would hurt her party.
"They (the AIMIM) will move into Hindu areas and resort to criticism so that Hindus vote for the BJP. They will move into Muslim areas and will speak there to draw their votes. In this manner, the BJP will try to collect Hindu votes while they (the AIMIM) will try to gather Muslim votes. What would be left for me then?" asked Mamata. 
Owaisi has already said his party would field candidates in Bengal districts such as Malda, Murshidabad and North Dinajpur with a high concentration of minorities. A couple of days back, Owaisi met his party leaders of Bengal in Hyderabad to talk poll plans.
Mamata also played the development card in Jalpaiguri and Cooch Behar to try and revive her support base in north Bengal where BJP had secured a lead in 38 of the 54 Assembly constituencies at the 2019 Lok Sabha polls.
In Jalpaiguri, she announced the state would create two new civic bodies in Maynaguri of Jalpaiguri and in Falakata of Alipurduar and a new block at Kranti in Jalpaiguri. 
In Cooch Behar, where she went in the afternoon, she inaugurated the new campus of Maharaja Jitendra Narayan Medical College and Hospital and two fire stations at Jaigaon in Alipurduar and at Fulbari on Siliguri outskirts. 
She also laid the foundation stone for the headquarters of the Narayani battalion of state police named after the Narayani Sena, the troops of the Cooch Behar royals. She also met her party's elected representatives and key leaders and asked them to work together, and keep an eye on the India-Bangladesh border, sources said.
No second autopsy
The Jalpaiguri family of BJP supporter Ulen Roy who died of pellet injuries during the party's protest march in Siliguri on December 7, on Tuesday withdrew their petition for a second post-mortem. 
The Roy family's lawyer said they went through the post-mortem report and expressed satisfaction.