Local driver steals Darjeeling tourists' car
Cat-and-mouse chase for Honda City, thief on the run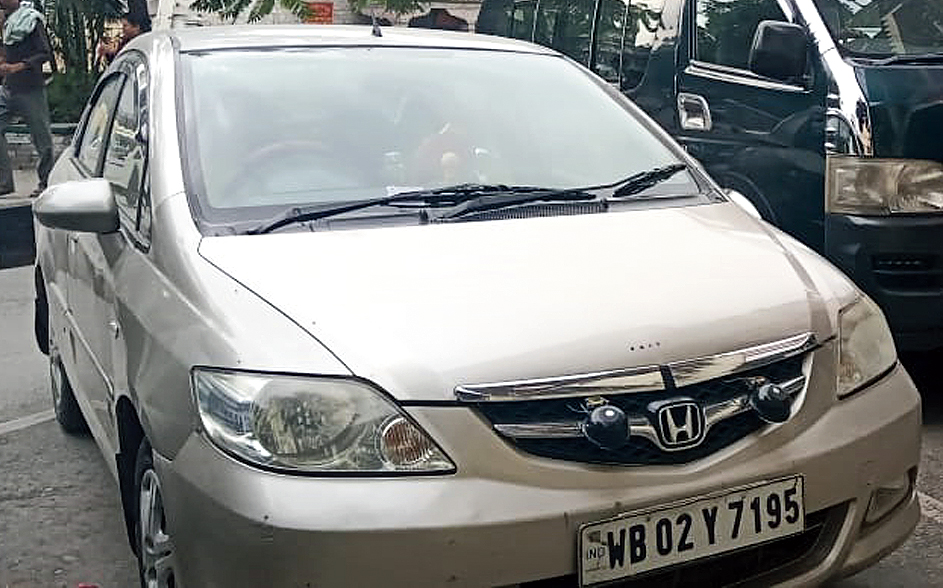 The car stolen from the tourist in Darjeeling
(Picture sourced by The Telegraph)
---
Darjeeling
|
Published 08.01.20, 09:30 PM
|
---
A hill driver who had taken three tourists around town on their Honda City and warmed up to them so much that he was called to their hotel room has been accused of stealing their car and leading them to a cat-and-mouse chase after which he disappeared.
Three fiends from Madarihat in Alipurduar district — Jitu Banik, Ranjan Das and Bubai — had come to the Darjeeling hills on January 5 and hired a local driver — Nimesh Tamang — to negotiate the mountain terrain.
"We decided to hire a local driver for our convenience and found one from a motor stand in Darjeeling," Das told The Telegraph over phone.
The driver took the three friends, who are suppliers of sand and stone chips, to Zimba Homestay at Singamari on January 5 evening.
"The next day he took us around to various places for sightseeing. He appeared to be very helpful and nice. Around 6.30pm, he dropped us at Zimba Homestay," said Das.
By then the tourists had become friendly with the driver. "He came along with us to the room. One of us had gone to the washroom and the others were busy settling down," Das said.
He said they had kept the car keys on the table.
"We did not notice when he slipped away with the keys," said Das, adding that the driver might have left the room around 7.30pm.
Das said that around 10pm, the hotel received a call from an acquaintance of a staffer informing that the Honda City had been seen in the area.
The car had been parked on a road a little away from the hotel. The hotel staff and the tourists rushed down to the road after the phone call and saw the car being driven slowly.
"We saw the driver who had driven us around at the wheel. He stopped for a while but then sped away," Das said.
The tourists gave chase in another car but soon the Honda City, owned by Banik, disappeared.
"We informed police. The police, and us, searched for the car till 2am," Das said.
The three friends returned home on Wednesday.
Pravin Zimba, the owner of the homestay, said he was in Siliguri.
"The driver seems to be an acquaintance of one of our relatives but I do not know him personally. Such incidents bring a bad name to Darjeeling, which is a friendly town," Zimba said
The police said the driver seem to be a "drunkard"
"We have identified the driver and he seems to be a drunkard. We are confident that the car will be recovered soon," said a senior police officer.
Nimesh is said to be a resident of Gurung Goan in Singamari.