Kolkata Gate test after bridge collapse
The 55m-high steel and glass structure overarching the Major Arterial Road (MAR) is almost complete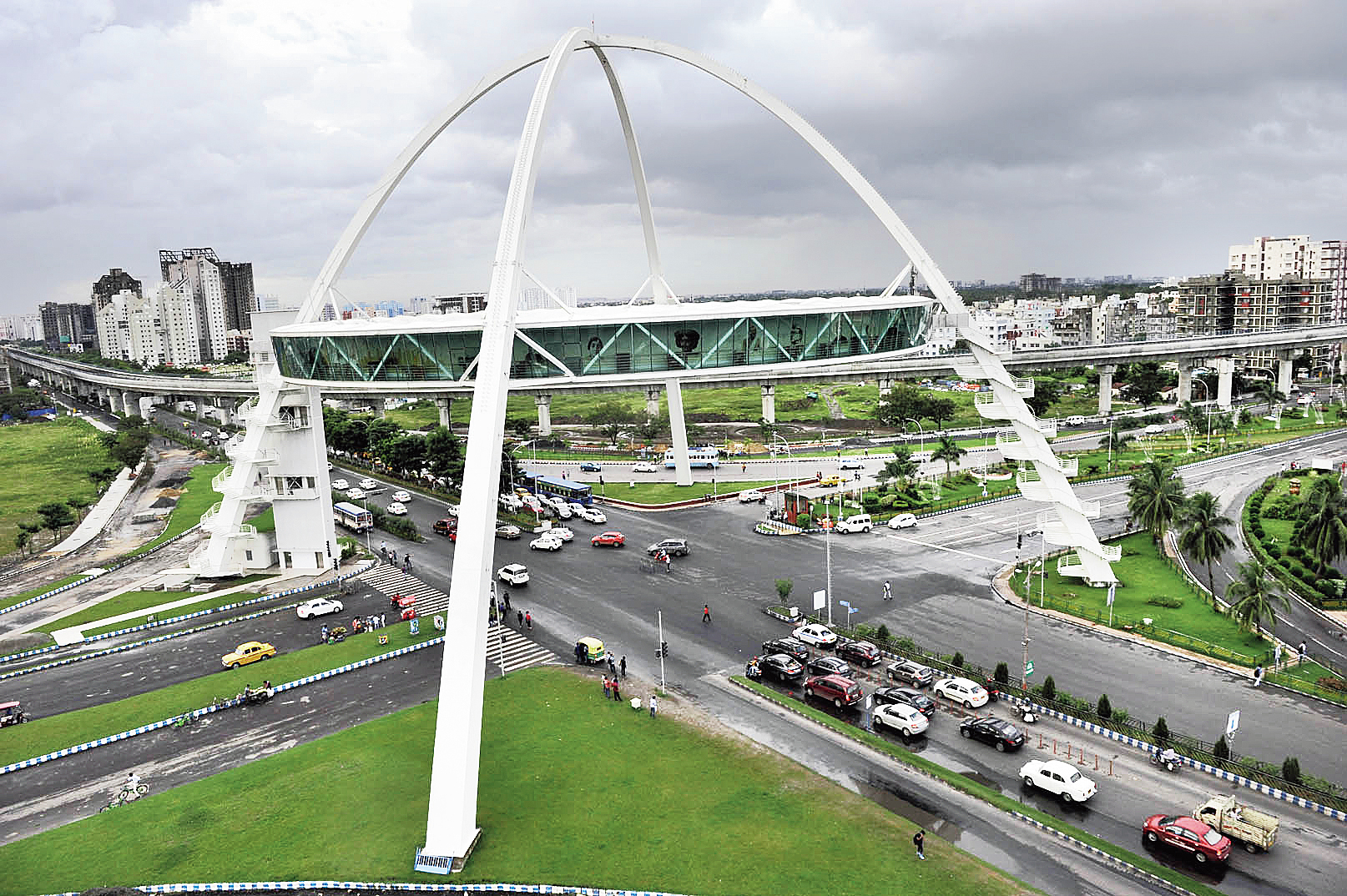 ---
|
Calcutta
|
Published 07.11.18, 06:54 PM
---
The recent collapse of three bridges has triggered a series of tests on New Town's Kolkata Gate to check its strength and structural rigidity.
The 55m-high steel and glass structure overarching the Major Arterial Road (MAR) is almost complete.
Hidco decided to check the structural worthiness of Kolkata Gate after the Majerhat bridge and a bridge in Siliguri and in Kakdwip crashed.
The inauguration of the gate that has a viewing gallery and cafeteria encircling the structure from inside, about 25m above the road, has been postponed for these tests.
Thousands of people use the road to reach the airport, apart from New Town and Sector V, or travel back to the city.
IIT Kanpur is studying the aerodynamic characteristics of the gate that has two arches criss-crossing each other at the Rabindra Tirtha crossing.
Experts from the IIT have built a scale model of the gate and connected it to an electronic data monitoring and logging system, Debashis Sen, Hidco chairman, said.
"The model built with the same materials as the gate has been placed in front of huge turbines that can simulate wind speeds of more than 100kmph," Sen said. "The test will tell us if the gate would be safe for use during storms and cyclones."
The four legs of the gate rest on concrete structures piled deep inside the ground at four traffic islands at the Rabindra Tirtha crossing.
The 10ft-wide and 60m-long viewing gallery made of steel and toughened glass has been built by interlinking four prefabricated structures resembling aerobridges.
The gallery is made of high-strength alloy that's lightweight but has high load bearing capacity, a Hidco engineer who is part of the project said.
"The tensile strength of the alloy is quite high. We are confident that the gate will pass all strength tests," the engineer said.
The facade is made of toughened glass with laminated silicone sheets that can withstand strong winds, hailstorms and extreme heat and cold.
Engineering consultancy company RITES will run further checks once IIT Kanpur submits its findings, Sen said.
The company will check all parts of the gate to ensure it is absolutely safe for use.
At night, only diners will be allowed inside the gallery that offers a panoramic view of the township, Sen said. Apart from these checks, Hidco has installed sensors to continuously monitor and map vibrations on the structure.
The sensors have been installed on the arches and "are intelligent enough to measure the degree of vibration, he said. The sensors can send alerts to smartphones, provided they have a particular app installed.
"If the sensors determine the degree of vibration could threaten the gate's structural stability they can send multiple alerts to phones and even laptops," Sen said.
"We have downloaded the app on a few phones and laptops to give us real-time feedback and alerts."
Once RITES gives the go ahead the gate will be opened to public.