Plea to govt to take back control of road handed over to Visva-Bharati in 2017
Kin of Tagore and Amartya sign petition to chief minister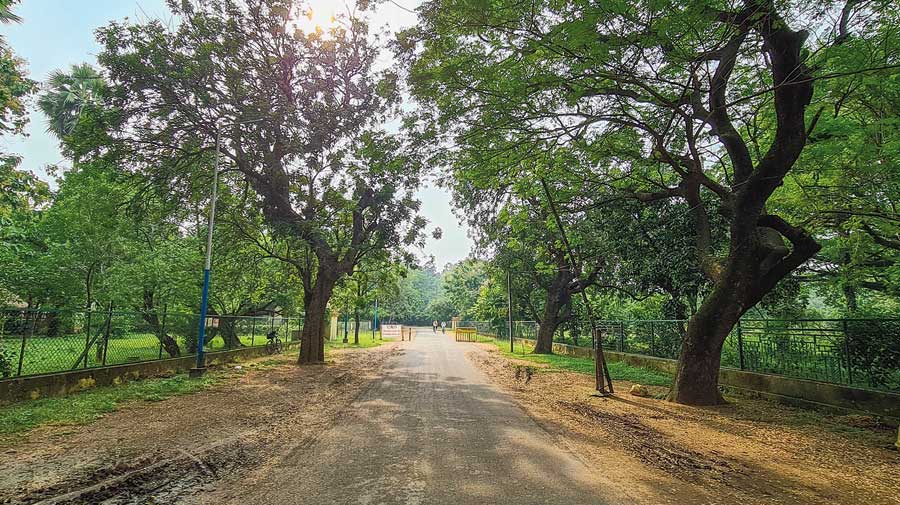 ---
---
Around 60 old-timers of Santiniketan, including family members of Nobel laureates Rabindranath Tagore and Amartya Sen, wrote to chief minister Mamata Banerjee on Thursday, requesting her to take back control of a 2.9km road that the state government had handed over to Visva-Bharati in 2017.
Varsity authorities are allegedly stopping people from using a part of the road that runs through the campus, they have written.
The 2.9-km-long road connects the varsity's two campuses — Santiniketan and Sriniketan. The stretch, earlier looked after by the public works department, was handed over to Visva-Bharati in March 2017 following requests from varsity.
As Visva-Bharati authorities intend to stop people from using a 600-metre stretch — between Sangeet Bhavana and Upsana Griha — of the 2.9km road, those living along the road have to take a detour of 2.5km via two new bypasses.
The varsity had built a bypass from Shyambati to Siksha Bhavan junction and was constructing another one from Sangeet Bhavan to Nisha lodge to divert the commuters who usually take the 2.9km stretch that goes past Upasana Griha and Uttarayan complex, sources said.
Homes of around 3,000 people, including landmark residences of Amartya Sen and Nandalal Bose, are located along the 2.9km road and its adjoining areas.
Shanta Bhanu Sen, a cousin of Nobel laureate Amartya Sen and a signatory to the letter, said: "Security personnel of Visva-Bharati are stopping residents from using the road on occasions like the weekly prayer."
Supriya Tagore, a descendant of the Tagore family and former principal of Patha Bhavana, added: "We use the road regularly and it would mean big trouble for us if we were to be barred from using it."
Residents said the stretch was a vital link the Ratan Pally market, the post office and medicine shops.
Varsity sources said many high-level committees had advised against a thoroughfare cutting the campus.
"The plan to stop public use of the thoroughfare is not new and the process had begun in 2010. We will not close the road permanently but plying of private and commercial vehicles will be barred on a part of the stretch to avoid nuisance and ensure campus security," said a senior varsity official.
However, Subir Banerjee, a varsity alumnus in his seventies, alleged: "Visva-Bharati is stopping us from going on the road even on bicycles during various occasions. Even the elderly are being forced to take a detour."
Residents said they would send the copy of the letter to the local administration, including district magistrate and district police chief.
"I will look into the demand after receiving the letter," said Birbhum district magistrate Moumita Godara Basu.