Kashmiri students in Calcutta cut off and let down
Youth fears 'disastrous mass uprising'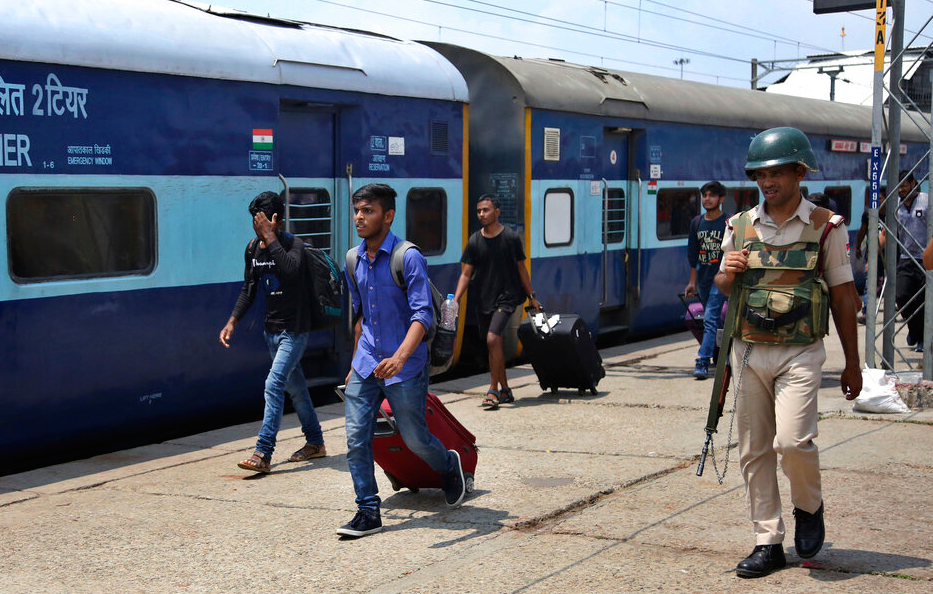 National Institute of Technology students who left Srinagar, Kashmir's main city arrive to board a train to leave for their respective homes from a railway station in Jammu on Sunday, August 4, 2019.
(AP)
---
Calcutta
|
Published 05.08.19, 08:25 PM
|
--- Students from Kashmir in the city did not mince words in expressing their anger at the turn of events, though their immediate concern was the inability to get in touch with their families back home.
A boy from Srinagar described the Centre's decision to take away the special status of Jammu and Kashmir as "totally unpleasant".
Another from Anantnag expressed fear that the decision might lead to a "mass uprising on a disastrous scale".
A student from Pulwama wondered how the Union government could forget that "Kashmir could never be won by sword, but through the spirit of love alone".
A boy from Jammu said he was "sad" over being separated from his friends in the Valley.
Metro met the group on Monday evening and witnessed an interplay of anxiety and anger.
"The last time when I talked to my mom, she said 'anytime there will be a communication blackout in Kashmir. Maybe we won't be able to talk, but remember beta, there is no need to worry. We have faced many tough and tumultuous phases. This, too, shall pass'. Little did I realise that her apprehension would come so true," said the boy from Pulwama, who has a passion for shayari.
He was frequently checking his cellphone while talking. His family was constantly "out of network area".
"I am just praying for their well-being," he said.
Seated next to him was a young man from Srinagar who loves Kashmiri folk music. "It is not possible to fly to the Valley and see for ourselves what is happening, given the uncertainty. This government has pushed the Valley into absolute chaos," said the student, whose mother is a lecturer and father a businessman.
The Pulwama boy said "the Jammu and Kashmir we came from has ceased to exist".
Their disappointment with the turn of events came out every other moment.
"We are worried because this (the Centre's decision) was done in an unconstitutional and unpleasant manner. We had never thought that this was going to happen, and even if it did, it would happen with the consent of the constituent assembly. Now they have made the governor equivalent to the constituent assembly," said the boy from Anantnag.
"The Union government has bifurcated the state into Jammu and Kashmir and Ladakh…. We are shocked and really worried and I don't know what to say," said a boy from Ganderbal.
Some of them accused Delhi of "cooking up" a terror threat in the run up to the decision.
"Before the mobilisation of forces, they cooked up a story about a terrorist threat to yatris. Amarnath Yatra was cancelled. Tourists were asked to leave. All this was done to ruin the image of Kashmiris, who are known to be hospitable. But now it turns out that the steps were taken to set the stage for scrapping the article," said the boy from Srinagar, whose house is barely five minutes from Bakshi Stadium.
With the boys from the Valley was a student from Jammu. "I am sad over the developments. I cannot think of Jammu being separated from Kashmir," he said.
All of them think the move would push the youths of Kashmir to join a "mass uprising".
"Every time there is an uprising, people blame the youths of Kashmir. They never admit that each time it is the government that pushes us to take drastic steps," a student said.
"A common saying in the Valley is 'Kashmir can never be ruled by the sword, it can only be ruled by spirit, the spirit of love'. It is true even today," said the boy from Srinagar.