Jalpaiguri's flash flood tragedy spurs safe Chhath plan
District administrations across north Bengal to draw up safety advisory for the upcoming festival, when thousands perform rituals in rivers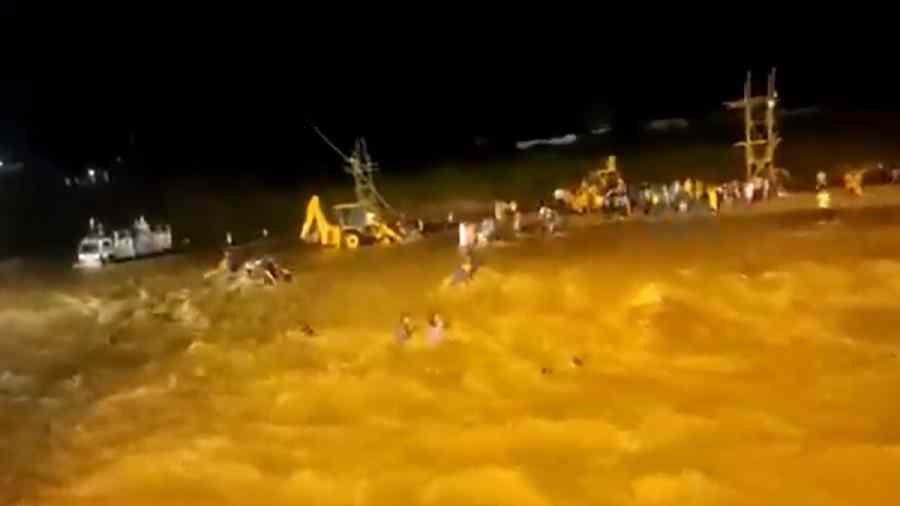 Visuals from the spot showed people struggling against the river current as they tried to move to the bank
File Picture
---
Jalpaiguri
|
Published 09.10.22, 01:44 AM
|
---
The eight deaths in a flash flood during the Durga Puja immersions in Mal river in Jalpaiguri's Malbazar on Wednesday evening has prompted district administrations across north Bengal to draw up a safety advisory for the upcoming Chhath Puja, when thousands perform rituals in rivers.
A senior state government official said the advisory has been circulated in all police stations in Jalpaiguri from district police headquarters. Advisories have also been circulated in Darjeeling, Cooch Behar and Alipurduar, districts that have hilly rivers prone to flash floods.
"All police stations have been asked to keep campaigning on safety measures during Chhath Puja. Police will hold a meeting with Chhath Puja organisers. Reports on implementation of steps have been asked from police stations. We will take all possible measures to prevent any repetition of the Malbazar incident," said Jalpaiguri SP Debarshi Dutta.
Police sources said that a temporary net boundary would be put up along river banks.
Jalpaiguri DM Moumita Godara Basu said that ahead of the Chhath Puja, the administration will involve officials of irrigation, meteorology, civil defence and other departments concerned to create foolproof arrangements.
"If there is a forecast of flash flood in any river ahead of Chhath Puja, people will be restricted from getting into the rivers. Ghats of rivers will be encircled by fences. People coming to rivers for puja will be allowed inside fenced areas in small batches," she said.
Civic bodies in the region, which has many rivers originating in the hills, have been advised to take precautions to keep the Chhath Puja safe.
Saikat Chatterjee, the vice chairman of Jalpaiguri municipality and Rajesh Kumar Singh, the vice chairman of the board of administrators of Dhupguri municipality, said that they would arrange safety measures at the ghat of the rivers in consultation with administrations and police.
Safety advisories have been circulated in Darjeeling, Cooch Behar and Alipurduar as well. These districts have hilly rivers where flash floods are a possibility.
A flash flood occurred at Mal river on Saturday afternoon again although no untoward incident was reported till evening.
Swapan Saha, the local civic body chairman, said: "The BJP is politicising the flash-flood. They should know this is a natural disaster."
Cremation of eight persons, who died during the flash flood was done on Saturday afternoon. Bulu Chik Baraik, minister of state of the backward class welfare department, said: "We are with the grief-stricken families. But unfortunately BJP is indulging in filthy politics over the unfortunate disaster."