Students stand by 'self-defence' act
'Yes, we did the absolutely right thing'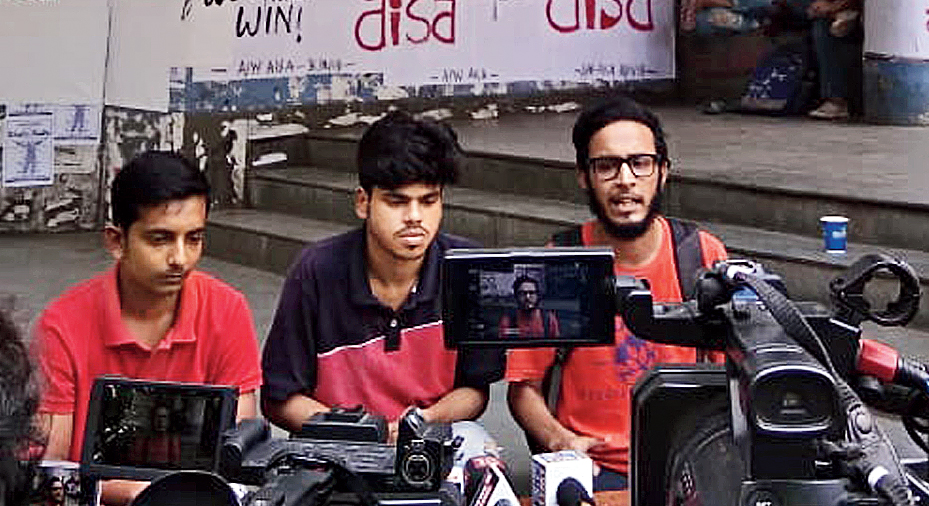 (Left) Souryadipto Sengupta and (centre) Debanjan Ballabh, accused of assaulting Union minister Babul Supriyo, address a press conference at Jadavpur University on Monday
(The Telegraph picture)
---
Calcutta
|
Published 23.09.19, 08:27 PM
|
---
Two students accused of assaulting Union minister Babul Supriyo at Jadavpur University publicly defended themselves on Monday.
Debanjan Ballabh said he had "acted in self-defence", while Souryadipto Sengupta said: "Yes, we did the absolutely right thing."
"I asked him a question. I was standing there from the beginning because I had not received an answer. We put up a resistance and I raised my hand in self-defence. The picture has come up from there and it is being distorted and circulated by the BJP IT cell across all forms of social media. They went to my house and gave threats. My mother's illness is being politicised and it is clear that they are trying to convince them (my parents) to accept their brand of politics," Ballabh, a student of linguistics at Sanskrit College and University, told a news conference at JU on Monday.
Ballabh is a member of a students' organisation called UDSF (United Democratic Students' Front). He said he was at JU to show solidarity with the protesters. In a Facebook post on Friday, Supriyo had accused him of "catching hold of my hair". On Saturday, Supriyo shared on Facebook and Twitter a report on Ballabh's 50-year-old mother, a breast cancer patient, pleading with the Asansol MP to forgive her son.
ABVP supporters in Burdwan town, where the family lives, had allegedly shot a four-minute video. In the video, Ballabh's mother, Deepali, is visibly distraught and cries as she pleads for her son to be forgiven. She is told by the purported ABVP workers that her son was involved in harassing a central minister and was likely to face the consequences.
"Chinta korben na mashima. Ami kono khoti korbo na apnar chheler (Don't worry, aunty. I will do your son no harm)," Supriyo had said in his Facebook post.
Ballabh asserted on Monday: "They are taking advantage of my absence at home. I want to state this clearly that I have certainly not accepted defeat. Fake profiles were opened and completely false statements were circulated, about which I have written on Facebook. This fight will continue in the future. I was defending myself as Babul Supriyo tried to hit me. He was also hurling abuses at me. I repeat that I have not done anything wrong."
Sengupta accused Supriyo of slapping him. "I was dragged by the collar and Babul Supriyo slapped me as well. After that, when I got into an argument with him, his guard told me to leave the spot. I left after that," said Sengupta.
On Thursday, Supriyo was photographed grabbing Sengupta by his shirt.
Asked for a reaction on the students' statements, Supriyo told TV channel ABP Ananda: "Sab kichhute amake react korte hobe kyano? Amar konorokomer kono boktobyo nei. Ja achhe sobtai video te achhe. Prottyeker nijer ja khushi bolar odhikar o achhe. (Why should I have to react to everything? I have nothing to say. Everything is there in the video. Everyone has the right to say what he or she wants)."