DM promises fortnightly vigilance probe
Industry livid over 'misconduct' by labourers, trade unions
The summit was organised as part of the Bengal government's Utkarsh Bangla scheme and meant to be a combined way forward for the state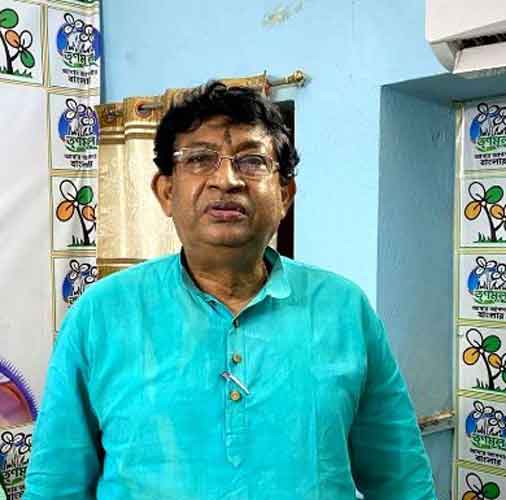 State irrigation and waterways minister, Somen Mahapatra.
Twitter
---
Haldia
|
Published 17.12.21, 02:26 AM
|
---
A meeting of private industry officials organised by the East Midnapore district administration in Haldia on Thursday to boost employment generation turned into a venue for the participants to voice their grievances against alleged misconduct by labourers and trade unions.
The event titled "Synergy between industry and government departments vis-a-vis employment generation" was mostly attended by managers of 25-30 industrial units, including Indian Oil Corporation and Haldia Petrochemicals.
"The summit was organised as part of the Bengal government's Utkarsh Bangla scheme and meant to be a combined way forward for the state and the industry. The event was attended by irrigation and waterways minister Somen Mahapatra as well as fisheries minister Akhil Giri but they had to skip their speeches," said a source who was present at the event that was also attended by district magistrate Purnendu Majhi.
"The goal of the summit was to exhort industry to up their employment levels by recruiting skilled labourers from the pool created by the Utkarsh Bangla scheme, but that backfired in a big way,'' the source added.
Among the participants was Partha Sarathi Banerjee, vice-president of Indorama India Private Limited, makers of the Paras brand of fertiliser.
"The demand for our product far exceeds the supply because potato season is on in full swing and our labour forces cannot get their act together," said Banerjee, who was the first to interject the interactive session in a notably perturbed tone.
"Across three shifts, our plant should be producing 1,800 tonnes of fertiliser but the output is only half at the moment because of our workers' attitude and the lack of any directive on discipline," added Banerjee.
Dev Dipta Samanta, general manager of TM International Logistics Private Limited, said his company had been "suffering labour problems for two years", attributing it to "apathetic work culture".
"Our existing workers have openly stated that if we hire new persons, they will cap their hours at a certain number. We are in touch with the INTTUC regarding the same," he said.
Tarun Kanti Giri, general manager of IVL Dhunseri Petrochem Industries, said his company was in the process of handling a charter of demands from workers regarding unsettled payments. "They are trying to thwart production as a result without working towards an amicable understanding," he said.
The district magistrate intervened and promised prompt action. "I have heard all your complaints and will institute a vigilance committee to probe these matters every fortnight," said district magistrate Majhi, with ministers Mahapatra and Akhil Giri approving of the proposal before leaving the venue.
Speaking to The Telegraph, a general manager of a multinational company said: "At one-time, expelled CPM leader Lakshman Seth used to dominate the workforce and after the Left lost power in 2011, it was Trinamul's Suvendu Adhikari who had total control over the labour unions. After Adhikari shifted to the BJP, the labour unions have been left rudderless. The genesis of the present problem lies in the absence of a popular trade union leader within the Trinamul. Taking advantage of the factionalism, some unions continue to be in touch with Adhikari secretly and he is happy stoking trouble in the industrial sector in Haldia."
A senior Trinamul trade union leader in Haldia admitted several leaders of the party's trade union wing were secretly in touch with Adhikari and that had become a major headache for the party.
BJP Tamluk organisational district president Nabarun Nayak rejected the charges and blamed Trinamul's factionalism for the unrest.